LA Lakers at Detroit Pistons: The Road Trip Woes Continue
March 7, 2012

The Los Angeles Lakers' road trip woes seem to be never-ending this season, losing their first game of a three-game road trip Tuesday night against the Detroit Pistons. Kobe Bryant was able to send the game into OT when he hit a buzzer beater to tie the game, but even the Black Mamba struggled to find a rhythm, shooting 8-of-26 from the field and ending the night with 26 points.
While usually flare takes a passenger seat to Bryant's on-court antics, last night the most impressive thing from him might have been his new black mask.
While the Lakers' sure superstar last night was Andrew Bynum, who scored 30 points and pulled down 14 rebounds, the Lakers just didn't seem to have an answer for Detroit's superstar guard Rodney Stuckey, who scored 34 against LA. Stuckey has been a key component to Detroit's success in the last few games and, after last night's performance, he is averaging 28 points over his last five games.
While it was evident the Pistons were able to force every Laker to shoot poorly from the field besides Pau Gasol and Bynum, what really hurt the Lakers was the poor play their bench brought out on the court, being outscored 32-7.
While the aforementioned stat is tough to swallow for Laker fans, on paper it looked a lot worse. Matt Barnes, Troy Murphy and Steve Blake scored exactly zero points on seven shot attempts; not a stat you want to see for the more talented guys coming off the bench.
Not to be outdone, Metta World Peace of old was definitely in Detroit, doing his usual camping behind the three-point line and missing all five shot attempts he took from that mark.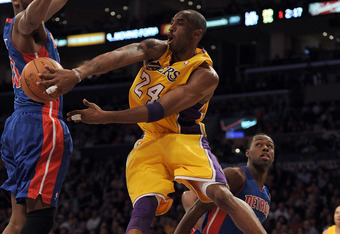 Harry How/Getty Images
What's even more discouraging is that the Pistons went 0-for-14 to start the second half, managing only nine points in the third quarter. Yet the Lakers still needed to hit a buzzer beater to send the game into overtime. 
The Lakers' road record dropped to 6-13 after Tuesday night's loss and, while they started off the second half of the season hot, it's important for Laker fans to recognize that those games were played at home. If the Lakers don't secure a favorable seed out of the West, it's hard to imagine them making a deep playoff run.
While the playoff schedule may emulate a more traditional regular-season schedule, as far as time off and days rest are concerned, the Lakers will still have to play, and more importantly, win on the road.
Even more daunting is that ESPN may have found a new future analyst in Tayshaun Prince, who broke down Detroit's ability to beat the Lakers to an exact science.
"The way the Lakers play a lot of times, if you pick up your energy and get a couple of fast-break baskets, you can get back in the game. They're a very patient team on offense, so if you create turnovers and don't let their bigs get offensive rebounds, you can get out on the break and get a flow going."