Despite Danny Ainge's recent troubles, he will always be revered in Boston as the general manager who built the team that raised the first Finals banner in the Boston Garden since 1986.
However, his legacy could take a huge hit if he sacrifices the future of the franchise by trading Rajon Rondo.
The 26-year-old point guard has a lot of years left in this league and is going to be a top player for the foreseeable future. He's the lynchpin the C's must build around after the Big Three era is over and Paul Pierce, Ray Allen and Kevin Garnett move on or retire.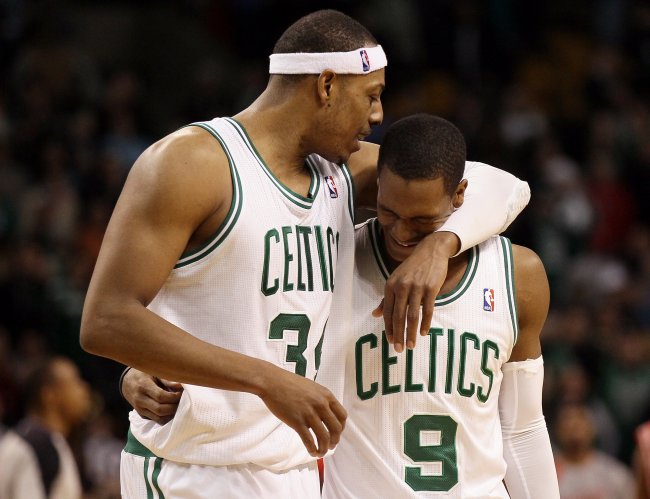 Elsa/Getty Images
It's unlikely that Ainge has the desire or moxie to actually move Rondo now that his team has won five-straight games since the All-Star break, which includes an insane 18-point, 17-rebound, 20-assist performance in an overtime victory over the Knicks.
Rondo's stellar play in the face of all these trade rumors just proves he is mentally tough, as well as physically gifted and blessed with a high basketball I.Q.
How Will Danny Ainge Be Remembered?
What more could you ask for from a floor general and future face of a franchise?
Boston is going to have to rebuild soon, possibly after this season with KG and Jesus Shuttlesworth's contracts expiring, and Ainge needs to focus his efforts on bringing in new blood to rejuvenate the roster, not worrying about moving his best player.
That would just be irresponsible and prove that the Celtics GM has yet to make a truly brilliant move since the 2007 season when he assembled the Big Three.
Fans are willing to give Danny slack for not making any significant offseason additions, especially this season, because of that 2008 Finals win.
But remember, that grace period will not last forever and fans will turn on Ainge quickly if he relegates this team back to mediocrity by ditching Rondo.
It would tarnish his legacy and lessen the accomplishment of bringing the first title back to Beantown since Ainge himself was a player.