Detroit Red Wings: 3 Reasons They're Unbeatable at Joe Louis in the Playoffs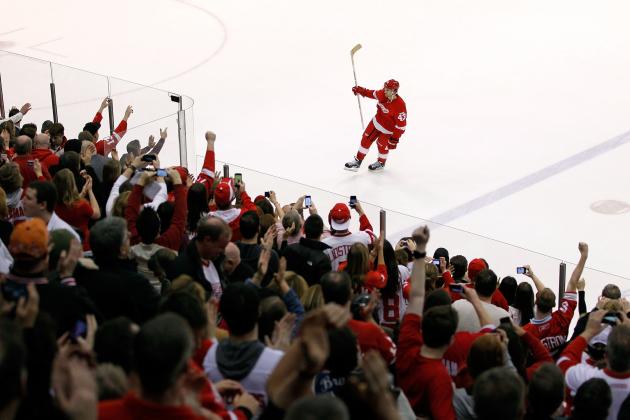 Gregory Shamus/Getty Images

In case you've been living under the biggest rock known to the hockey world for the last month or so, The Detroit Red Wings are a very good team when it comes to performing at home.
Their record-setting 23 consecutive wins at Joe Louis Arena brought their overall record at home for the 2011-2012 NHL season to currently 27-4-2.
That record of 27 wins in 33 games means that Detroit wins roughly 82 percent of their games at home.
For that reason, it's very probable that Detroit will be successful at home in the playoffs. In order to make that claim, the reasons why Detroit is so good at home must be found first.
With that, let's look at three reasons why the Red Wings are unbeatable at home in the 2011-2012 NHL Playoffs.
Begin Slideshow

»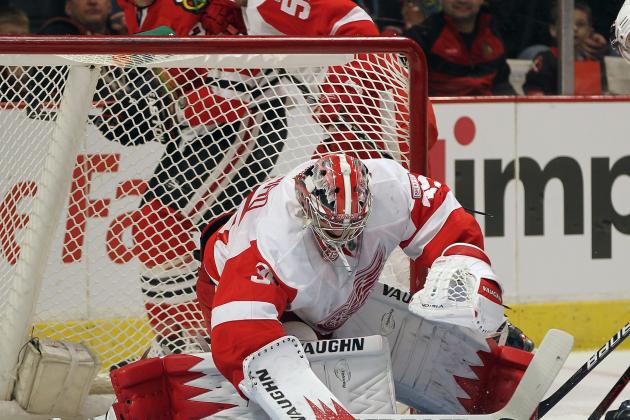 Jonathan Daniel/Getty Images

Howard has been an absolute fortress in net for the Red Wings this season. The All-Star American goaltender has a .923 save percentage and managed to have the most wins in the NHL until he suffered a broken finger in a game against the Vancouver Canucks.
Howard held every win in the streak at that point, and with four to go, some questioned whether Detroit would make it to the record without Howard backstopping them. They did, but it doesn't put a damper on Howard's performance.
In the 17 games that Jimmy Howard participated in during the Red Wings' record home run, he posted up a .945 save percentage.
Needless to say, when Howard—who is currently day-to-day with a groin injury—returns to Detroit's lineup, they'll be back in business and they'll be a force to be reckoned with at Joe Louis Arena.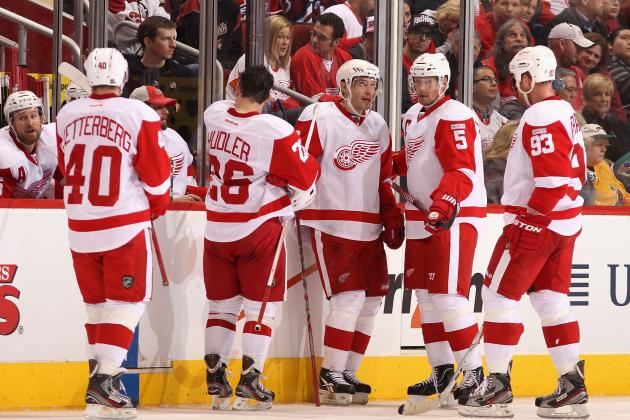 Christian Petersen/Getty Images

Detroit's star players have been really good in their home arena, and the absence of some has made the others even better.
Pavel Datsyuk, who is currently out after having maintenance knee surgery, has 13 points in his last 10 games at Joe Louis Arena.
With Datsyuk out, his "Euro Twin," as some call him, has picked up the slack for the Red Wings. Henrik Zetterberg has the same numbers at 13 points in 10 games.
Valtteri Filppula has also helped pick up the slack. The Fin, who is having a career season, has eight points in his last 10 games at home.
Surprisingly, Niklas Kronwall has picked up his offensive game since Nicklas Lidstrom has been nursing a bruised ankle. Kronwall has two goals and four assists in his last 10 home games, which are impressive numbers for a defenseman.
With other stars heating up now that instrumental players such as Datsyuk and Lidstrom are sitting in the press box, it says that the team is going to be even stronger when those players get back out on the ice.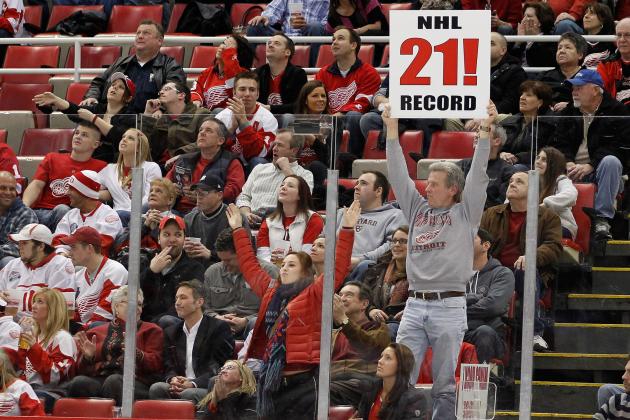 Gregory Shamus/Getty Images

Detroit Red Wings fans are second to none when it comes to American Hockey fan bases. Listening to the crowd chant "21!" on Valentines Day was enough to put goosebumps on anybody.
Currently Detroit has 61 straight shutouts in Joe Louis Arena, and if you happen to drop by a home game, you can frequently hear the fans signing Journey or "Sweet Caroline" near the end of a game.
Detroit fans have made this season a memorable one. Despite constant battles in the economy and other issues the city has been through, the fans keep coming back for the Red Wings, who in turn keep performing for the fans.
For any team that has to visit a sea of 20,000 fans in the playoffs, good luck.
Christian Petersen/Getty Images