Antonio Conte's Tactical Errors Costing Juventus as Turin Holds Its Breath
March 6, 2012

Valerio Pennicino/Getty Images
Antonio Conte came to Juventus this summer as Juventus' savior.  Having just led Siena to the second spot in Serie B and promotion, the former Juve captain was originally belittled by entrenched Serie A managers such as Francesco Guidolin and Edy Reja for his so-called 4-2-4 formation.  
More accurately, a modified 4-4-2, Conte morphed it into a 4-3-3 formation, as the season went on, and Juve flourished. They've spent a combined 16 rounds of the competition in first place, and have never dropped below third, while remaining the only unbeaten team in the top 5 leagues of Europe.
Unlike American sports, "unbeaten" does not mean "dominant."  
In 25 matches played, Juve have won 13 and drawn 12—a record that has left them in second place, three points behind A.C. Milan.
Although, they do have a game in hand to be played tomorrow.  
The problem is that most of the 12 draws have been against teams that they should beat handily.  
Since the winter break, Juve has shown a concerning lack of dominance. Out of nine matches, they have won four and drawn five, including inexcusable slip-ups at home against Chievo and Cagliari, and a goalless draw away against Parma.  
The Bianconeri average about 60 percent possession this season and more than 18 shots per game. Only slightly more than six shots per game have been on target, creating just 38 goals—sixth in Serie A.  
Juve have one of the most talented rosters in the league, so why do they show such a surprising lack of a cutting edge?
It all comes down to Conte, because of both squad selection and tactics.  
Conte's squad selection is the most glaring deficiency of the two. He has continually paired his starting striker with Mirko Vucinic, who has only three goals to show for 21 appearances in all competitions (league and Coppa Italia).  
This weekend's draw against Chievo was a prime example.  
Vucinic was dispossessed 12 times by the Flying Donkeys' defense, and in one particularly ugly passage of play, held the ball rather than play it to Alessandro Matri, who was flying in alongside him, opting to run with it until being dispossessed yet again.  
Even more puzzling is his refusal to put Alessandro Del Piero onto the field.  
Del Piero is no longer the type of player who can play ninety minutes, but he still has that magical touch that can bring a goal out of nowhere, and the final touch that can cap a run. But the captain has appeared in just 14 games this year, often only getting 10 minutes or so to try and work his magic.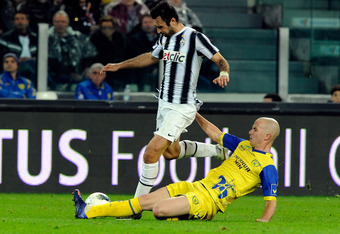 Claudio Villa/Getty Images
The other problem that has emerged for Juve has been Conte's choice of formation.  
His 4-3-3, which brought out the best in his stellar midfield trio of Claudio Marchisio, Andrea Pirlo, and Arturo Vidal and given Matri—one of the most notorious poachers in the league—a consistent feed with which to make a final strike.  
But starting around their pre-winter break draws against Udinese and Roma, Conte changed to a 3-5-2 formation, shifting Stephan Lichtsteiner to the right-wing and playing Giorgio Chiellini, Leonardo Bonucci, and Andrea Barzagli at the back.  
This formation is ideal against quick, counterattacking sides like Roma, Napoli, and Udinese, which is where Conte started using it.  
The problem is he's fallen in love with it, and that love has coincided with Juve's drop in form.
The 3-5-2 has not been a detriment to the defense, which is still the best in Serie A, but it neutralizes Lichtsteiner's benefits as a traditional right back, as well as giving far too much playing time to Marcelo Estigarribia and forcing Simone Pepe—who was in sterling form early in the season—to the bench.  
The extra midfielders have clogged the middle of the field, which has stifled the thriving midfield trio, especially Marchisio, whose fantastic form seems to have vanished into midair since the winter break.
Juve still have a very good chance of reclaiming the scudetto. Only four games of their remaining thirteen are against big sides, and two of those teams—Inter and Roma—have hit the skids in recent weeks. 
To catch Milan, Antonio Conte must trim the fat off the first-team squad—Vucinic in particular—and return to the tactics that he used early in the season, when his team was taking the Serie A by storm.  
Otherwise, not only will Milan repeat as champions, but the teams behind Juve may start nipping at their heels.