San Diego Chargers: 10 Adjustments to Make to Get into the Playoffs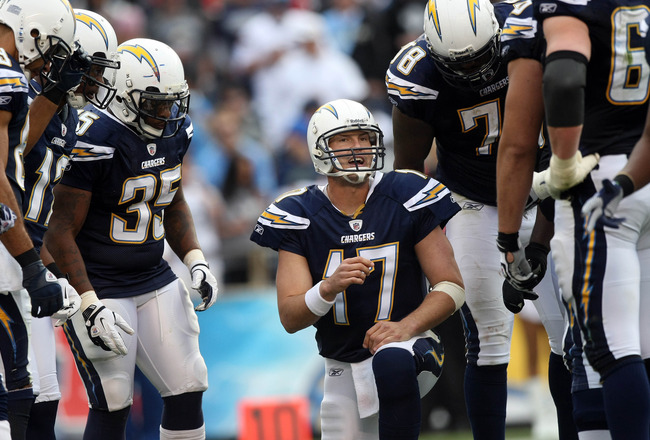 Donald Miralle/Getty Images
Let's be honest Chargers fans, clinching the AFC West is going to be the easiest path to to the playoffs, but if San Diego doesn't make these 10 adjustments, then we may be in store for another rebuilding year.
Anything short of the playoffs will be an epic failure for the Chargers, and winning the AFC West will be no piece of cake in 2012.
Kansas City, Oakland and Denver proved to be formidable foes for the Bolts last season picking up a win each in their rivalry showdowns. This team certainly has the talent on the roster, but adjustments are needed to make it all work in the end.
Here are 10 adjustments the Chargers need to make to get into the playoffs.
10. Getting Antonio Gates Back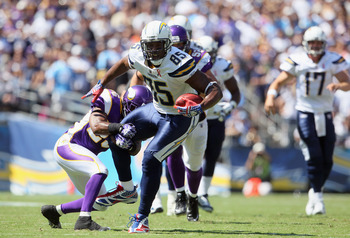 Jeff Gross/Getty Images
Nagging foot injuries have really slowed down Antonio Gates, and the Chargers have really struggled without him in the offense, but if he can rebound in 2012, this team has a very good shot at making the playoffs.
Gates had 64 receptions and seven touchdowns last season, but he wasn't as big of a weapon as he used to be in recent years for Philip Rivers. His foot problems really prevented him from getting separation in coverage and finding space.
I realize Gates is 31 years old, and he may be losing some of that athleticism, but I'm confident he still has what it takes to be a big contributor in the Chargers offense.
9. Kickoff Returns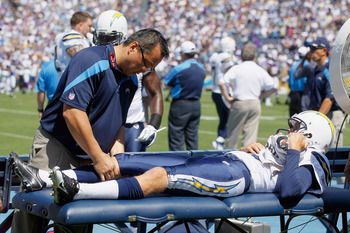 Jeff Gross/Getty Images
Thankfully, San Diego only gave up one touchdown on a kickoff return last season, but their opponent's average return of 25.5 yards was still high among the rest of the league.
Giving up such good field position on kickoffs can be a real pain for a defense, but more importantly, Nate Kaeding can't be making tackles anymore. Kaeding was lost for the year on the very first play of the season during a kickoff when he tried to take down Minnesota Vikings returner Percy Harvin.
Back in 2007, Kaeding suffered another injury making the tackle on a kickoff against Denver. The Chargers special teams players need to be making those tackles, not Kaeding.
Keeping Kaeding healthy on kickoffs will be crucial as he's one of the better kickers in the league.
8. Third Down Defense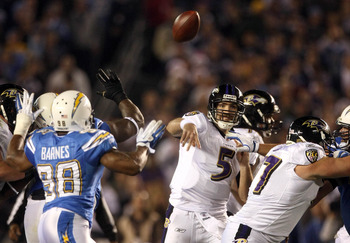 Donald Miralle/Getty Images
The Chargers were dead last in stopping opponents on third down last season next to the 2-14 Indianapolis Colts.
Offenses converted on third down 49.2 percent of the time which is why the Chargers defense couldn't get off the field in 2011. Getting a stop on third down adds confidence to a defense, something the Chargers defense lacked last season.
If the offense can't even get on the field, it will be awfully hard to keep up on the scoreboard.
7. Balance on First Down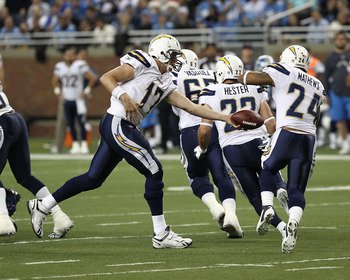 Dave Reginek/Getty Images
On first down, the Chargers chose to pass 234 times and run 97 times last season, but finding the right balance on first down is a needed adjustment to be a playoff contender.
By running the ball just 97 times on first down, it seemed as though San Diego lacked confidence in their rushing attack establishing the pace of the game. The Chargers did rank near the top in first downs made, but finding balance is something they failed to do.
Balance on first down is crucial to any team looking to make the playoffs.
6. Making Use of Ryan Mathews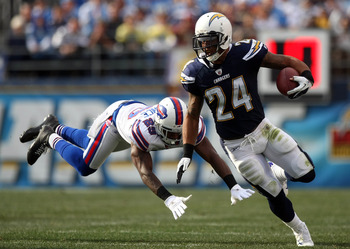 Donald Miralle/Getty Images
Ryan Mathews got a little banged up last season but still had a great 2011 with 1,091 rushing yards and six touchdowns which is why the Chargers really need to use him more next season.
In his third season, Mathews should know the system pretty well in San Diego, and he has certainly shown he's ready to carry the workload as a feature back. Splitting carries with Mike Tolbert didn't hurt Mathews' performance, but I'm sure he'd rather get more attempts than work in a two back offense.
The Chargers need to trust Mathews and get him the ball more in 2012, if they want to make the playoffs.
5. Philip Rivers
Donald Miralle/Getty Images
Philip Rivers had a bizarre season under center, and his returning to form in 2012 is something fans are expecting if they want to make it back to the playoffs.
Despite his 20 interceptions and seven fumbles, Rivers still made the Pro Bowl but was unable to get the Chargers going in 2011. When Rivers is on his game and plays like the elite quarterback he is, the Chargers are usually one of the most dominant teams in the AFC.
Silly turnovers really killed the Bolts' season, and Rivers was responsible for a good chunk of them.
I have faith that Rivers will make adjustments of his own and get the Bolts back to the postseason.
4. Stopping the Run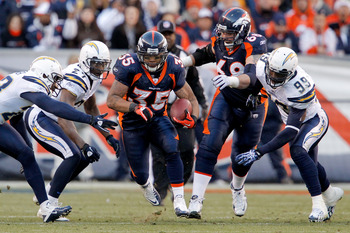 Justin Edmonds/Getty Images
When Eric Weddle and Steve Gregory are among the team's leading tacklers, that usually means plays are developing past the line of scrimmage.
The Chargers D-line hasn't been a strong point as of late, and teams are having their way in the running game. The Bolts allowed 122.2 rushing yards per game last season which forced Weddle and Gregory to come up more often and make stops.
I'm sure San Diego will be looking to add help through free agency and the draft, but stopping the run is an issue that needs to be addressed in camp as well.
San Diego recently released defensive end Luis Castillo so it's pretty safe to say they've begun to make room for needed help on the line, but adjusting their run defense will be a top priority.
3. Pass Rush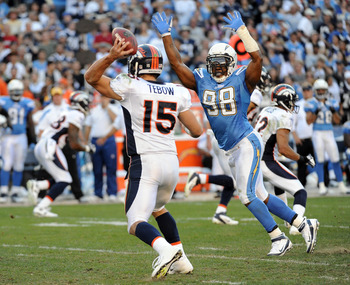 Harry How/Getty Images
You've probably heard about it a million times by now, and the fact of the matter is the Chargers' pass rush just isn't cutting it.
San Diego surrendered 224 passing yards a game last season and managed to sack the quarterback just 32 times. Antwan Barnes led the team with 11 sacks of his own and developed into quite the pass-rusher in 2011.
The Chargers are rumored to be in the market for a pass-rusher in this year's draft so fans can rest easy knowing the team is thinking along the same lines. Pairing Barnes with another pass-rusher could revive a once-feared defense in San Diego.
2. Playing Well Year-Round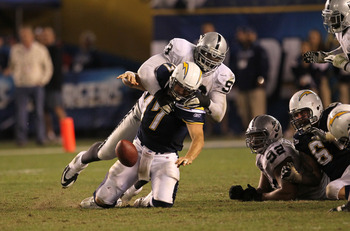 Stephen Dunn/Getty Images
Starting the season slow and getting hot in November is something the Chargers are known for, but in 2011, the Bolts flip-flopped that pattern and suffered the consequences.
The Chargers started the season off strong with a 4-1 record going into their bye week then fell victim to one of the worst midseason collapses in history. San Diego lost six straight and eventually missed out on the playoffs.
Playing well year-round is going to be a key factor into whether the Chargers make the postseason this time around. You can't start out slow, finish weak or have a collapse midseason.
There needs to be consistency all season to keep the Bolts alive.
1. Beating AFC West Rivals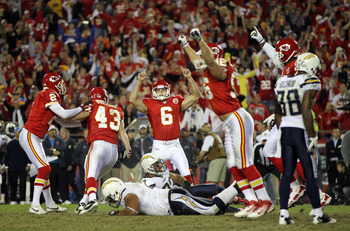 Jamie Squire/Getty Images
It seems like a self-explanatory adjustment to make, but the Chargers really need to play well against their AFC West rivals next season if they expect to be playoff bound.
San Diego finished 2011 with a 3-3 record in their division, and the race in the West couldn't have been closer. In past seasons, the Chargers had success in the AFC West and used that particular path as their way into the postseason.
Unless the Chargers have a tremendous record and the rest of the AFC powerhouses falter, I really don't see San Diego making the playoffs through the wild card.
Winning in the AFC West is really the only feasible way to the playoffs for San Diego.
Keep Reading

San Diego Chargers: Like this team?