NBA Trade Rumors: Indiana Pacers Need Chris Kaman to Back Up Roy Hibbert
March 6, 2012

Jonathan Daniel/Getty Images
While the blockbuster NBA trade rumors take up most of the attention, a key player like center Chris Kaman of the New Orleans Hornets remains on the market as a viable starter or even as a backup.
That's where the Indiana Pacers swoop in and make their play.
The Pacers sit fifth in the Eastern Conference right now, and adding a piece like Kaman to help alleviate some of the pressure off young center Roy Hibbert is an easy way to ensure they stay right in the thick of the playoff hunt.
Add in the fact that veteran backup center Jeff Foster has gone down with a back injury and will miss at least a week, and you have the perfect recipe for a trade of this magnitude.
Pacers' insider Mike Wells told the Indianapolis Star about the team's plans to trade for more help at center:
Lou Amundson will continue to be Roy Hibbert's backup at center, but the team's front office is looking at acquiring another big man considering they have $14.5 million in salary cap space and only 13 players under contract. New Orleans center Chris Kaman is on the Pacers' radar.
If the Pacers can part with a second round pick to acquire the services of a veteran presence like Kaman, this move needs to happen. We can't forget that Kaman is a former All-Star and has shown a spark when playing with talented teammates.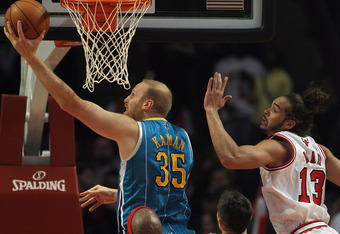 Jonathan Daniel/Getty Images
With the youth of the Pacers on full display, Kaman will be rejuvenated and will give Indiana the depth and versatility needed to make a playoff run.
As much as the Pacers will need him to play center, his ability and willingness to slide to power forward on occasions makes this decision even easier.
Adding the experience, offensive prowess and defensive strength that Kaman has should be a no-brainer for Indiana, and it could end up spelling trouble for the rest of the Eastern Conference. As good as Miami and Chicago are, the Pacers will be scary in a seven-game series.
Check back for more on the National Basketball Association as it comes, and check out Bleacher Report's NBA Page to get your fill of all things basketball.