Big East Tournament 2012: Players Who Must Step Up the Most
March 6, 2012

Jonathan Daniel/Getty Images
The 2012 Big East Tournament will be very intense, which is why certain players will need to rise up and carry their team to victory. 
Winning this tournament is no easy task. The Syracuse Orange are the overwhelming favorites, but even still, there is no guarantee they will come out on top. 
Each and every team will count on their top players to take them far, but the reality of it is that only a few teams actually have a good chance of winning the tournament. 
That being said, here are a few players who must step up in order for their team to win big. 
Jae Crowder, Marquette 
One of the Golden Eagles' senior leaders, Crowder has superb experience, which he will need to lean on not only in this tournament but the NCAA tournament as well. 
Averaging 17.6 points and 7.9 rebounds per game on the year, Crowder is a very well-rounded player who has to put the team on his back. 
In his last five games, a crucial part of the season, Crowder averaged 25 points and 9.8 rebounds per game. 
If the Golden Eagles are going to win it all, Crowder will have to be performing at an MVP level every game, which is easier said than done in this tough conference. 
Hollis Thompson, Georgetown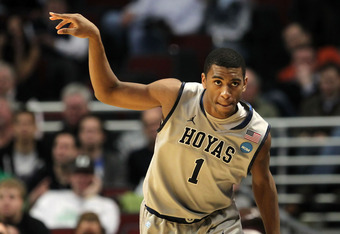 Jamie Squire/Getty Images
As the No. 5 seed, the Hoyas have a lot of work to do if they're going to be crowned Big East champs. 
This means Thompson, arguably Georgetown's best shooter, has to be on point every time he steps foot on the court. 
If Thompson is able to get a hot streak going, the Hoyas can definitely go far. They have the additional game to play, which is something Syrcause, Marquette, Notre Dame and Cincinnati don't have to deal with. 
Georgetown faces more adversity, but it is something the Hoyas can handle if Thompson shines bright to carry the load for the team. 
Jack Cooley, Notre Dame
The Fighting Irish are perhaps the one team with the best chance of pulling off the upset over the favored Syracuse. They're the only team to have beaten them this season, and they can definitely do it again in the tournament as long as Cooley is thriving.
Of course, the Orange were missing some players and had an awful night shooting the ball, but Notre Dame has the confidence knowing it can beat the mighty Syracuse, which is all it really needs. 
Cooley averages just 12.5 points and 9.2 rebounds per game this season, but he's capable of having monster performances, which is what needs to happen in the Big East Tournament. 
The junior forward must use his big body to work the inside and dominate down low. If this happens, every team needs to watch out for a surging Fighting Irish squad.