Arsenal vs. AC Milan: Arsene Wenger Going out with All Guns Blazing
March 6, 2012

Michael Regan/Getty Images
Every once in a while I regret that I don't live in London anymore.
Admittedly, a majority of those occasions involve Arsenal. And today is another one of those days.
Because unless Arsene Wenger goes against every utterance in yesterday's pre-game press conference, it is going to be one helluva game against AC Milan at the Emirates Stadium tonight.
Arsenal, trailing 0-4 from a disastrous first leg in Milan three weeks ago, have nothing to lose. Sadly, in terms of the overall tie, they have pretty much nothing to win either. No one expects them to go through to the last eight. Wenger himself admits that there's only a five percent chance.
His midfield is ravaged by injury. As many as seven midfielders are unavailable for tonight's clash—Abou Diaby (really?), Mikel Arteta, Aaron Ramsey, Jack Wilshere, Emmanuel Frimpong, Yossi Benayoun and Francis Coquelin. And Tomas Rosicky is rated as "doubtful," leaving Alex Song as possibly the only fit midfield player available.
Yup, experts, you're so right—no squad depth!
Which means that whether he likes it or not, the Arsenal boss will call upon four or five of his attackers to start the game against Milan. Imagine that—Theo Walcott, Alex Oxlade-Chamberlain, Robin van Persie and Gervinho playing from the start!
There is a school of thought that suggests that Arsenal should rest their star players since this game is a lost cause. I beg to differ. I know it's very, very unlikely that they can go through. A lead of this magnitude has never been overturned in the Champions League.
But it is the Champions League. They are the Arsenal. They're still in it. There's plenty of pride to play for. There's the fans as well—in the stadium, watching all over the UK on television, and at odd hours across the world too (ranging from 11:45 a.m. on the Pacific Coast of the US, to 1:15 a.m. in India, to 5:45 a.m. on the East Coast of Australia).
More than anything else, though, the key factor is momentum. Arsenal lost momentum by losing to Milan and Sunderland, but then miraculously gained it back with successive victories over Spurs and Liverpool.
The run-in is upon us. The aim must be to win every game. Yes, including this one. Victory over Milan—even by less than four goals—will be a huge shot in the arm, and will boost confidence leading into the remaining Premier League fixtures.
A deflating defeat will send them back to the drawing board, and Arsenal cannot afford that now.
Yes, there is a chance that someone (OK, Van Persie) may get injured, but that could happen during training, or in their next game against Newcastle. You can't go into a game fearing the worst because that's when you get tentative, leaving yourself open to injury even more.
Wenger was in a bullish, somewhat cocky mood when interviewed. I love that, and I hope it rubbed off on the players:
"I can play six strikers if I want, I have enough. I have Chamakh, Park, Van Persie, Gervinho, Walcott and Oxlade-Chamberlain. I can take a risk, because I have no choice, basically."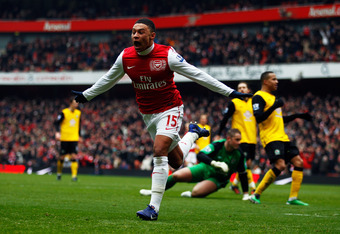 Paul Gilham/Getty Images
And when pressed on whether he would start Van Persie, given the number of games the striker has played:
"I would not be very credible to tell you we want to score five goals and then leave Robin van Persie out."
All said and done, here's how I hope they line up tonight: Szczesny; Sagna, Koscielny, Vermaelen, Gibbs; Song, Rosicky; Walcott, Gervinho, Oxlade-Chamberlain, Van Persie.
Tasty, isn't it?
There's an outside chance that Chamakh may start up front with RVP to provide an aerial threat, but given how little the Moroccan has played, I really doubt that.
I'm really looking forward to tonight. With my thinking cap on, I'm pretty sure they won't go through, but there should be plenty of goals. I'm going to call it 4-2 to the Arsenal.
But then again, what good is a thinking cap—let's dream a little dream, Gooners!
Follow me on Twitter @ratanpostwalla.