Michigan Football 2012: Breaking Down the Wolverines' Offense for Next Season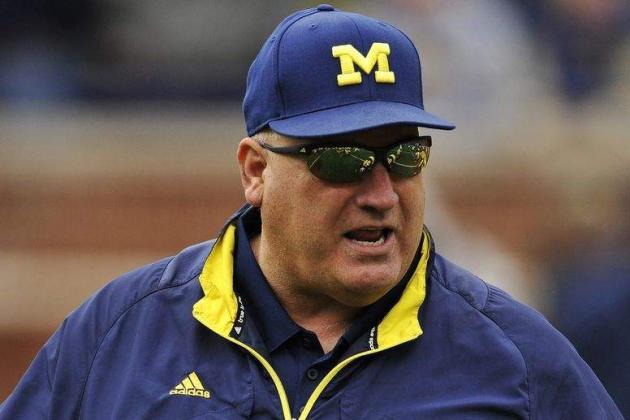 One of the main reasons the Michigan Wolverines had such a turnaround from their 7-6 season in 2010 to 11-2 in 2011 was because of their revitalized defense.
Ranked 110th in 2010, Brady Hoke and Greg Mattison completely turned around the mindset of the defense and as a result, the Wolverines became a top 20 squad.
The lone bright spot Rich Rodriguez had in his three seasons at Michigan was its offense. But Al Borges had a decision to make when he was hired. Would he force the existing offensive players into his system of the pro-style offense, or would he adapt his offense to fit the personnel on the team?
Thankfully, he picked the latter.
By using a hybrid of the spread and pro-style offenses, Borges was able to take full advantage of the talents of the players on the team. They scored more points than in 2010, limited fumbles and kept Denard Robinson healthier by including more players rushing the football.
The situation wasn't all positive, though. Denard struggled at times with some of the pro-style sets, and Borges could have benefited from helping Shoelace with some short routes from some of the wide receivers to boost his confidence.
While most of the offensive players will be returning in 2012, some key positions need new players to step up.
Begin Slideshow

»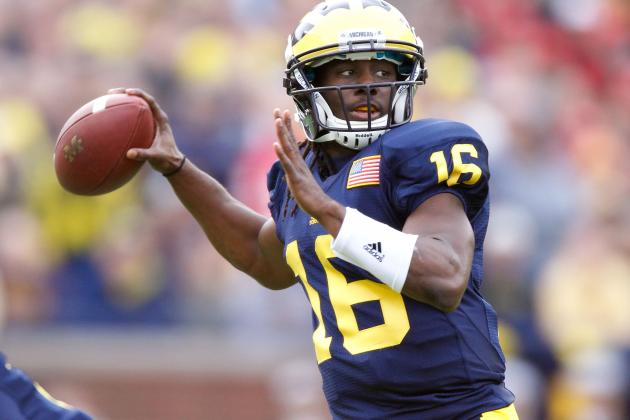 Gregory Shamus/Getty Images

While many will defend Denard Robinson under any and all circumstances, I'm not in that company.
Shoelace regressed as a passer from his terrific sophomore season. He passed for 400 less yards, had a 55 completion percentage as opposed to 62.5 percentage in 2010, threw more interceptions and got sacked almost twice as much.
It's also worth noting he ran for 526 less yards than in 2010.
But this is his senior season, and he's much more familiar with Al Borges' offensive scheme. I have no doubt that he's going rebound and become a more complete passer. Backups Devin Gardner and Russell Bellomy will be waiting until 2013 (along with freshman Shane Morris) to compete for the most important position on the football field.
It's scary to understand just how good Fitz Toussaint was in 2011. He wasn't the full-time starter until later in the season and somehow he managed to rush for 1,041 yards. How good is he going to be with an entire year starting? Look for Denard to throw more to Fitz out of the backfield and get him involved in the passing game, which, as a result, will make him more dangerous.
Look for Stephen Hopkins to step up in the fullback role to provide blocking for both Denard Robinson and Fitz Toussaint rushing the football. Incoming freshman full back Sione Houma will need a year to redshirt and increase his weight.
Also of note, keep an eye out for some of the backup running backs like Vincent Smith and Thomas Rawls. God forbid an injury should slow down Toussaint, somebody would need to step in right away and be effective.
Look for Al Borges to convert redshirt freshman Justice Hayes to wide receiver if the Wolverines can stay healthy at the running back position.
Projected Starters: QB Denard Robinson, RB Fitzgerald Toussaint, FB Stephen Hopkins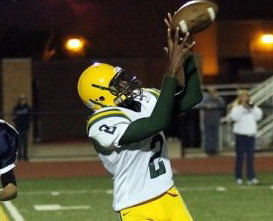 Devin Funchess catching a ball as a high school senior
Unfortunately, starting TE Kevin Koger graduated, and since most experts aren't too high on veteran Brandon Moore, I'm going to be looking at two incoming freshmen that could possibly take over his spot on the roster.
The first freshman is receiving tight end Devin Funchess. He's tall at 6'4" but only weighs 215 pounds, which, at that weight, won't fit too well with the pro-style offense from a blocking perspective. He had great hands in high school and should fit in well catching the football when Denard's scrambling out of the pocket. As I noted before, he's going to need to put on some weight.
The second freshman is blocking tight end A.J. Williams. He's also tall at 6'6", but he clearly has the weight to block at the line of scrimmage at 275 pounds. Williams is also listed as somebody that could convert to the tackle or guard position if needed, but since Michigan lacks the necessary depth at the tight end position, look for Brandon Moore, Devin Funchess and A.J. Williams to fight for playing time.
Projected Starters: Blocking TE Brandon Moore, catching TE Devin Funchess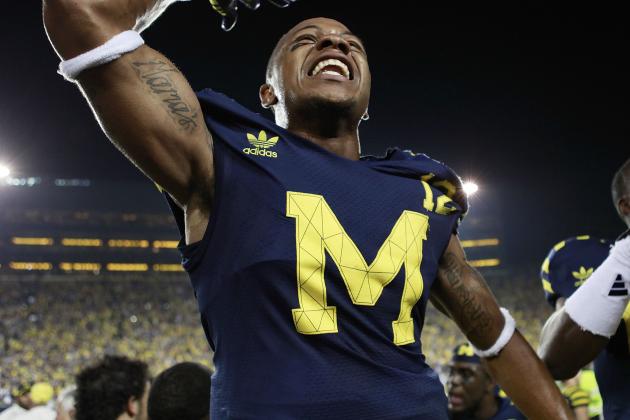 Leon Halip/Getty Images

Junior Hemmingway shined brightly when it counted the most in the Sugar Bowl. It was his final game as a Michigan Wolverine. Now NFL teams are studying Junior to possibly be drafted in April.
Darryl Stonum was kicked off the team for violating his probation.
So where does that leave the Michigan Wolverines' receiving corps? Actually, they're looking pretty good for 2012.
Roy Roundtree is looking to rebound from his disappointing 2011 campaign. While he was able to achieve 72 catches in 2010, he was only able to receive a mere 19 footballs in 2011. He's a lock to start opening day. He's a senior this season, so he's going to want to grab as many catches as possible.
Starting opposite of Roy Roundtree should be the prototypical slot receiver, Jeremy Gallon. He's a bit undersized but almost always catches the football when it's thrown to him. He had a breakout season last year and will be fighting to playing time against Jeremy Jackson, Drew Dileo and incoming freshmen Jehu Chesson and Amara Darboh.
Chesson and Darboh are 6'3" and 6'2", respectively, so I'm expecting them to fight for immediate playing time, especially around the goal-line situations for Denard Robinson.
Projected Starters: WR Roy Roundtree, WR Jeremy Gallon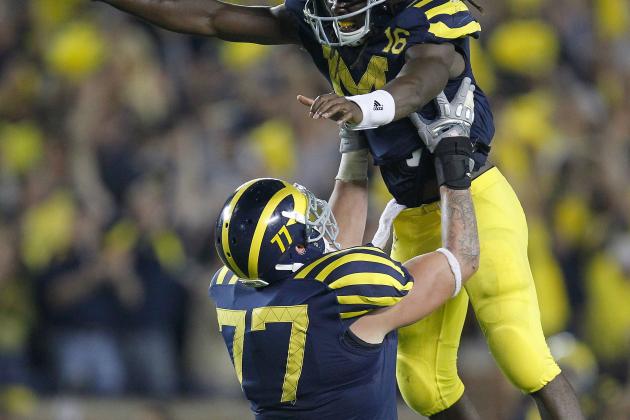 Gregory Shamus/Getty Images

The biggest questions this team has offensively are up front on the offensive line.
The offensive line is losing center and Rimington Award winner David Molk to graduation. They're also losing right tackle Mark Huyge to graduation.
Michigan was able to recruit extremely well on the offensive line for the 2012 class, including the top recruit in Ohio, Kyle Kalis. They were also able to pull a great offensive tackle out of California, Erik Magnuson.
Taylor Lewan has the left tackle spot locked up, as this will be his third season starting the position.
However, the other four offensive line positions are much more difficult to predict who's going to be starting.
Will offensive guard Patrick Omameh upgrade himself and move to the other tackle position?
The same could be said about offensive guard Michael Schofield. Will he move to right tackle?
What about the incoming freshmen mentioned earlier, Kyle Kalis and Erik Magnuson? Will they be able to start on the offensive line, or will they take a redshirt for their first year at Michigan?
And what about the vacant center position? Rocko Khoury was the backup to David Molk last season, but when he started in the Sugar Bowl due to Molk getting injured, he had a lot of low snaps and didn't block very well.
If Rocko Khoury doesn't step his game up, how about a guy like Ricky Barnum taking over the center position?
Needless to say, there's a lot of questions the offensive line needs to address for the upcoming season.
Projected Starters: OT Taylor Lewan, OG Patrick Omameh, C Rocko Khoury, OG Kyle Kalis, OT Michael Schofield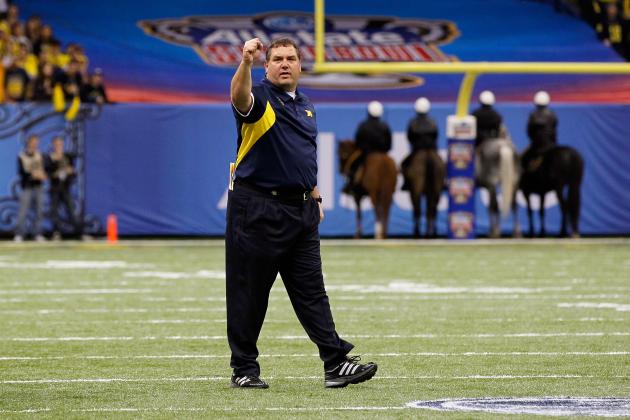 Kevin C. Cox/Getty Images

Michigan's offense should be in good shape for the 2012 season. They've had a year to understand Al Borges' playbook and are losing very few players to graduation.
There's a few questions at the tight end position, but Hoke and Borges will need to figure out the where to place their best players on the offensive line. They don't have long to figure this out with cupcake opponents. They play Alabama right away to start the season.
Spring practice is just two weeks away.
Go Blue!