NBA Trade Rumors: Raymond Felton and Names Heating Up Near Deadline
March 6, 2012

Harry How/Getty Images
Like clockwork, the NBA rumor mill is nearly spinning off its axis with 10 days to go before the March 15 trade deadline comes and goes. To suggest that Dwight Howard, Rajon Rondo and Pau Gasol are important names to track in this most sensitive time would ignore how popular they've been on the market and in the back channels ever since the league and the players union brought the lockout to a close.
So while GMs and insiders continue to bandy about their own dream trades for those stars (and others), these three role players will continue to emerge as more easily obtainable options for playoff hopefuls in search of another missing piece or two.
The times, they are a-changin' for the Portland Trail Blazers, as too they may be for Raymond Felton.
Felton's career-killing season has been of little help to the Blazers, whose playoff hopes are fading fast after losing eight out of 12 games to drop to 18-19 overall. With that, and Felton's demotion to backup duty, Portland has begun fielding calls for the hefty point guard.
That renewed interest in Felton's game would appear to have spurred Nate McMillan to put him back in the starting lineup, though Joe Freeman of the Oregonian reports that's not the case—at least not outwardly so: 
Coach Mac says he knows it looks like he is showcasing Felton before trade deadline, but insists that played no part in starting him again.

— Joe Freeman (@BlazerFreeman) March 5, 2012
As much as the Blazers may wish to ship Felton out of PDX, they may be hard-pressed to do so except for the most minimal of asking prices as a result of his startling regression.
Jamal Crawford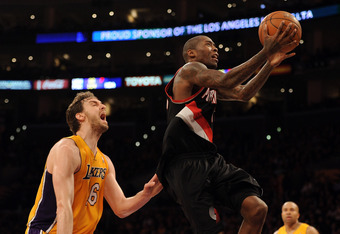 Harry How/Getty Images
A full-blown fire sale in Portland, assuming it breaks out, figures to include Jamal Crawford among its many casualties. According to Yannis Koutroupis of HOOPSWORLD, the Los Angeles Clippers and the Minnesota Timberwolves are among several teams that have inquired about Crawford, who makes a reasonable $5 million salary and owns a player option for the 2012-13 season.
The Blazers' fear of losing Crawford for nothing appears to be driving both his insertion into the starting lineup and his presence on the trading block. However, the lack of a clear hierarchy in the Blazers front office, with Chad Buchanan still acting as the interim GM, could hinder the team's ability to make any deal of consequence between now and the deadline. 
That being said, Crawford would be an ideal choice to solve the Clips' woes at shooting, and could just as easily fill that role with the T-Wolves, who currently start Luke Ridnour—a natural point guard—alongside Ricky Rubio in their backcourt.
Boris Diaw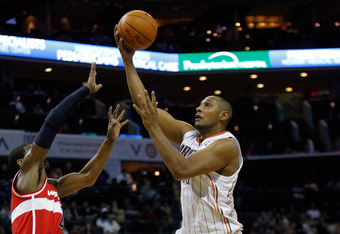 Streeter Lecka/Getty Images
The Charlotte Bobcats, currently scraping the bottom of the NBA barrel with just four wins to their credit, are nearly ready to part with Boris Diaw. Richard Walker of the Gaston Gazette suggests that the relationship between Diaw and Bobcats head coach Paul Silas has endured quite a bit of strain of late, with the big Frenchman refusing to shoot as much Silas wants him to.
A strange, seemingly antithetical development, to be sure, though that sort of willingness to share the ball shouldn't scare away too many potential suitors. Diaw averages nearly 10 points, five rebounds and four assists per game for his career, providing the sort of versatility that few players at his size can match.
And, with unrestricted free agency on the docket for the summer, Diaw should be relatively easy to move, assuming Michael Jordan doesn't mind his team diving just a little bit deeper into the proverbial tank.