New Orleans Bounty Scandal Makes It OK to Hate the Saints Again
March 5, 2012

Matthew Sharpe/Getty Images
The New Orleans Saints enjoyed an unprecedented run over the last decade or so as a sort of new "America's Team." But that's all over now, and we have Gregg Williams to thank.
Right now, the current Rams defensive coordinator is on a plane headed for New York to meet with the NFL brass about his role in an ongoing...let's call it a "program" of his creation. This alleged program saw Williams' players receive bonuses or "bounties" for incapacitating opponents over the course of a game. Instead of helping his team determine how to spend their second-overall pick in the upcoming draft, Williams will be sitting at a Park Avenue conference table, defending the practices that made him one of the league's most sought-after defensive coordinators in football.
The NFL reflexively makes a frowny face at such talk. An archaic bylaw explicitly prohibits teams from compensating players with bonuses outside of a predetermined contract. But league chancellor, er, commissioner Roger Goodell doesn't need your bylaws.
His campaign to make the game safer has run unimpeded to this point, and Williams' practices will surely be denounced as he and the New Orleans Saints wait to be struck down with a "Spygate" level of retribution.
I've heard arguments that the Spygate scandal was a story overcooked by the media, and I think that's where we are with this bounty business. It's difficult for me to denounce it for four reasons:
There was no competitive advantage. Unlike Spygate, Williams' defenses didn't have a magic playbook or any enlightened awareness of what the opposition was doing. Did Williams get his players to work harder with extra financial incentives? Sure, but find me a professional person on earth who doesn't.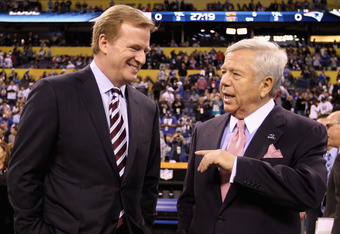 Ezra Shaw/Getty Images
Goodell went out of his way to pooh-pooh those who thought that Spygate had a significant impact on games, though he went out of his way to levy some of the harshest punishments in league history and destroyed the tapes before they could be subject to public consumption. It will be interesting to see what he has to say about players attempting to immobilize each other in the face of his safety dance.
It did not compromise the integrity of the game. Let me be clear on this: defensive players like hurting people. It's that promise of pain that makes the world go 'round. Defensive players would hurt offensive players for free (we call that "college football"). And when players aren't trying to hurt other players, we end up with the Pro Bowl. Nobody wants that.
Every other team in the NFL does something similar to this. Except for the Bills. Sorry, but they're awful. That's a team that should be fined for not bounty-ing enough.
This discovery knocks the Saints off as media darlings. And this is the big one.
Ever since the Gulf coast was flooded by the effects of Hurricane Katrina, the city of New Orleans and their football team have been a beacon of goodwill, sympathy and other warm fuzziness. From a PR standpoint, the team was bulletproof, and the Saints' rise to prominence became a symbol of the city's efforts to rebuild itself.
That's great...unless you grew up hating the Saints.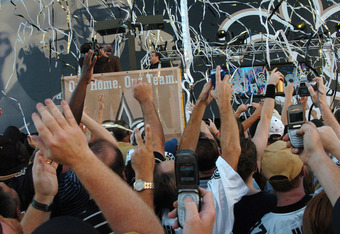 A. Messerschmidt/Getty Images
When the team returned to the Superdome in 2006, they faced the Atlanta Falcons, who faced the unduly notion of having almost an entire country root against them. Everybody's rooting for the Saints, fans in Atlanta would hear, knowing in their hearts that such a statement wasn't true. The other fanbases in the NFC South, based in Tampa Bay and Charlotte, might have felt a bit treasonous as well, simply by rooting for the teams that they loved.
But the Saints made the most of their moment in the sun. They won 10 games in 2006 and made the playoffs. Three years later, they won the Super Bowl. The storybook finally had its ending, but the Saints still had that air of distinction that made them impossible to hate. This bounty scandal nullifies all of that, and while I generally disagree with the sentiment that it should, I'm more than happy to accept that it does.  
This "scandal" might have other repercussions for the Saints, and it might help explain why Drew Brees is reluctant to re-sign another long-term deal with the team. That's not difficult to understand. Pick a bodily orifice and Brees can produce goodwill and marketability from it, and these recent events surrounding the Saints will put a damper on what is most likely the homestretch of Brees' career.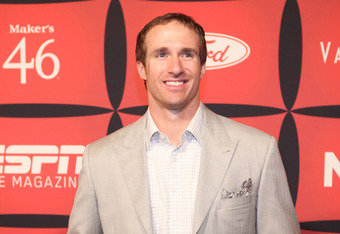 Robin Marchant/Getty Images
That notion makes little difference to the Saints, who already have noted that they will subject Brees to the franchise tag, using the "exclusive rights" feature that the league carved out in its latest collective bargaining agreement. In short, Brees will get a one-year deal, guaranteed, but won't be able to negotiate with the other 31 teams.
Did Brees know that bounties were being laid, and did he do anything to stop it? Frankly, I don't care, but the question does speak to a larger issue about today's NFL. It's the idea that everything that happens on offense is good and any achievement realized by the defense is bad. It's a principle, one of which we're seeing more and more examples.
One should be loathe to blanket such generalizations on the game. Not all low-scoring games are boring and only a few helmet-to-helmet hits are legitimately evil. And the discovery of players being rewarded for meeting their goals on the field shouldn't be treated like the O.J. trial.
But let's not overlook the greater gift here. Due to a technicality, the New Orleans Saints are no longer the good guys. That franchise that spent the last seven years awash with national sympathy is now just another team of 32—a face in the crowd. Fans of the Falcons, Buccaneers and Panthers can rejoice. It's OK to hate the Saints again.