Green Bay Packers Trade Rumors: One Player on Their Radar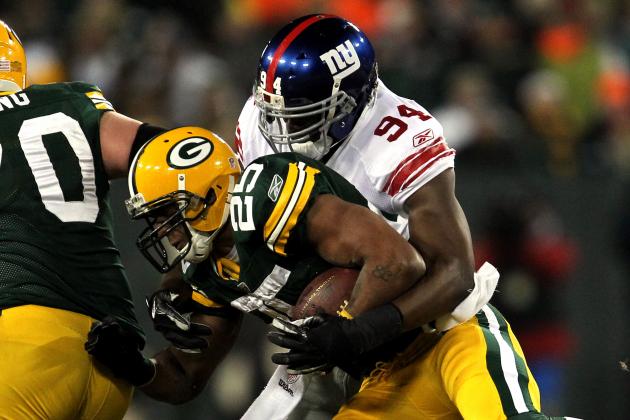 Jonathan Daniel/Getty Images

In terms of making trades, Ted Thompson of the Green Bay Packers does not make many that involve getting players who are currently on NFL rosters. Thompson has only done that on five occasions since 2005, when he became executive vice president, general manager and director of football operations.
That was after Thompson had been in the Seattle Seahawks front office from 2000-2004, helping Mike Holmgren. Thompson started out his NFL front-office career in 1992 in Green Bay, where he was mentored by general manager Ron Wolf. Thompson worked primarily in the pro personnel department in his first stint with the Packers that lasted through 1999.
The most notable player Thompson has traded for since he came back to Green Bay was RB Ryan Grant, who Thompson acquired in 2007 for a sixth-round draft pick (to be used in the 2008 NFL draft).
Thompson also has traded away players. He has done this seven times, with the most impactful being Brett Favre, who was traded to the New York Jets in 2008 for a third-round pick.
That pick, along with two others, was used in the 2009 draft to move up and select LB Clay Matthews in the first round after a trade with the New England Patriots. Matthews was the second pick of the first round that year for the Packers, with the first selection being defensive lineman B.J. Raji.
The NFL draft is where Thompson does most of his maneuvering. Thompson has made 20 trades involving draft picks.
I believe this is where Thompson will do his wheeling and dealing again in 2012. In fact, I think Thompson will be aggressive again in the 2012 draft and trade up, just like he did in the 2009 draft. Thompson also traded up in the 2008 and 2010 drafts.
Thompson also will probably trade back a time or two in this year's draft, as that is his trademark.
However, if Thompson is going to make a trade for a current NFL player, I believe he may talk to an old friend in Oakland. Reggie McKenzie is the new general manager of the Oakland Raiders after being in the Green Bay front office since 1994.
McKenzie has worked closely with Thompson in his two tenures with the Packers and was named director of football operations in 2008 by Thompson before he left for Oakland earlier this year.
McKenzie took over the top job with the Raiders after the death of legendary owner Al Davis. McKenzie inherited a team with many problems. He has had to fire the coaching staff and hire a new one, plus has inherited a salary cap that is way over the expected cap limit that will be around $120 million.
McKenzie has had to make difficult personnel decisions because of that situation, which included cutting CB Stanford Routt last month. Even with the release of Routt, the Raiders still have a payroll that exceeds $145 million. Obviously, McKenzie still has a lot of work to do.
Add to all of that, the Raiders do not have a selection in the 2012 draft until the fifth round thanks to trades (Carson Palmer, Jason Campbell, etc.) and a supplemental draft selection (Terrelle Pryor).
That leads me to a deal that I believe Thompson might think about making with McKenzie for outside linebacker Kamerion Wimbley.
Begin Slideshow

»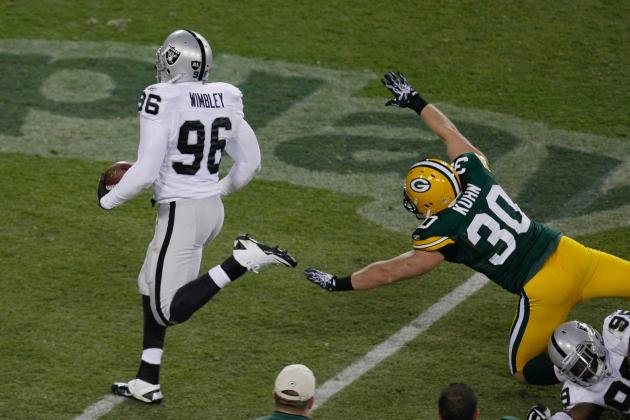 Scott Boehm/Getty Images

The Raiders are trying to restructure the contract of Wimbley, who is due to receive a base salary of $11 million in 2012, $11 million in 2013, $10 million in 2014 and $11.5 million in 2015. The Raiders have until March 17th to get a deal restructured, otherwise the Raiders will be on the hook for $17.5 million because of salary and other bonuses.
If the Raiders cut Wimbley, the team will save $4.5 million in cap space. That is why the team is trying to restructure a deal with Wimbley, who is one of the better players on the Oakland defense.
Wimbley has been in the NFL since 2006 when the Cleveland Browns drafted him out of Florida State in the 1st round. The 6'4'', 255-pound Wimbley had 26.5 sacks in four years in Cleveland.
The Browns traded Wimbley to the Raiders in 2010 and the former Seminole was converted from 3-4 OLB to a 4-3 strongside outside-linebacker. Wimbley has enjoyed success with the Raiders. He has had 16 sacks in two years and played the run effectively.
If the Raiders have to release Wimbley, the Packers would be forced to get into a bidding war for his services in free agency, which is not the Thompson way of doing business. However, Thompson might be able to acquire Wimbley in a trade.
Why? Again, the Raiders do not have any draft selections in the 2012 draft until the fifth round. Currently the Packers have eight selections, which includes all seven of their selections as well as a seventh-round pick acquired from the New York Jets. In addition, the Packers are expected to get two and as many as four compensatory picks in this year's draft.
The compensatory picks will be announced by the NFL in a couple of weeks. Teams can't trade compensatory picks, but that does not preclude a team from trading their other draft picks.
The Packers could send a draft pick or two Oakland's way to acquire Wimbley. Nothing earlier than the fourth round, however. A transaction like that definitely would help the Raiders, who otherwise would have to release Wimbley if they could not restructure his contract.
It would obviously help the Packers, who could make Wimbley the bookend to Clay Matthews at right outside linebacker. I know a lot of people are clamoring for Thompson to look at Mario Williams in free agency, but Wimbley's body of work in the NFL is similar to what Williams has done.
And Wimbley will come a bit cheaper than Williams, although he obviously is pretty well-paid. In fact, after acquiring Wimbley, I'm sure the Packers would discuss restructuring Wimbley's contract.
Bottom line, this type of trading maneuver would help the Green Bay defense in 2012 and for years to come. Wimbley is just 28 years old and already has a very nice track record in the NFL.