Stanford Football: March 3 Open Practice Report
March 5, 2012
Christian Petersen/Getty Images
Stanford football held its first public practice on March 3.  Coach David Shaw's Cardinal ran through drills and some full contact scrimmaging on a sunny morning warm even by California standards, all with the familiar sounds of "Welcome to the Jungle" and similar songs of that genre blaring in the background. 
We've previously noted key developments and players to watch this spring. Here's some of what we saw on the offensive side of the ball on March 3. 
Placekicking: Jordan Williamson
PK Jordan Williamson unwillingly became the second-best known Stanford player after his 1-of-4 field goal debacle in the 2012 Tostitos Fiesta Bowl. 
Williamson looked decidedly better at the March 3 practice. He attempted several 30-yard FGs under scrimmage conditions. His first attempt brought back some bad memories, going wide left due to an inaccurate snap and hurried placement by his holder. 
Williamson's remaining attempts all split the uprights, with towering height and up to 20 yards of distance to spare. 
WRs: Jamal-Rashad Patterson 
JRP was one of Stanford's more heralded recent WR recruits after a 4-star high school career in Georgia that featured more than 40 touchdowns and an eye-popping 3,100 receiving yards. 
The 6'3", 205-lb. Patterson has caught only nine passes in three seasons on The Farm.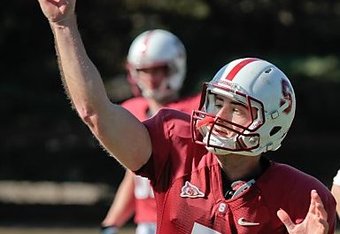 At the March 3 practice, Patterson got himself open against the Cardinal CBs on routes of all lengths. He didn't catch every ball thrown his way but showed some signs that maybe he will finally realize his potential this fall. 
Meantime, frosh star Ty Montgomery was in uniform for the practice and joined in on some drills, but with his left hand heavily taped, he did not scrimmage. 
RBs: Ricky Seale
Aside from starting TB Stepfan Taylor, Ricky Seale is the only Stanford TB participating in spring practice who carried the ball in 2011. (Anthony Wilkerson, seen on crutches at the March 3 practice, will miss the entire spring with a leg injury, and Tyler Gaffney is playing baseball.)
Seale, a 4-star recruit in 2010, was a workhorse during the March 3 scrimmage session. He took care of the ball, showed some decisive and quick moves and made yardage on all of his carries. His is a story worth watching in light of Wilkerson's injury and Gaffney's baseball career. 
Meanwhile, redshirt freshman Kelsey Young saw time at both RB and WR, and looked fast and elusive. Young was another 4-star RB rated among the top 25 nationally by Scout at Norco HS, where Stanford legend Toby Gerhart played. 
TEs: Davis Dudchock
The Cardinal return two of their three towering 2011 TEs, 6'8" Levine Toilolo and 6'6" Zach Ertz. Both will be more than a handful for Pac-12 OLBs and SSs. Ertz can run patterns with WR-like precision, while Toilolo can outreach any DB in the nation.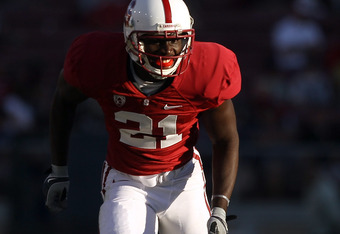 Ezra Shaw/Getty Images
Davis Dudchock appears to be in line to replace the NFL-bound Coby Fleener. During the open practice, Dudchock had a nice over-the-shoulder grab on a deep ball from southpaw QB Evan Crower. 
Which brings us to...
QBs: Brett Nottingham 
Crower, a 6'5' lefty, is the tallest of the five QBs vying to replace old what's-his-name as the Cardinal QB. 
Most of the scrimmage snaps went to heir apparent Brett Nottingham, he of the high school connection with TE Ertz, and fellow redshirt junior Josh Nunes.  Both are sure to see plenty of reps in the coming weeks. 
The Cardinal's next open practice is Saturday, March 10. We'll follow up on the offense and report on the defense as well after that practice.