MLB Trade Rumors: Gavin Floyd Still a Hot Item the Chicago White Sox Could Trade
March 5, 2012

Jason Miller/Getty Images
The Gavin Floyd trade market seemed quiet for the last two months. Now, Chicago White Sox general manager Kenny Williams' phone is ringing again with teams interested in Floyd. With Williams trying to pare down the White Sox payroll, he needs to listen closely to offers for Floyd.
Floyd has attracted quite a bit of interest from teams this offseason. The Boston Red Sox started showing interest in Floyd a few months ago, according to the Boston Globe. Around the time of the winter meetings, the Baltimore Orioles looked at Floyd, per the Baltimore Sun. However, the Orioles have filled their starting pitching need by signing two free agents and trading for another.
After several weeks in which teams hadn't seemed to show interest in Floyd, the chatter is picking up again. According to the Boston Globe, the Red Sox are still tapping Williams' figurative shoulder about Floyd, as are the Toronto Blue Jays.
The Red Sox Surely Want Floyd to Tack Down the Back End of Their Rotation
The Red Sox have some depth in their starting rotation. However, the back end of the rotation is a problem. John Lackey will miss the 2012 season due to Tommy John surgery, and the same procedure has Daisuke Matsuzaka out until June at the earliest. Tim Wakefield recently retired.
The Red Sox are moving Alfredo Aceves and Daniel Bard into the starting rotation, but seem to be challenging them. Several experienced starters, such as Vicente Padilla and Aaron Cook, are trying out, but Boston might be unimpressed by these players.
Floyd could give the Red Sox the credible young back-of-the rotation starter they desire. The 28-year-old has pitched more than 185 innings in each of the last four years. Before posting an ERA of 4.37 in 2011, he had ERAs between 3.80 and 4.10 the previous three years. Floyd dropped his walks-per-nine-innings rate to 2.1 in 2011 from 2.8 the year before.
The Red Sox would like that kind of control.
In return, the White Sox should look for a bat. Ryan Lavarnway would be a great addition. He hit 32 home runs in Double-A and Triple-A last year. While he's a catcher, the White Sox could move him to first base to take the place of Paul Konerko when Konerko retires.
The Blue Jays Could Easily Make Floyd a No. 2 Starter While Giving the White Sox a Bat
The Blue Jays would surely like a steady starter like Floyd. The Blue Jays don't have a sure thing in their rotation. Ricky Romero went 15-11 with a 2.92 ERA last year, but one must wonder if he can keep it up. No other Blue Jays starter had an ERA below 4.70. That makes Floyd's numbers look Cy Young-like.
Also, consider that the Blue Jays don't have a starter who has multiple 180-inning seasons. They certainly would like a starter with Floyd's reliability.
Williams has made his share of deals with Blue Jays general manager Alex Anthopolous. Last summer, the White Sox acquired Zach Stewart and Jason Frasor from the Blue Jays. The White Sox would deal Frasor back to the Blue Jays in January. Also, the White Sox sent Sergio Santos to the Blue Jays for Nestor Molina in December.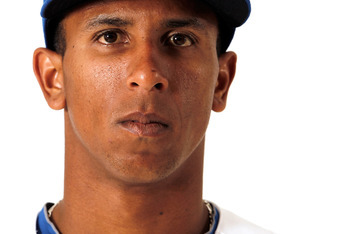 Jonathan Ferrey/Getty Images
Williams and Anthopolous might have one more deal to make with each other this offseason. Center fielder Anthony Gose, Baseball America's No. 39 prospect, would be a terrific grab from the Blue Jays. Gose hit 16 home runs and had a .349 on-base percentage at Double-A New Hampshire last year.
Conclusion: Williams Would Be Wise to Make a Deal Soon
Williams knows he doesn't have any money to spare on the White Sox this year. He only signed one real free agent for the major league club.
Still, he could do some work to trim payroll. That comes with dealing Floyd. Now that the White Sox have signed players to fill out the 40-man roster, according to NBC Chicago, Williams should have a good idea of what the payroll may look like. The figure may be higher than what Williams and Jerry Reinsdorf want once the 25-man roster is finalized.
The time is right for trading Floyd. With spring training in full swing, the White Sox are getting a good look at pitchers who could fill Floyd's spot in the rotation like Zach Stewart, Dylan Axelrod and Molina. One of these guys could step in and take Floyd's innings if Floyd is traded.
Even though Floyd has been an integral part of the White Sox rotation for the last few years, Williams may need to make the deal for monetary and rebuilding reasons.