10 Fighters That Are Locks for the UFC Hall of Fame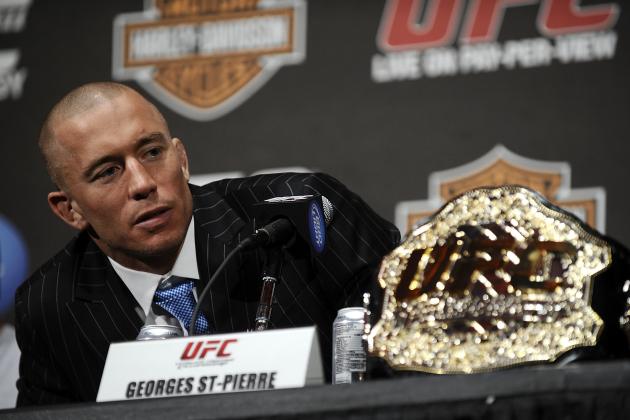 Jeff Zelevansky/Getty Images
UFC Welterweight Champion Georges St. Pierre listens to a question at a press conference for UFC 111.
Eight men are currently members of the illustrious UFC Hall of Fame. Each and every one of them is up there for his own reasons, but the one thing that defines all of them is that they made an impact on the UFC and the sport of MMA.
Royce Gracie and Ken Shamrock were the first ones inducted in 2003, based on what they did for the sport in its infancy, showing that even the technical fighters can beat the big guys.
Chuck Liddell, Randy Couture, Matt Hughes, Mark Coleman, Dan Severn and Charles "Mask" Lewis (founder of Tapout) are all guys who achieved success for the majority of their careers.
What does the future hold for the UFC? What does the future hold for MMA in general? Those questions are currently being answered by guys that are taking the sport by storm.
Here is a list of fighters who have defined and currently are defining MMA, and thus should be locks to join the eight men listed above as UFC Hall of Famers.
Begin Slideshow

»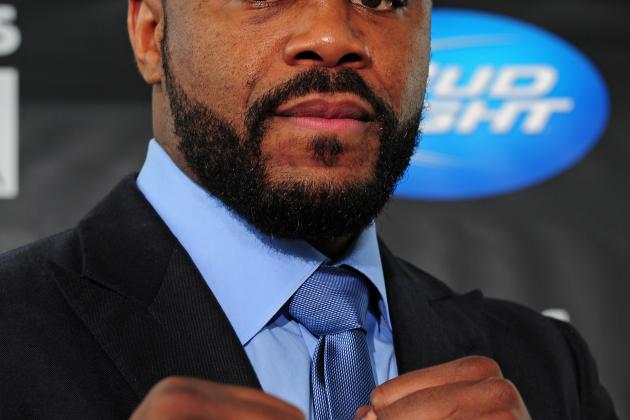 Scott Cunningham/Getty Images

Current Record: 17-1-1
Rashad Evans has all the makings of a Hall of Famer. He is a former UFC light-heavyweight champion, a winner of T.U.F. Season 2 and, despite all his injuries and extended layoffs, he has managed to package together an excellent record.
His only loss came to Lyoto Machida. Since then, he has won four fights, two of them against former champions (Tito Ortiz, Rampage Jackson).
If Evans keeps this up and stays in top form, he will be called to the sacred hall someday.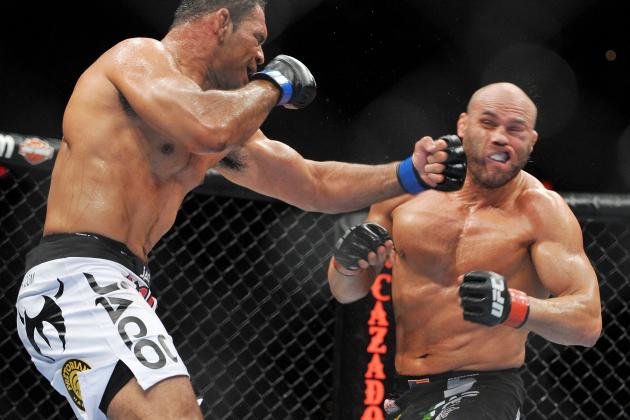 Jon Kopaloff/Getty Images
Nogueira (left) delivers a left to current UFC Hall of Famer Randy Couture (right)
Current Record: 33-7-1 (1 NC)
If there is any doubt that this man doesn't deserve a nod into the Hall of Fame, I must ask you to watch some tapes of him over the years.
Minotauro has proven in his MMA career that he is a tough fight, and even when you think he is down and out, you are still not out of danger.
Yes, he has alternated wins and losses in his last six fights, but even in losing, this man looks good and never gives up. Frank Mir had to snap his arm at UFC 140 in order for the fight to stop by submission.
He is a former interim UFC heavyweight champion and was the first ever PRIDE heavyweight champion.
The man has the resume to be in the Hall right now, but he looks to have some fight left in him. So we will keep his chair warm because when he does hang up the gloves, his seat will be waiting.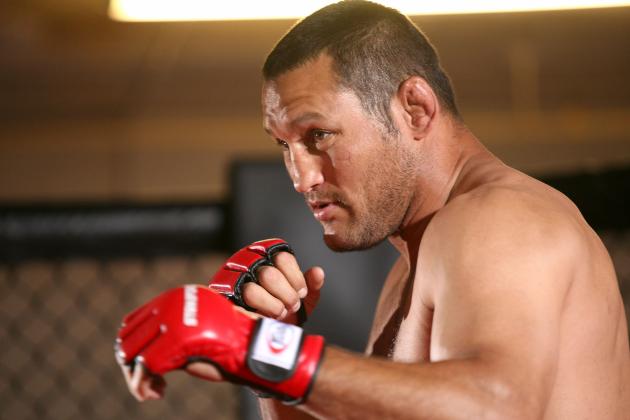 Valerie Macon/Getty Images

Current Record: 29-8
The American wrestler has seen it all in the MMA world. He has won multiple championships, faced the best in the world and has had fights that will stand the test of time.
His run in PRIDE would be enough to give him Hall of Fame honours. I mean, the man simultaneously held the belts in two weight classes (Middleweight, Welterweight) and is a former Strikeforce light-heavyweight champion.
When you can combine that with his amazing performance at heavyweight, when he defeated Fedor Emelianenko in July 2011 and his victory over Mauricio "Shogun" Rua at UFC 139, you can see the amount of skill that Hendo has on his feet and on the ground with his wrestling.
He has won seven of his last eight fights. Continuous talk about him being in title discussion in the UFC will show that even at age 41, Hendo is still one of the best in the world. His accolades will earn him a spot in the UFC Hall of Fame for all he has done.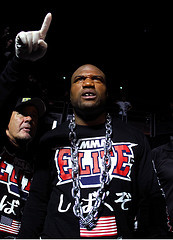 Photo by Al Bello/Zuffa LLC/Zuffa LLC via Getty Images
Current Record: 32-10
Another PRIDE guy who has done amazing things beyond is a man who can simply be identified by one word: Rampage.
He is a former UFC light-heavyweight champion and has the distinction of being the first man to unify the UFC light-heavyweight and PRIDE middleweight championships after defeating Dan Henderson.
His rivalry with Wanderlei Silva is legendary and his dominance over current UFC Hall of Famer Chuck Liddell (while Liddell was in his prime, might I add) shows how much of a threat Jackson has been over the years.
Sure, he's lost his last two fights (the first losing streak of his MMA career), but overall, the man has done a lot for the sport in his almost 13-year professional career.
He has coached on The Ultimate Fighter on two occasions and is a recognizable figure to even the new MMA fans coming on board.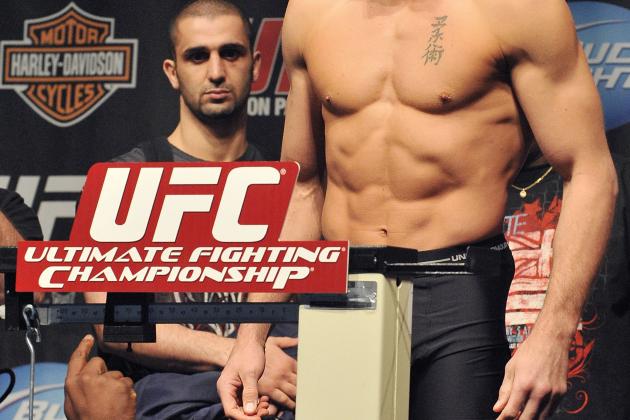 Jon Kopaloff/Getty Images

Current Record: 22-2
GSP is an icon in MMA. At the age of 30, he has a resume that is sure to get him into the UFC Hall of Fame one day.
His control of the cage in any of his fights may not be the most action-packed, but GSP knows that whenever he steps inside, he has one thing in mind and that is to win.
He has done that on nine straight occasions and has beaten a lot of tough customers like B.J. Penn, Jon Fitch, Jake Shields and current UFC Hall of Famer Matt Hughes.
Currently, GSP holds the record for consecutive defenses of the UFC Welterweight Championship, a record that can be extended when he returns from injury.
He has won "Fighter of the Year" honours from various different media outlets and is considered one of the best pound-for-pound fighters in the world.
On a business standpoint, he is a huge draw for PPV buys all over the world, and as a reward, nobody can deny that there is a chair in the UFC Hall of Fame that has GSP's name written all over it.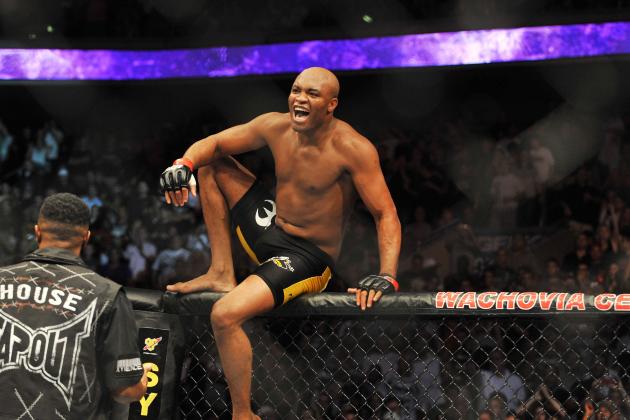 Jon Kopaloff/Getty Images

Current Record: 31-4
Don't tell Chael Sonnen but Anderson Silva is a future UFC Hall of Fame inductee.
Why? Well, how can you deny a man who has the longest UFC championship reign, one that continues to this day.
He is 14-0 in the UFC and has often finished guys in the first two rounds. There was a small spurt where he wasn't looking like himself and chose to dance around his guys instead of engaging in combat, but the record speaks for itself. The man gets it done when he steps inside the cage.
He is at the top of the pound-for-pound fighters list and even unified his middleweight title with the PRIDE welterweight title in his win over Dan Henderson.
What more does he have to do? There is a matter of him and Sonnen settling things in a soccer stadium. After that, Silva could make a run in the light-heavyweight division, a place where he does hold wins over James Irvin and former champ Forrest Griffin.
Either road Silva chooses to take, it will lead him to one place: the UFC Hall of Fame.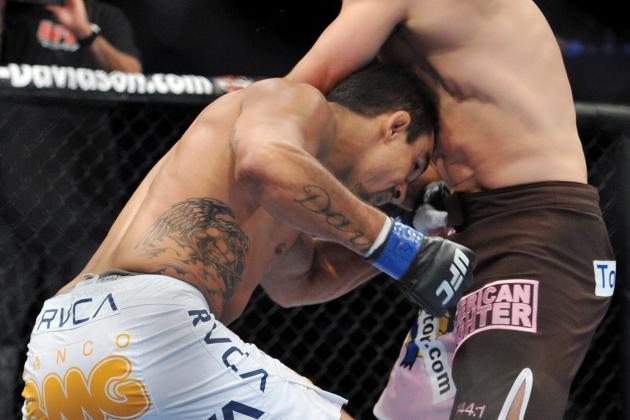 Jon Kopaloff/Getty Images
Franklin (right) takes a body shot from Vitor Belfort in a fight at UFC 103.
Current Record: 28-6 (1 NC)
Rich Franklin is a man who made a lasting impression on the UFC community when he defeated Ken Shamrock at the T.U.F. Season 1 finale.
That win propelled him into title contention and he became the UFC middleweight champion.
His battles with Evan Tanner, Jorge Rivera, Chuck Liddell, Anderson Silva, Wanderlei Silva and Yushin Okami allowed Franklin to become the man he is today.
Yes, I mentioned the Anderson Silva fights because even in losing, it allowed Franklin to grow as a fighter, something every fighter will tell you.
He stays near the top of the division based on name recognition and fighting skill, and it all started with him being the first man to knock out current UFC Hall of Famer Shamrock.
With that kind of lasting impression in front of the worldwide audience that was still a buzz after the classic Forrest Griffin-Stephan Bonnar fight, Franklin cemented the foundation that became the MMA career that he currently has.
Not bad for a former teacher out of Ohio.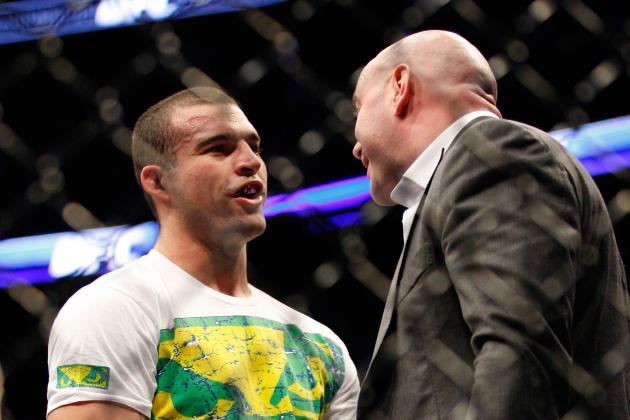 Richard Wolowicz/Getty Images
Shogun (left) shakes hands with UFC President Dana White (right) after winning the UFC LHW Title.
Current Record: 21-6
Still recognized as one of the best light-heavyweights in the UFC today, Shogun has had a storied career in both PRIDE and the UFC.
He may have six losses on his record but has avenged three of them in decisive fashion.
The former PRIDE middleweight grand prix champion came to the UFC in September 2007, and even though he had a shaky start by losing to Forrest Griffin, Shogun has since asserted himself as the competitor we know and love him to be.
He is a former UFC light-heavyweight champion and was on the losing end of what is still one of the most talked-about fights in recent memory against Dan Henderson at UFC 139.
His fights in PRIDE with Quinton Jackson, Alistair Overeem, Kevin Randleman and Antonio Rogerio Nogueira put him into the international spotlight as a force in Japan.
His MMA career goes as far back as the end of 2002, when he started his career winning 12 of his first 13 fights.
He is an icon in the sport and is recognized the world over. He will be another man sitting in the UFC Hall of Fame someday.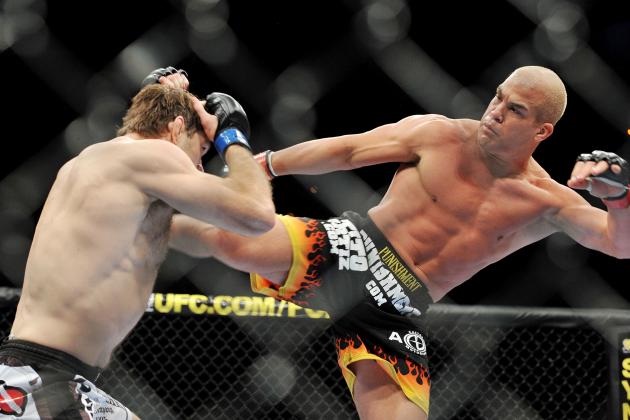 Jon Kopaloff/Getty Images
Ortiz (right) delivers a kick to Forrest Griffin (left) at UFC 106.
Current Record: 16-10-1
One of the stars of the early UFC, Tito Ortiz helped put the sport on the map as a dominant UFC champion.
He still holds the record for most title defenses in the light-heavyweight division and has fought in the UFC more times than anyone in history.
His rivalry with Ken Shamrock was one of the biggest and most talked about in the sport as it slowly reached mainstream.
His record recently wouldn't reflect a UFC Hall of Fame inductee, losing five of his last six, but nobody can deny that Ortiz is deserving of the honor.
He has spent almost 15 years as a UFC competitor, and with retirement looming, it shouldn't be a stretch to say that his UFC Hall of Fame induction could come by the end of this year.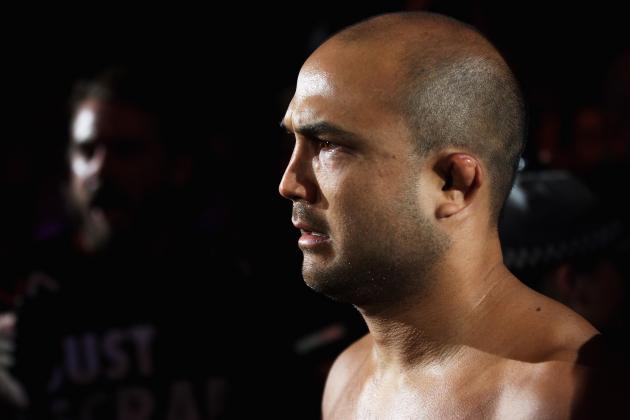 Mark Kolbe/Getty Images

Current Record: 16-8-2
Since starting his MMA career, B.J. Penn has been in the midst of title talks for the vast majority of it, competing for his first UFC title back in 2002.
He has been part of many meaningful bouts in the history of the UFC and finally achieved greatness by defeating Matt Hughes in his welterweight debut, capturing the UFC Welterweight Title in the process.
He has fought the likes of Georges St. Pierre, Renzo Gracie, Hughes, Lyoto Machida, as well as many T.U.F. alumni such as Joe Stevenson, Diego Sanchez and Kenny Florian.
Penn is one of only two men to have held a UFC title in two different weight classes (the other being UFC Hall of Famer Randy Couture) and is one of the best small-man fighters in the game today.
Talks of retirement after his loss to Nick Diaz quieted down, but we know it's coming soon. His experience, knowledge and success are all factors into what is sure to be a UFC Hall of Fame career for a man who has done it all at the top of two different weight classes.
What do you think? What other guys will become UFC Hall of Fame inductees one day?
Mark Pare is a UFC Featured Columnist. You can follow him on Twitter and don't forget to check out his sportswriter page.