2012 NFL Free Agents: What's a Fair Contract for Patriots WR Wes Welker?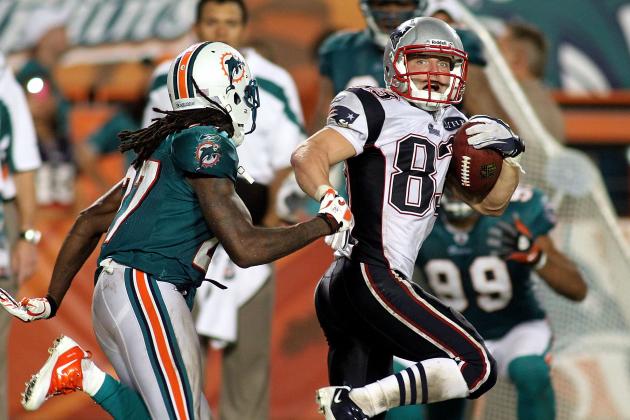 Marc Serota/Getty Images
Patriots WR Wes Welker on his way to a 99-yard touchdown
Barring a last-minute deal, the New England Patriots are expected to use their franchise tag on wide receiver Wes Welker. The Patriots—including both owner Robert Kraft and quarterback Tom Brady—have said that they want Welker to stay in New England, and Welker has said the same.
It's not 100 percent clear why no deal has been reached, although part of it is obvious: After Welker's knee injury in 2009, he had what was, by his standards, a down year, with 86 catches for 848 yards, seven touchdowns and a Pro Bowl selection.
While that looks like a relatively good season, consider this: In his four other seasons as a Patriot, Welker averaged 117 receptions for 1,314 yards and six touchdowns, and twice he's been a first-team All-Pro receiver.
In any case, Welker decided—quite correctly—that taking a "lowball" offer based on his most recent production would not be a good idea, and in 2011, he had the best year of his career, setting new highs in yards and touchdowns and tying an NFL record with a 99-yard touchdown.
Last season sets the stage for what Patriots fans can only hope will be short and productive negotiations over a new contract.
Let's look at the issues involved in the negotiations.
Begin Slideshow

»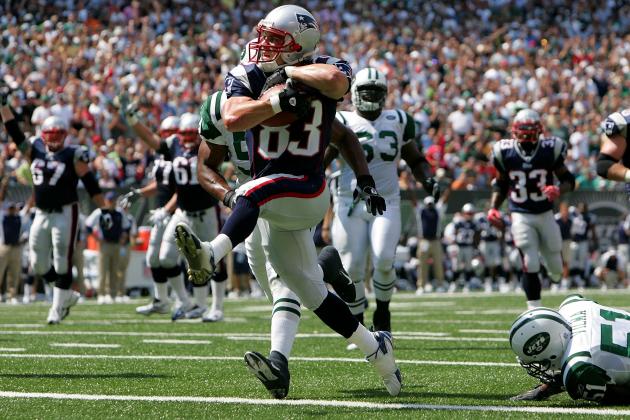 Nick Laham/Getty Images
Wes Welker's first TD as a Patriot
If you need proof that Bill Belichick is not omniscient, look no further than the fact that New England waited until the sixth round to draft Tom Brady.
More recently, you can look at the contract the Patriots gave Wes Welker.
When the Patriots traded second- and fifth-round draft picks to the Miami Dolphins in 2007 to acquire Welker, they gave him a five-year deal worth $18 million that made him the most underpaid player in the NFL in 2011, according to CNBC.com.
Some analysts felt that the Patriots initially overpaid for Welker, who lacked the size and speed many teams covet in a receiver.
But if either Belichick or Welker himself had known then that Welker would be, in just five years, within a handful of catches of becoming the Patriots' all-time receptions leader, that deal would most likely have been larger than it was.
To Welker's credit, even after his monster 2007 season, he didn't try to hold out for more money. But it's highly unlikely he'll sign another deal averaging just $3.6 million a year.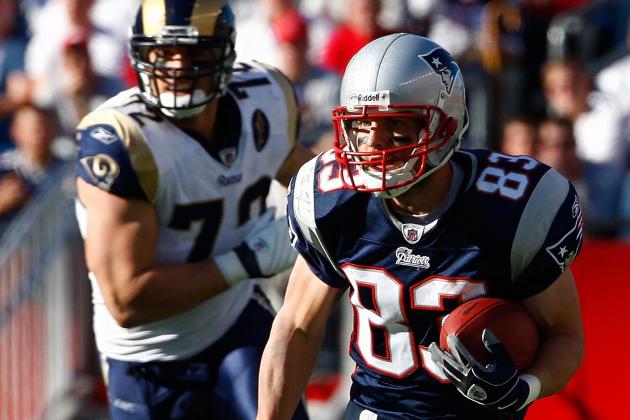 Jim Rogash/Getty Images

One common technique in negotiations is for a player's agent to say, "Well, Player X got a contract worth $Y, so I think my client deserves the same."
That's hard to do with Wes Welker, as there really hasn't been a comparable player to reach free agency in the salary cap era.
The only player in the salary cap era who has matched Welker's production over such a stretch is Marvin Harrison, who had 563 catches from 1999 to 2003. Unlike Welker, though, Harrison lined up on the outside, not in the slot.
Moreover, Welker's greatest gifts are ones that would be hard for the Patriots to replicate. First, he and Brady seem to share a single brain; Welker sees the field the same way that Brady does, which is why Brady throws to him so often.
Second, while Welker's top-end speed is nothing to brag about, his acceleration is almost unmatched in the NFL. While he'd lose a 40-yard dash to a lot of receivers and corners, almost no one can keep up with him within the first 10 yards or so. That, more than anything else, explains how he constantly manages to get enough separation to make plays.
It also raises one of the big question marks regarding his future...
Rick Stewart/Getty Images

To quote Charles Barkley: "Father Time is undefeated."
Wes Welker turns 31 this May. As is often said in the NFL, that's the "wrong side" of 30.
Looking at the top 100 single-season reception totals since 1960, only 18 of them were by players 31 or older. On the other hand, the Patriots offense is in many ways built around Welker's abilities as a receiver, so, assuming he can stay healthy, there's no reason to think he can't continue to produce at this level for several more years.
Unfortunately, more touches mean more tackles and more hits. It's hard to say for sure how close Welker's body is to its inevitable breakdown point.
Welker's work ethic is unquestioned—after all, he started the first game of the Patriots' 2010 season, instead of being on PUP as many expected. Still, it seems rather likely that his career is closer to its end than its beginning.
Thus, the Patriots need to make sure that they're not signing Welker to a contract that could turn into an albatross if his play drops off suddenly.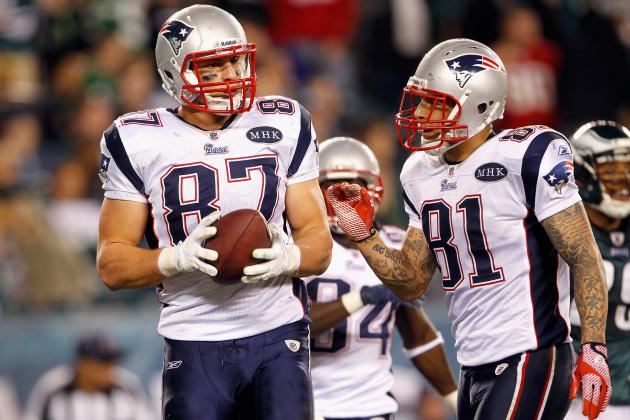 Rich Schultz/Getty Images

The Patriots have arguably the best TE tandem in NFL history in Rob Gronkowski and Aaron Hernandez. In 2011, the two combined for 169 receptions, 2,237 yards and 24 touchdowns—all NFL records for the TE position.
The bad news for the Patriots is that they may not be able to retain both TEs, but they'll almost certainly try, which is another reason why they can't afford to vastly overpay Wes Welker.
The good news, though, is that Hernandez and Gronkowski won't reach free agency until the 2014 season begins—and that's when the new TV deals kick in, which is expected to dramatically raise the cap.
Al Messerschmidt/Getty Images

Looking back, the best model for a Wes Welker contract might be the one the Patriots gave to Randy Moss in 2008. That deal was a three-year deal worth $27 million, with about $15 million in guaranteed money.
Here's how such a deal could work for New England:
2012: $12 million signing bonus, $2.5 million salary
2013: $1 million roster bonus, $5 million salary
2014: $500,000 roster bonus, $6 million salary
Let's add one more clause to this: If the Patriots do not negotiate an extension, then Welker cannot be franchised when the contract ends.
This would reward Welker up front for his work, with a significant amount of guaranteed money (veterans' salaries are fully guaranteed if they are on an Opening Day roster), while lowering Welker's 2012 cap hit to about $3 million less than the franchise tag amount.
Moreover, it would give the Patriots a real incentive to extend his deal further if he's still producing in 2013 and 2014 (an extension would allow them to lower his 2014 cap hit by converting the salary to a bonus).