UNC vs. Duke: Kendall Marshall's Aggression Key to Tar Heels' 88-70 Win
March 4, 2012

Streeter Lecka/Getty Images
From the tipoff to the gratifying sound of the buzzer, the North Carolina Tar Heels had the Duke Blue Devils on a tight leash—jerking them back to reality every time they made a run. Nobody made more of an impact for UNC than point guard Kendall Marshall. His aggressive play was the dividing factor in the battle for rival bragging rights—and the 2011-12 ACC regular season championship.
Though I realize he is quite possibly the best in the game as a true point guard, I have repeatedly knocked Kendall Marshall for his lack of aggression. Marshall shut me up tonight and I can only hope he can keep my mouth zipped for the rest of the season—that may be the first time I wished for such a thing.
It wasn't just about the 20 points and 10 assists. It was about his penetration. There was no hesitation in Marshall and his killer instinct was unleashed in front of the 9,313 in attendance at Cameron Indoor Stadium. Whether it was finishing with a layup, a pass or just drawing contact Marshall used every bit of his repertoire to seal the title for North Carolina.
One of the more beautiful passes was Marshall's wrap-around behind the back of Mason Plumlee to Tyler Zeller for a lay-in. But the play of the day for Marshall was when he snapped Seth Curry's ankles like a twig on a behind-the-back crossover. Marshall drove in, flipped it behind his back and laid it up as Curry folded like a lounge chair. A little dramatization—I know—but that play got me out of my seat.
Kendall Marshall was the key to the game, but he wasn't without assistance. By the 5:14 mark of the first half, Harrison Barnes and Reggie Bullock had combined for 19 points—the very total Duke had as a team at that point. UNC had taken a 37-19 lead on a Reggie Bullock three-pointer. That very shot was only made possible by Marshall's penetration and kick-back—a recurring theme throughout the game.
James Michael McAdoo even stepped up his game to ruin senior night for Duke and the Cameron Crazies. You can't see why just by reading the stat lines. He only contributed with six points on the night, but his activity is what made the difference coming off the bench. Barnes put up a 12-foot Jordan-esque fade that caught iron, but McAdoo was right there to jam it home with authority. With that, Dick Vitale said, "He's gonna be special! He's gonna be special!"
Yes, McAdoo will be special. He hasn't shown much this season, but this game was a glimpse into the potential of one James Michael McAdoo.
For the Tar Heels, every starter finished with double digits in scoring. As usual, Tyler Zeller was there whenever they needed him. He finished the night with 19 points on 9-of-11 from the floor. John Henson added another 13 points and knocked down some clutch shots when UNC needed it the most. Those shots included a smooth 17-footer and a fadeaway left hook that went for a 3-point play on the foul.
Both Henson and Zeller snagged 10 rebounds each. The rebound margin was plus-20 in favor of the Heels. Nothing new.
North Carolina knocked down 54.5 percent of their shots, going 36-of-66 from the floor—that is new.
It wasn't without effort from Duke and it would be negligent of me not to give them some credit. The Plumlee boys—Mason and Miles Plumlee—wreaked havoc in the paint throughout the game. They were also in foul trouble through most of it. Every time one of them would have to sit for foul trouble, the other would step up and wouldn't miss a beat.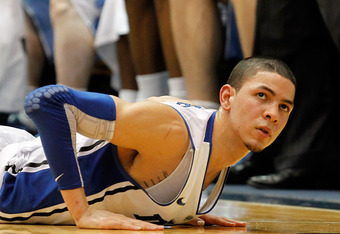 Streeter Lecka/Getty Images
The issue with the Blue Devils was the uncharacteristic shooting. They shot 41 percent as a team, which isn't too bad. Take the Plumlee brothers away and the rest of the Duke team was 12-of-41. That's 29 percent! That's bad.
Seth Curry had a good night from behind the arc going 3-of-5, but couldn't hit anything else—literally. He was 3-of-14 on the night. He did hit the three-pointer that broke their 0-of-15 streak early in the first half. North Carolina had built up a 22-5 lead before he knocked down the three.
Austin Rivers had a peaks-and-valleys night but never got it going from three-point range. Rivers only hit one of his six attempts from behind the arc. To make matters worse, Ryan Kelly probably had the poorest night of them all. He only scored two points and missed all five three-pointers—and a couple were gimmes.
The Tar Heels have had some poor shooting nights, but Duke's takes the cake. Don't expect that to happen again if they meet in the ACC championship.
This was a great night for the Tar Heels, but it is vital they play with the same passion and intensity throughout the tournaments. They have to be aggressive on both sides of the floor. They have to penetrate and get those open looks on the wing—and they have to knock them down. That starts and ends with Carolina's floor general Kendall Marshall.