UNC Basketball: 5 Reasons Kendall Marshall Is Key to Tar Heels' Success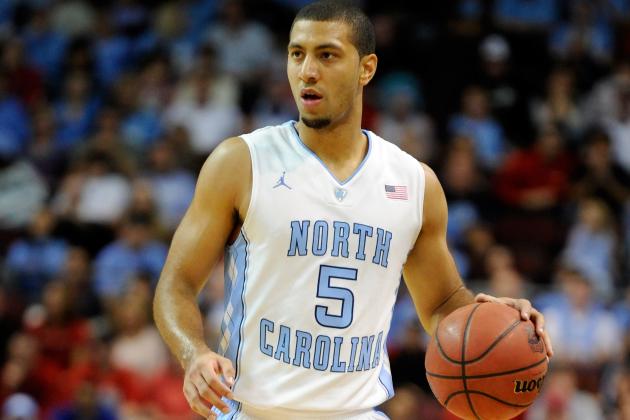 Ethan Miller/Getty Images

One can never underestimate the impact of a top-notch point guard. There is a reason these guys are called floor generals. Fortunately for the North Carolina Tar Heels, they have that in Kendall Marshall.
Remember when the New York Knicks didn't have Jeremy Lin running point? They were a dreadful 8-15 and had lost 11 of their last 13 games. It wasn't because there was no talent—they had Tyson Chandler, Amar'e Stoudemire and Carmelo Anthony. What they didn't have was a point guard. Now 17-17, the Knicks went from bottom-dwellers in the East to potential playoff contenders.
That is just the most recent and most publicized example of what the point guard means to a basketball team. One example that may hit closer to home is the Larry Drew II factor.
With Drew running point, the Tar Heels were 20-17 in 2009-10 and lost the NIT Championship to Dayton—embarrassing. In 2010-11, North Carolina was 16-5 before Drew left and Marshall stepped into the full-time role. Kendall Marshall dished out 16 dimes in his first game as the starting point guard. UNC only lost three games from that point and advanced to the Elite Eight before being taken down by Kentucky.
"Come on now, Rollin. Can a point guard really make that much of a difference?" Absolutely—unless the team is coached by Phil Jackson. In this case, it is not. And much like the Mike D'Antoni system in New York, the Roy Williams system needs a true point guard.
Begin Slideshow

»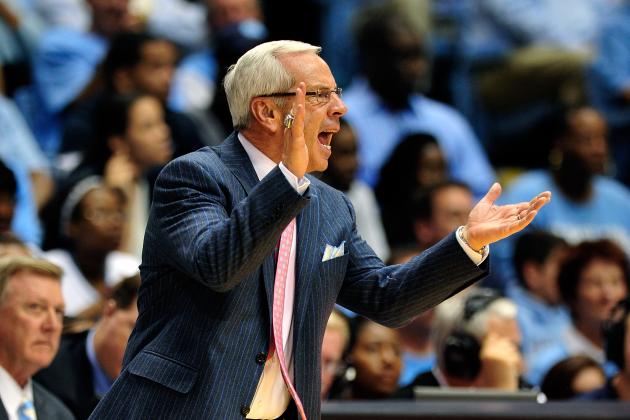 Grant Halverson/Getty Images

Run, run, run!
That's all folks hear about the system Roy Williams deploys on the court. While that is a fair assessment, all that running can be rendered ineffective with sub-par play at the point.
For point guards in the Roy Williams system, vision is indispensable, and precision is a must.
It doesn't take long to run the length of the court. Kendall Marshall has to spot the open man down the floor and get him the ball with quickness and precision. Too late, and the defense is there. Inaccurate, and the pass is intercepted—and the momentum swing Carolina could have had gets flushed right down the toilet.
Kendall Marshall may not have the speed of Ty Lawson or Raymond Felton, but his vision and precision allow the ball to move down the court just as fast. Though it may appear he has a 2x4 strapped to his spine, his upright stance allows him to see the whole court at all times.
Of all the great point guards who have graced Chapel Hill, nobody has done it with the precision of Kendall Marshall. As it stands today, he is dishing out three assists for every turnover for his career. Ty Lawson owns the Tar Heels' record for the highest career assist-to-turnover ratio at 2.78—for now.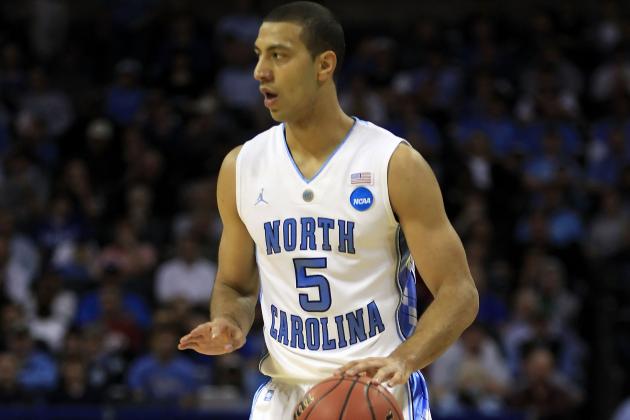 Streeter Lecka/Getty Images

Imagine the mess that would ensue if NASCAR didn't have a pace car. Kendall Marshall is North Carolina's pace car.
When the Tar Heels are running up and down the floor—off rebounds and steals—someone needs to keep them under control. And when a Roy Williams team leads the nation in defensive rebounds at 29.6 per game, there's just as much opportunity to screw things up as there is to score. They sometimes get too wild and start throwing up ill-advised shots and passes. That's when the floor general has to step in and slow them down.
Kendall Marshall makes use of his high basketball IQ by controlling the pace of the Tar Heels. If nothing is there, he will slow them down and set up the offense. This is where good ball movement becomes a priority with this team.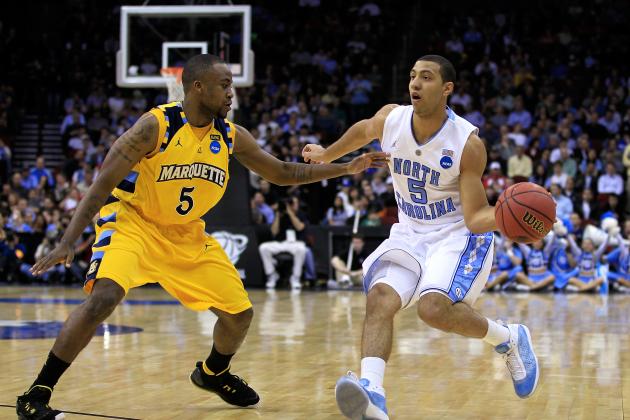 Chris Trotman/Getty Images

When the Tar Heels aren't running the Chapel Hill 92 and get sucked into 47 feet of space, ball movement is essential.
Kendall Marshall does an excellent job of keeping the ball moving. He has a pass-first mentality, and that shows in the halfcourt. He isn't a guy who can create a lot of his own shots—nor does he want to.
I remember him saying in an interview that his father got after him in the first game he played as a kid because he refused to shoot the ball. Even as a kid, Marshall just wanted to pass the rock.
Not every point guard has to be a Derrick Rose or Russell Westbrook. There's nothing wrong with being a John Stockton. Kendall Marshall doesn't have to put up 22 points, 13 assists and go 4-of-5 from the three-point line—like he did against NC State—for me to know he's a baller. I certainly don't mind it, though!
Marshall is silky smooth and loves to spread the ball around. That's why his friends call him Butters.
Ok, so it's really Butter, but you can't blame me for thinking South Park when I hear that name.
Chris Trotman/Getty Images

Like I said, he isn't exactly a Derrick Rose or a Russell Westbrook. That doesn't mean Kendall Marshall can't get in the lane.
He lacks the elite speed and explosiveness Rose uses to punish his opponents in the paint, but Marshall uses a deceptively quick first step and overall basketball savvy to slide in the lane with surprising ease. Like Easy Ed Cota, he doesn't have much of a vertical, so scoring in the lane doesn't come as easy as getting there.
I'd still like to see him work on the floater to make himself more of a scoring threat—Jeff McInnis and Cota were deadly with the floater. Even without being a major scoring threat in the paint, he still draws defenses and can wrap a pass around their backs.
As I said in a previous article, Kendall Marshall lacks aggression. This has to change if the Tar Heels plan to cut down nets in March. He has the tools to make it happen, but that's a part of his skill set he just doesn't use enough.
Whether he wants to score or not, he has the ability to get in the paint and draw defenders. This opens up the perimeter for Harrison Barnes and Reggie Bullock and clears space by the basket for Tyler Zeller and John Henson. It can get pretty ugly at times when those guys are left to create their own shots. When space opens up, each one of them has the capability to put a dagger in the opposing team.
Kendall Marshall can cause all sorts of problems in the paint—even if he can't dunk.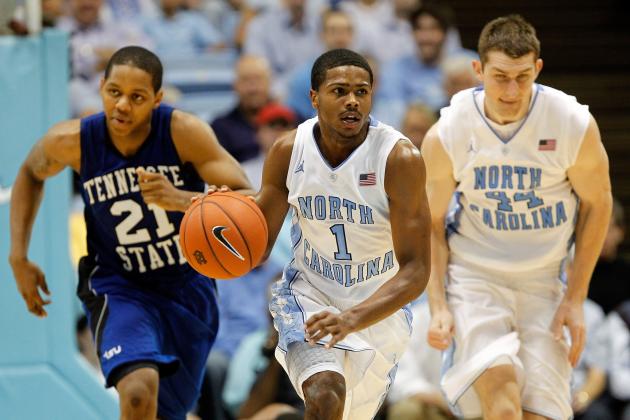 Streeter Lecka/Getty Images

I'm not sure any of my previous reasons are more important than the last. There's absolutely no way to quantify the loss of Dexter Strickland. He may not have the star power of Harrison Barnes, but that doesn't mean the kid can't play.
Dexter Strickland is super quick and does an outstanding job harassing the opponents he's defending on the perimeter. He also makes use of his speed to get up and down the floor in transition. Everyone on the team is great at getting up and down the floor, but I don't think anyone boasts the speed of Strickland.
Not only can he ball with the rest of them, but he is who Roy Williams was counting on to spell Kendall Marshall. Before Strickland tore his ACL and meniscus, Marshall had seven games where he played under 30 minutes. Since that game—against Virginia Tech on January 19—the lowest amount of minutes he has tallied is 31. Of those 10 games, he has played 38 minutes in four of them—something he only did once in the previous 18.
When Marshall had to catch a breath before, it was no big deal. Dexter Strickland could take over at point, and the offense would continue to run like a well-oiled machine. That isn't the case anymore.
Fortunately, Kendall Marshall knows how to conserve energy. In an interview with Andrew Carter of newsobserver.com, Marshall jokes about being lazy and that he'd "rather just throw it up there" than "run up and down the court dribbling." That's just fine with me. The Tar Heels need him in the game at every tick possible.
Kendall Marshall is a silky smooth point guard whom the Tar Heels desperately need to run this team. He is the kindling to the fire and the spark plug to the engine that is Roy Williams basketball.
Spread the floor and pass the rock—just like Butter, baby. That's Marshall!