San Antonio Spurs: An NBA Comparison for Each of the Younger Players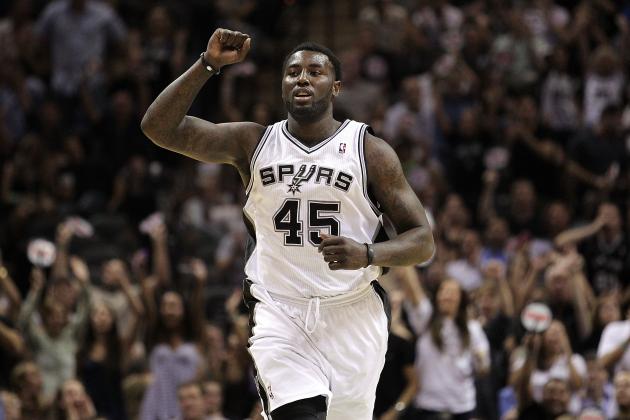 Ronald Martinez/Getty Images

The Spurs' roster is made up of a diverse group of players. While they have many veterans, they also have a large number of younger, less experienced players.
In these players we have seen flashes of stardom, exciting many fans. In these early stages of their careers, it is difficult to tell what the future holds.
Some players could develop into possible NBA stars, and could be the faces of the "post-Duncan" era in San Antonio.
Here is a list of the ideal comparisons for each player in their third year or less.
Begin Slideshow

»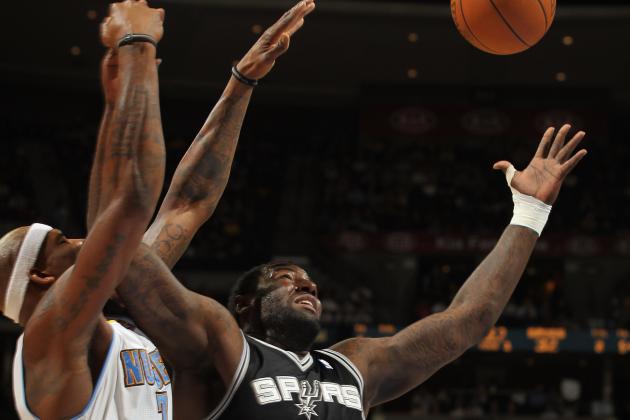 Doug Pensinger/Getty Images

DeJuan Blair is an undersized center, standing at 6'7''. However, despite his height disadvantage, Blair has proven to be an absolute beast at times, both on the offensive and defensive end.
His signature "floater" has been his prime offensive weapon, and his desire to score gives him the advantage over taller opponents. His bulky frame helps him fight for second chances, which Blair will do on any given occasion.
He works hard for his points and, despite his height, has proven to be an absolute beast on the boards.
Paul Millsap of the Utah Jazz is a very similar player. Millsap has developed into a true star whom many considered to be a possible All-Star this year.
Like Blair, Millsap is fairly undersized, measuring 6'8''. He too possesses a bulky frame, long arms, and strength that make up for his lack of size. He works hard and has terrific rebounding skills. If Blair continues to improve, he could develop into a great player like Millsap.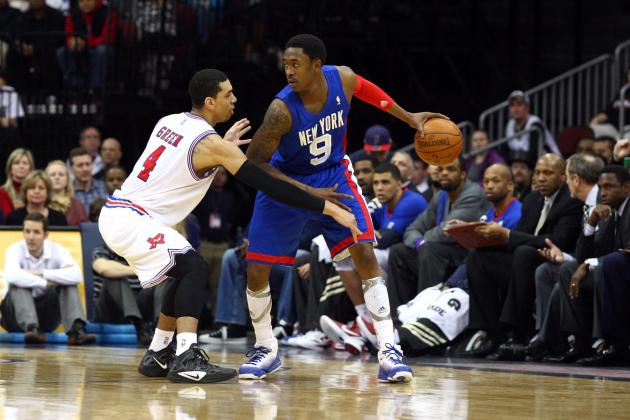 Chris Chambers/Getty Images

Green was nonexistent last year, but since being picked up by the Spurs, he has become a quite different player. He was given the opportunity to shine during Manu Ginobili's absence and took advantage of it.
The best aspect to his game is his lockdown defense. He is an outstanding perimeter defender, but also possesses a decent offensive game. He isn't afraid to shoot the long ball and has found himself, many times, scoring in the double figures.
Shane Battier is a very similar player. His tenacious defense and his outside shooting ability make him an ideal comparison. Like Green, Battier can find himself putting up big numbers or being nonexistent on the stat sheet, yet still contributing to his team's success.
He has a height advantage over Green, but Green's wingspan and athleticism make up for it. Battier was twice-elected to the NBA All-Defensive Team, and if Green continues to improve, he too could be a difference maker in the league.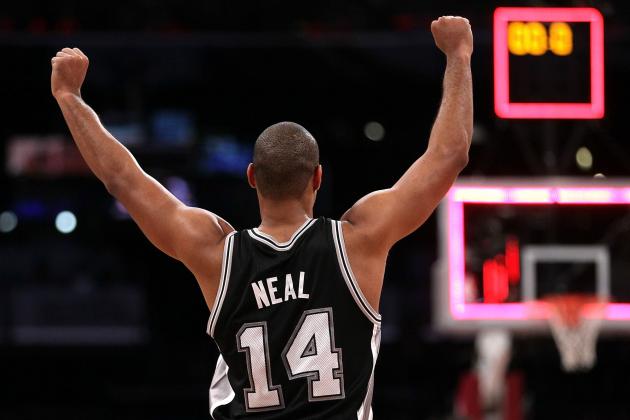 Jeff Gross/Getty Images

Gary Neal has taken George Hill's spot as the backup combo guard. He's been just as good as Hill this season, if not better. Coming off the bench, Neal provides an offensive weapon with his deadly mid-range game and his ability to hit the big shot from beyond the arc.
Standing at 6'4'', he can also run the point, and has great ball-handling skills. His clutch play brings to mind another guard, who has recently become a combo guard.
Since joining Chris Paul on the Clippers, Chauncey Billups took over the role of shooting guard. His excellent long-range shot and ball-handling skills make him a great comparison for Neal.
When needed, Neal takes over the role of the point guard, and while his passing ability is in no way quite as strong as Billups's, he can still create for others. His defense is not quite as strong but he still works very hard on the defensive end, making him an above-average defender.
Billups is one of the most clutch players in the league, and his constant "daggers" at the end of close games have earned him the nickname "Mr. Big Shot." Neal's three at the end of the Clippers game, as well as his three in last year's post season, have shown the promise that Neal can perform in the final moments, like Billups.
If he can keep improving, Neal can possibly find himself being compared to Billups on a regular basis, and when his role in the Spurs' offense is increased, expect him to show glimpses of stardom.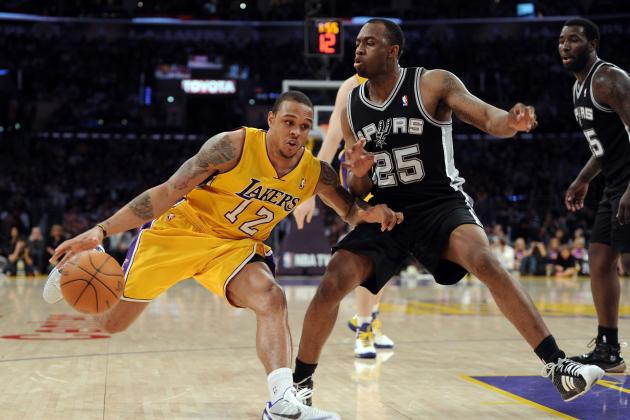 Harry How/Getty Images

James Anderson is one of the least-contributing players on the Spurs. He receives little minutes and hasn't shined when he has played. However, his skill set shows promise, and if given a larger opportunity, Anderson may really show his value.
He is a terrific shooter from downtown, but is a very weak passer and decision maker.
Michael Redd also possesses similar traits. When he is on, Redd is one of the best shooters in the league. However, his inability to share the ball has hurt his value. He and Anderson both stand at 6'6'', and physically are very similar.
If Anderson can develop and become the lights-out shooter he is capable of becoming, then he could end up being a similar player to Redd.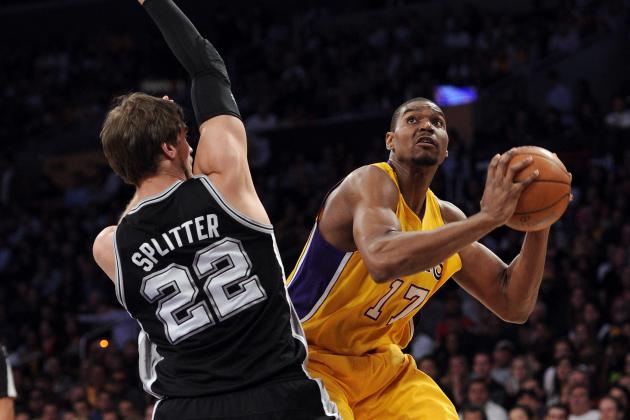 Harry How/Getty Images

Tiago Splitter, in his second year in the league, has shown what a bright future he has. His excellent defensive skills have showed, as well as his nice rebounding abilities.
He also is a terrific passer for a big man and his overall hustle and energy make him a key component to his team.
He lacks a strong offensive game but can get it done from inside. He manages to puts points on the board, despite struggling on the offensive end.
Joakim Noah is a very similar type center. He, like Splitter, stands at 6'11'' and uses his length and height to be strong on the boards. He excels on the defensive end but struggles on offense. He manages to score without shining on offense, but still is a key player with his defense and rebounding.
Noah is a very energetic player, and hustles more than any other player on the court. He is a strong passer and athlete, very similar to Splitter.
If Splitter can improve and develop, he may be able to become a top center like Noah.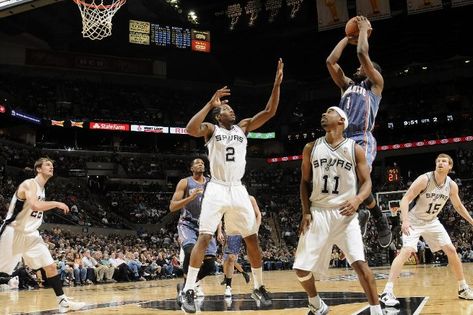 Kawhi Leonard has shown much potential. The Spurs traded George Hill for him, with the hopes that his defensive ability would give the Spurs the spark at small forward that they were looking for.
He lacks a strong offensive game, but his athleticism and wingspan make him a deadly threat on defense. He can guard anybody on the court, and do a fantastic job at it. He is also a strong rebounder and rarely shows signs of being tired.
On offense, he can shoot decently and finish inside, but still isn't a great scorer.
Shawn Marion is a fantastic defender who also has the ability to guard multiple positions. He plays lockdown defense at all times, and plays with a ton of energy. He never seems to tire, and rebounds very well. He is athletic, and though he lacks a strong offensive game, can get it done.
If Leonard can keep improving, he can develop into a great player. Marion was a four-time All-Star, and while Leonard is only a rookie, he can very much reach that level.