NBA Trade Deadline Candidates to Be Moved: Kaman, Rondo, and Dwight Howard
March 3, 2012

Elsa/Getty Images
March 15 is the NBA trade deadline, and several prominent players are on the proverbial trading block.
Among the more prominent names are Boston Celtics PG Rajon Rando and Orlando Magic C Dwight Howard. 
The Celtics want a foundation piece in return for Rondo, but what if they cannot get that star player? Would they be content with just cap relief and a mid-round draft pick?
If the answer is yes, the Atlanta Hawks would surely be willing to pony up PG Kirk Hinrich, his expiring contract and a future first-round draft pick.
Boston would have a point for the remainder of the season and could attempt to re-sign Hinrich at a reasonable price for the next few seasons.
If the Celtics were more into a straight salary dump plus a high draft pick, how about Rondo for the Bobcats' Boris Diaw (expiring contract) and a future first-round draft pick?
What of Superman, aka Dwight Howard? As we get closer to the deadline, the most likely scenario involves Howard being sent to the Nets for C Brook Lopez, draft picks and possibly either Kris Humphries or Mehmet Okur.
Because Howard makes almost $18 million this season (according to hoopshype.com) and Lopez close to $4 million, one of those large expiring contracts would be needed.
But if I'm Magic GM Otis Smith, I don't view Humphries or Okur as a long-term replacement or even players I want to pay $10 million a season for.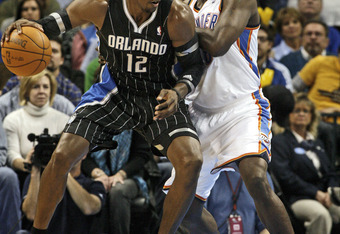 Brett Deering/Getty Images
With Ryan Anderson playing well at the power forward position, Humphries would be looking at a backup role, which is why I don't see that trade going down.
So who gets Howard? Logic says he will play out the season with Orlando, and a sign and trade will be executed this summer to maximize his new contract. Orlando thus would get some compensation.
That brings up to New Orleans Hornets center Chris Kaman. With a hefty expiring contract and a horrible team, Kaman should be moved. He has value, and despite New Orleans pulling him off the trading block, he could help some contenders.
Which team needs the most help at center? Obviously the Celtics could use a lift at that position. What can they offer? How about Jermaine O'Neal, Keyon Dooling and Brandon Bass for Kaman and Greivis Vasquez? The former Maryland star would provide insurance in case Rondo is moved.
If the Celtics cannot land Kaman, would Dallas make a last-minute bid by using the disappointing Lamar Odom as trade bait?
Dallas would need another player or two for salary purposes, but both players are eligible to be free agents after the season, so perhaps Mark Cuban would take a flyer on Kaman to give his team an offensive presence at center. 
Speaking of Odom, could the Lakers possibly acquire any of these players with their roughly $9 million trade exception? Unfortunately, that exception will probably be useless this March as all their targeted players make more than $9 million.
With literally hundreds of scenarios possible, this trade deadline looks to be fairly quiet. But it's always fun to think of the possibilities...