NBA Rumors: Miami Heat Must Acquire Chris Kaman to Bolster Frontcourt
March 4, 2012

Jonathan Daniel/Getty Images
If the Miami Heat want to return to the NBA Finals and win this time, then they need to add some more depth in the frontcourt. 
Chris Kaman of the New Orleans Hornets is likely to be traded, and the Heat are reportedly one of the teams interested in acquiring the veteran center.
Per ESPN:
New Orleans has no use for him and simply wants to get something -- even if it's just a second-round draft pick -- for him, according to sources.

A month ago, when the Hornets told Kaman to stay home and wait to be traded, they were asking for a young player, a draft pick and an expiring contract. Now, their aspirations aren't so lofty. Golden State, Houston and Miami have interest in Kaman.
The Heat are 15th in rebounding this season and 13th in points allowed, and while their defense is pretty solid, adding some more size for the playoffs is never a bad thing.
Miami dominates teams with their speed and athleticism, but in the playoffs, games are typically played mostly in the half court, so the Heat will need to be able to win the battle in the paint against opposing team's big men to achieve their goal of winning the championship.
They couldn't do this last year against the Dallas Mavericks in the finals when Dirk Nowitzki and Tyson Chandler dominated the Heat inside.
Kaman is a seven-footer with tremendous size and a solid offensive game. Even in a bench role he could average 10 or more points per game for Miami. Kaman is also a very good defender and a talented shot-blocker.
Another reason for Miami to acquire him is for the simple fact that other contending teams will want Kaman, so getting him keeps him away from teams the Heat will face in the playoffs.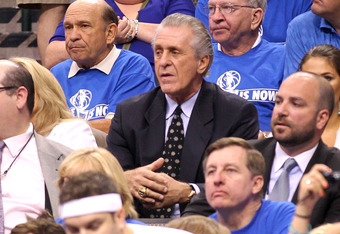 Mike Ehrmann/Getty Images
Kaman's expiring contract also allows Miami the freedom of letting him go at the end of the season if it's determined he's not a good fit in the long-term future of the club.
The Heat need to add a bit more depth to their roster before the March 15 trade deadline, and out of all the options they have to improve the squad, Kaman is one player who would help them a lot in the playoffs.