San Antonio Spurs: Is Tony Parker Quietly Having the Best Year of His Career?
March 7, 2012

Ronald Martinez/Getty Images
It's become increasingly hard to deny that Tony Parker deserves mention alongside Chris Paul, Derrick Rose and Deron Williams as one of the league's elite point guards. His production reached MVP levels in February with 23.5 points and 8.6 assists per game, and pundits far and wide are singing the four-time All-Star's praises. 
In Manu Ginobili's extended absence, San Antonio's floor general has rediscovered the mindset that earned him the 2007 Finals MVP. He has become the leader Gregg Popovich wants him to be, and he's put the Spurs on his back for the better part of the season.
This isn't the first time Parker's been great. It's just the first time he's been this great.
From 2005 to 2009, he never averaged fewer than 18.6 points nor less than 49 percent on field-goal attempts. In 2008-09—a season in which Manu Ginobili played in only 44 games—Parker recorded career-high averages in both points (22.0) and assists (6.9), earning him a selection to the All-NBA Third Team.
As good as he was then, present-day Parker is an altogether different beast.
His increased assist output reflects a more complete game and a redoubled commitment to distributing the ball to San Antonio's perimeter threats. Always a capable scorer with a penchant for craftiness in the paint, the 29-year-old's ability to facilitate has demonstrably come into its own.
Currently on pace for a career-high assist average, Parker has made Richard Jefferson, Gary Neal, Danny Green and Matt Bonner look like the best set of perimeter shooters in the league.
By all accounts, the Spurs are now Parker's team. The offense no longer runs through Tim Duncan, nor does it depend on Ginobili to serve as the primary playmaker.
With increased responsibility, Parker has responded with an impressive body of work.
His 2.98 assists per turnover currently ranks him ahead of Steve Nash, Rajon Rondo, Derrick Rose and, yes, even Ricky Rubio. Per 48 minutes, Parker gets more assists than Rose, Chris Paul and Deron Williams—all prolific passers in their own rights.
Still not impressed?
Compare Parker's scoring to other high-volume distributors. He ranks among the top five point guards in scoring at 19.2 points a game, and his 46 percent shooting ties Derrick Rose. Parker's 21.92 player efficiency rating is neck and neck with Steve Nash for fifth place among point guards.
Parker may not have Russell Westbrook's defensive tools, and he doesn't crash the boards especially well. He won't give you triple-doubles in the mold of Rajon Rondo, and if your metric for elite point guard play is versatility, Parker may appear a tad one-dimensional.   
However, the same could probably be said of Steve Nash in his prime. Parker doesn't boast a strong frame or stellar leaping ability. Instead, he uses his exceptional speed and first-rate basketball IQ to carve up opposing defenses.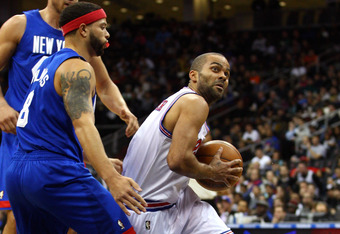 Chris Chambers/Getty Images
And, he's done so when it matters most.
His defining performances this season have come against some of the league's best teams (and point guards): 37 points and eight assists against the 76ers, 42 points and nine assists against Westbrook's Thunder and 30 points, 10 assists on Paul's Clippers.
If the real measure of Parker's effectiveness is his team's success, San Antonio's 25-12 record and continued ranking atop the competitive Southwest Division should speak volumes.
Against the top eight seeds in the Western Conference, the Spurs boast a respectable 11−5 record thus far. Of course, Gregg Popovich can take some credit for that. Even at 35, Tim Duncan has done his part too.
However, there's no question whatsoever that Parker's play has been the principle reason San Antonio remains a contender. In the waning moments of tight games, the ball is more likely than not to find its way into his hands, and it's hard to argue with his closing abilities.
Parker mixes up his array of offensive skills as well as any guard, leaving opponents constantly guessing and often a step behind. Despite making a living off of layup drills, he's also become a potent threat to teams with interior size—his consistent mid-range jumpers and floaters in the lane create daylight even with shot-blockers on patrol.
Parker certainly contributed in years past, but in a very different context. When Duncan was still in his prime, he consistently averaged at least 35 minutes and 20 points a game. Parker was just a really good sidekick.  
These days, however, Duncan's minutes are tightly monitored, and Ginobili's 2012 has thus far amounted to a handful of cameo appearances. Never before has San Antonio's "Big Three" looked so much like a one-man show.
Never before has Tony Parker looked this much like an MVP.