Pittsburgh Steelers: Breaking Down the Offseason Losses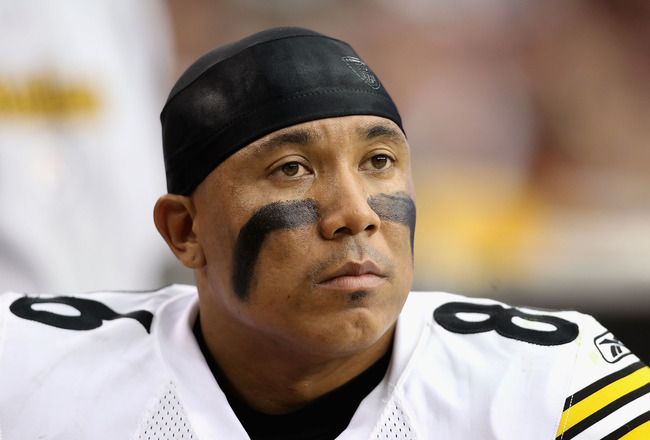 Christian Petersen/Getty Images
The Pittsburgh Steelers salary cap problems are all but gone (well, sort of), but it has come at the expense of lot of great players who helped bring two Super Bowl championships to the city of Pittsburgh.
Any time a team has to release a veteran who is a fan favorite, it is tough to swallow. It is not something that anyone likes to do, but sometimes it is necessary.
Aaron Smith even admitted in early January that he may not know when to quit playing.
"I'm sure they'll have to come to me,'' Smith said (via Pittsburgh Post-Gazette). "I'm sure it will be more along the lines of, 'Hey, you might want to make that call.'"
Pittsburgh made that call more than once in the past week as they released Smith, Hines Ward and James Farrior among others.
While some of these players may latch on with another team, Pittsburgh felt they were no longer able to contribute on the field, at least not to the amount that their contracts called for.
But with so much lost in such a short amount of time, will the Steelers suffer next season?
Here is a look at what the Steelers are losing from each player who has retired or been released so far.
Chris Hoke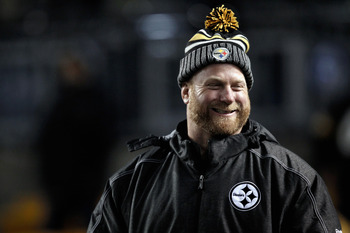 Jared Wickerham/Getty Images
There are backup players, and then there are special backups. That was Chris Hoke.
Hoke was loved in the locker room, and his play on the field wasn't too bad either.
As the primary backup to Casey Hampton for most of his career, Hoke was a key contributor to one of the NFL's premiere defenses of the last decade.
The most interesting thing about Hoke was that the team was 17-1 when he started, an unbelievable record. But the days of him starting, even stepping in as the primary backup were over this year.
Hoke was surpassed by Steve McLendon, and a neck injury which required surgery ended his season and subsequently his career.
Hoke's personality will be missed, but he would have been no higher than third on the depth chart this year and would have seen very little, if any playing time.
Arnaz Battle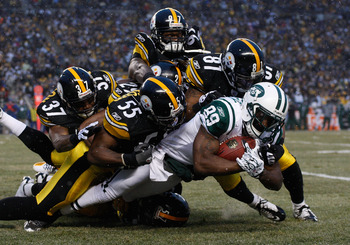 Jared Wickerham/Getty Images
Arnaz Battle was brought in a couple of years ago to play special teams, and that is basically all that he did for the Steelers.
While he was a solid contributor on a special teams unit, which has been improved, Battle was an overall nondescript player.
Pittsburgh has younger, more productive players such that have excelled on special teams and can also play another position.
Battle was exclusively a special teams player as he offered very little as a wide receiver anymore.
Not that Battle's contributions were not appreciated, but they should not be very hard to replace with an inexpensive veteran free agent or a young player looking to make an impact.
Bryant McFadden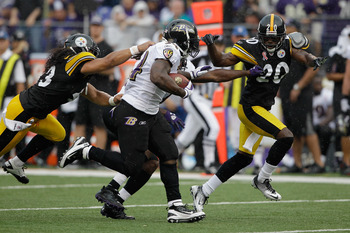 Rob Carr/Getty Images
Bryant McFadden was not the same player in his second stint with the Steelers as he was in his first.
McFadden was oft-injured the second time around, and this severely impacted his performance on the field as he was an easy target for opposing offenses.
Though McFadden was in position to make plays, he didn't, and he was a weak link on the defensive unit.
The combination of injuries and declined play sent McFadden to the bench this year. He stayed on the bench with the improvement of William Gay and Keenan Lewis, and the Steelers have two up-and-coming cornerbacks in Cortez Allen and Curtis Brown.
McFadden eventually found himself as a special teams player where he played very well.
However, his cap value was too high for a fifth corner playing special teams. There will be younger, cheaper options for the Steelers, and as with Battle, the Steelers are losing very little with the release of McFadden.
Hines Ward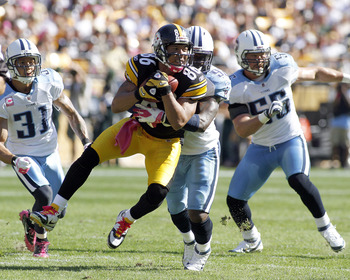 Justin K. Aller/Getty Images
Hines Ward has been a face of the Steelers franchise for the past decade and has embodied what it meant to be a Pittsburgh Steeler.
Ward played the game physically. He was a linebacker lined up at wide receiver as he was a devastating blocker and never shied away from contact.
But 14 years and 1,000 receptions of playing the game the way he played it had finally caught up to Ward.
Pittsburgh has three younger and faster receivers who fit perfectly into the wide open style of play that the NFL is today. Not that there isn't a place for Ward, but he just would not find the field.
Ward, a team captain, only had 381 receiving yard averaging only 8.3 yards per reception. He was held to three or less receptions eight times last season and averaged under 10 yards per reception in nine of 13 games in which he had a reception.
Part of the reason that his numbers were so poor was because how the coaching staff used him. The other part was because his game had finally faded.
Ward would be no better than the fourth receiver next year, possibly fifth depending on their offseason moves. That could have meant that he was inactive on game days.
What will be missed was how Ward was like another coach for the young receivers, but at some point they need to do things on their own, and they appear to be ready.
Ward's presence will be missed, however, the Steelers are losing very little in terms of what they need from their receivers.
Aaron Smith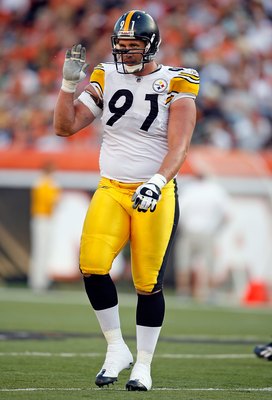 Andy Lyons/Getty Images
Aaron Smith was far and away the best defensive lineman that the Steelers have had since switching to the 3-4 defense, and he established himself as the best 3-4 defensive end in the league.
Part of his duties at the position were to take on 300-plus pound linemen on every snap to help free up space for the linebackers behind him to make plays. No one did it better.
Smith was one of the biggest reasons why no one could run on the Steelers for much of the last decade. But he was more than a great run defender, he also had the ability to get to the quarterback as he had 44 sacks.
But as with Ward, actually even moreso, the wear-and-tear of the physical game that Smith played took its toll.
Smith missed time in 2007 with a knee injury and torn biceps muscle. He was injured again in 2009 and had to go in the injured reserve due to a torn rotator cuff. Injuries in 2010 and 2011 also ended Smith's seasons.
The latest injury required neck surgery, and it proved to be the end of the line for Smith.
Even before the injury this year, Smith did not perform at the same level. He could no longer dominate the line of scrimmage, and it was time for Ziggy Hood to step into his place.
Sadly, Smith's career had to come to a close due to an injury, but he set the standard for young ends Hood and Cameron Heyward.
Smith's body could no longer perform up to the standard, and at best this season, he would have been the fourth defensive end off the bench. But given his injury situation, chances are he may not even been able to do that.
Chris Kemoeatu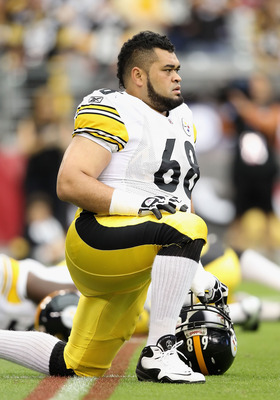 Christian Petersen/Getty Images
Chris Kemoeatu was what he was. He was a big, physical guard who could blow defenders up as a pulling guard, but could also make the mental mistake that hurt the team.
Eventually, the mental mistakes got the best of Kemoeatu, and he found his way to the bench.
Whether it was a missed assignment, a false start, holding or a dumb personal foul, the coaching staff had had enough, and Kemoeatu was demoted this season.
Last year, Kemoeatu was never able to get going with a knee injury, but even once he got into the game, the coaches eventually decided that going with Doug Legursky and Ramon Foster at guard was the better option.
It would be unlikely that Kemoeatu would regain his starting job this season, and he can only play guard, which limits his availability as a backup.
Kemoeatu can likely land another starting job elsewhere, but his days of starting for the Steelers were already over.
James Farrior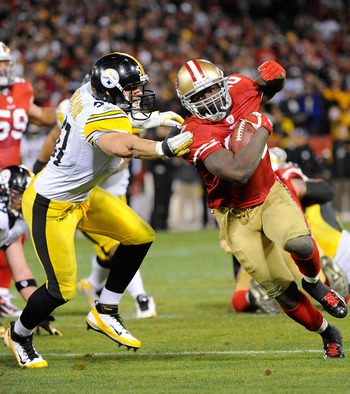 Thearon W. Henderson/Getty Images
James Farrior was the Steelers greatest free agent signing ever. He was a 10-year starter, defensive captain, called Dick LeBeau's scheme and was one of the more underrated linebackers in the league.
As with Ward and Smith, Farrior was a team leader and foundation to the Steelers most successful decade since the 1970s. However, he too was at the end of the line.
Pittsburgh had to choose between Farrior and Larry Foote, and they went with the younger Foote. It is hard to blame them.
Farrior is 37 years old, and his game has faded. Some felt that he was done as a starter for several seasons now.

Last year Farrior had to split time with Foote because he was no longer getting the job done. His 78 tackles were the fewest he had since joining the Steelers.
With a lack of speed, Farrior had trouble covering backs and tight ends, and he was blocked easily when rushing the passer. He also did not register a tackle for a loss.
Farrior can still play, but he is no longer a full-time starter. He may have been able to split time with another linebacker for the Steelers next season. Ideally, though, he would have been replaced by another option and used exclusively as a backup.
Summary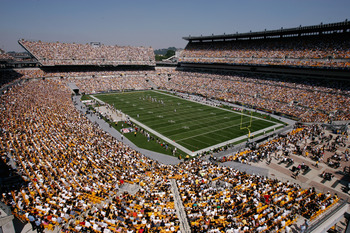 Andy Lyons/Getty Images
Pittsburgh may have parted ways with a lot of great players, but those days of greatest are behind them.
When all is said and done, all Pittsburgh lost was a couple of special teams players and several more who projected to be backups, well actually third stringers.
Farrior is the only player who may have entered next season as a starter and that would have only been as a part-time player.
Kemoeatu could have started, but that would only be due to injuries or a severe step back in development for Legursky.
The rest of the veterans either had nothing left in the tank or would have seen little time on the field.
That does not mean that they will not be missed. As a I wrote last week, these veterans brought a lot of leadership and stability to the team and knew how to win.
But as an organization, the Steelers have plenty of leadership and know how to win. These moves were made with winning in mind and as tough as it was, Pittsburgh will be better off for it next year.
Keep Reading

Pittsburgh Steelers: Like this team?