Pittsburgh Steelers: Leadership Lost with Hines Ward and Aaron Smith
March 2, 2012

Jared Wickerham/Getty Images
Words cannot describe the past couple of days for the Pittsburgh Steelers. Not one, but two of the team's all-time great players were released, and more could follow.
Hines Ward is the team's all-time leading receiver and embodied what it meant to be a Pittsburgh Steeler. He was the toughest receiver in the game and brought a physical presence like no other.
On defense, Aaron Smith was a quiet leader, but possibly the most valuable defender outside of Troy Polamalu. He helped lock down the left side of the line as an outstanding run defender with a pass-rushing touch. Smith was one of the greatest 3-4 defensive ends ever.
Both players were instrumental in Pittsburgh's run over the last decade, which included three Super Bowl appearances and two championships.
However, those days are over, and Ward and Smith are not the same players that they were in their prime. Neither player would see much playing time next year if they were to make the roster, and the cap savings were too valuable to the Steelers.
At some point, every team and player has to move on. Sometimes, it's by mutual agreement, and other times, one side has to make the decision.
In Smith's case, he accepted that, and will likely retire.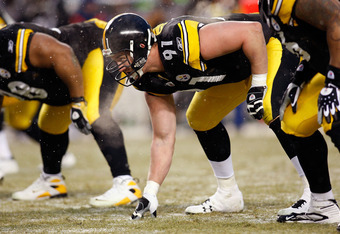 Chris Graythen/Getty Images
"Go somewhere else? No, no; I played 13 years here. It would ruin it," Smith said during a Jan. 4 locker room interview (via Pittsburgh Post-Gazette). 
Ward, however, wants to continue to play, and he may bring something to another team, but not to the Steelers.
Last season, Ward only caught 46 passes for a paltry 381 yards. His 8.3 yards per reception were by far the lowest of his career.
Part of his lack of production came because of how he was used in the offense by Bruce Arians. The other part was because his skills began to erode.
Pittsburgh was a better, more dangerous team with Ward on the sidelines. He slid down the depth chart because Mike Wallace, Antonio Brown and Emmanuel Sanders were more dangerous options.
The Steelers also have a younger Jericho Cotchery who wants to re-sign in Pittsburgh. He does not have the history that Ward has in Pittsburgh, but he projects as a better option for the near future.
For Smith, the writing was on the wall.
Smith had injury issues in four of the past five seasons, including neck fusion surgery this season. His body was no longer holding up, and his play had slipped.
At this point, the Steelers have two first-round draft picks that need more playing time, and that comes at the expense of Smith.
While the production had faded, the leadership did not go away.
Smith was one of the most respected players in the locker room and left it all on the field. He was a throwback player who did the dirty work for the players behind him. Now, it is up to the players that he helped mentor to step in and lead the way.
Both Ziggy Hood and Cameron Heyward have some big, no huge, shoes to fill. Neither may ever reach the level where Smith was at his peak, but they can both strive to be the same type of positive locker room presence that Smith was.
As with Smith, Ward had younger players behind him and lost his spot, in part, due to an injury.
Ward missed time in camp, as well as Sanders, which enabled Brown to get a lot of reps with the starting unit. It paid off.
In the midst of everything, Ward was actually helping his replacement during camp, as he was like another coach on the field, helping the young receivers with technique in catching and route running.
Ward played with a chip on his shoulder, out to prove people wrong. He was not the biggest, fastest or strongest receiver, but he still got the job done, and the job was done very well.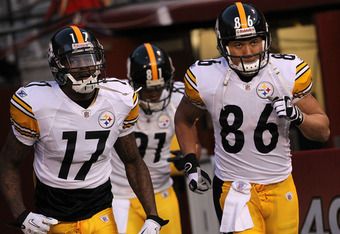 Karl Walter/Getty Images
The Steelers can only hope that Ward's work ethic will stick with their young receiving corps without the presence of their veteran leader.
The loss of two greats means that someone needs to fill the void, and knowing the Steelers organization, someone will step up. It may not be in the same style as Ward and Smith, but it will be there.
But while Ward and Smith are no longer be on the roster next season, it does not mean they will not have an impact on the team.
They have left a lasting legacy with their teammates, specifically the young players behind them, and for that, Pittsburgh is in good hands.
Ward and Smith should be proud of what they achieved while in Pittsburgh. It goes beyond wins and losses. Their leadership ensured that the Steelers will continue to play a brand of football that is expected in Pittsburgh, and that is what defines the Steelers way.