Dashon Goldson's Franchise Tag and Its Implications for SF 49ers' Carlos Rogers
March 2, 2012

Thearon W. Henderson/Getty Images
Now that the 49ers have placed the franchise tag on Dashon Goldson, what does the future hold for fellow free-agent Carlos Rogers?
This was a long-expected move. The one-year franchise price for safeties ($6.2 million) is far cheaper than the price for cornerbacks ($10.6 million).
The team always expected to negotiate with Rogers without the benefit of a franchise tag.
What further complicates the matter, however, according to the breaking-news front, is the Falcons placing their tag on CB Brent Grimes and the Titans electing not to place theirs on Cortland Finnegan.
Both were prized free agents, so now the list of available cornerbacks narrows.
Do the 49ers re-sign their incumbent six-interception man in Rogers, or take a gamble on the oft-troublesome Finnegan?
Rogers has already excelled in Vic Fangio's system, ranking as a top-11 cornerback according to ProFootballFocus. When targeted, opposing quarterbacks completed just 52.8 percent of their passes while posting a meager QB rating of 61.9.
Then again, Finnegan would seemingly fit in well with Fangio's gruesome, bone-crushing defense.
Using the same rating system, Finnegan ranked as the third-best corner. He allowed a higher completion percentage and QB rating, but was targeted 24 fewer times. That's evidence of his reputation as a lock-down cover-corner.
Conversely, Finnegan played alongside Jason McCourty, another top-10 cornerback (ranked seventh to be exact). Rogers was clearly the No. 1 guy opposite Tarell Brown in San Francisco.
As for playmaking abilities against the run, Finnegan rates higher, but Rogers had fewer missed tackles.
The Titans free agent is also infamous around the league for his NFL tough-guy M.O. We all can remember his sparring match with Texans receiver Andre Johnson. Would Harbaugh and Fangio favor or denounce this type of antics? Knowledge of the 49ers identity speaks to the former.
Another caveat to this debate is the difference in age and salary expectations. Rogers is 31. Finnegan is 28. The former expects to command a substantial multi-year deal. The latter, with his not-so-positive ancillary behavior, might have to settle for a one-year contract.
But with many teams in desperate need of a corner, as with the big-spending Cowboys and Redskins, expect a bidding war over Finnegan to ensue. So dollar figures are essentially a wash.
And how about Chiefs free agent Brandon Flowers?
He ranks higher than Rogers and just a couple spots lower than Finnegan at No. 5, according to PFF.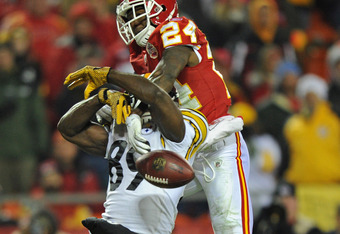 Peter Aiken/Getty Images
That elevated ranking seems a bit misleading, though. He allowed eight touchdown receptions when targeted, second only to the 89th-ranked Stanford Routt (9). Add to that a QB rating of 90.6.
Some also might be inquiring about the Ravens' Ladarius Webb.
PFF spots him as the fourth-best corner.
Cross this restricted free agent off the list; the Ravens are negotiating diligently to re-sign their man.
Coming back full circle, it is apparent to me that the 49ers will lock up their own guy in Carlos Rogers.
Finnegan goes to the NFC East, Carr receives big money (and is potentially overpaid) elsewhere, and Webb stays put in Baltimore.
This conclusion, of course, derives from the collection of the most coveted free-agents discussed in this article.
Who knows if General Manager Trent Baalke decides to bring in a talented, but fairly under-the-radar guy who has eluded the collective gaze of us outsiders?
Or if he opts to attack this positional need through the draft, as he did in the third round of last year's draft by selecting Chris Culliver?
My endorsement lies with Rogers, a man intimately familiar with Fangio's system and with enough of a chip on his shoulder to prove that he wasn't a one-hit wonder after his career year in 2012.
Can't wait to see how it all plays out. What do you guys think?