Los Angeles Lakers: Kobe Bryant, the Masked Outlier
March 2, 2012

Harry How/Getty Images
As I watch Kobe Bryant continue to amaze people in his 16th season, I am left thinking the same thing everyone else thinks when he puts on a show: wow.
All day Wednesday Laker fans were waiting to hear whether or not the 14-time All-Star would be cleared to be play Wednesday night against the Timberwolves (via ESPN).  Yahoo reported Monday that Bryant suffered a concussion after taking a hard foul from Dwayne Wade in Sunday night's All-Star game; he also suffered a broken nose.
After playing quite unlike himself in the last two games before the All-Star break, Kobe Bryant said what most Laker fans have muttered at one point or another during this season, "We've got to work too hard to get points" (via Slam Online).
It's true, the Lakers have two amazingly talented 7-footers who can score at will once they are freed up. A testament to that was the pick-and-roll play last night. It made Andrew Bynum appear to be the real Superman; he stretched across the paint to dunk a lob given to him by Steve Blake.
So after a dismal 105-85 defeat at the hands of the OKC Thunder, the Lakers needed to come up with a better offensive scheme, rather than have Kobe Bryant play against two defenders all night.
It would be extremely important that the Lakers rest over the All-Star break and as one of my favorite radio show hosts Jim Rome says "get right."
Then came Sunday—it appeared that the Lakers staying healthy would be too much to ask. For some reason, Dwayne Wade decided to put a hard foul on Kobe, and the next thing fans saw was a wincing Kobe Bryant.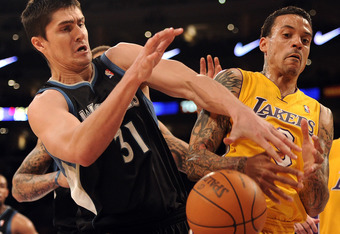 Harry How/Getty Images
Déjà vu I ask? Another exhibition game, and yet another injury for the Laker star.
 It's one of those moments where you laugh and say to yourself, "Maybe it's a good idea if Kobe doesn't play any more exhibition games for a while." Of course the Laker star will never miss a game unless forced too, and in a rare twist due to the NBA concussion policy that almost happened.
It was just before game time when I finally read on ESPN that Kobe was cleared to play against the Timberwolves. Though more noticeably for obvious reasons, it was just before tipoff that Laker fans everywhere had a chance to take a look at Kobe, "the man in the protective mask," or my favorite from Laker broadcaster, Bill Macdonald, "The Masked Mamba."
Looking at the mask, it was easy to imagine how uncomfortable it must have felt. It fogged up and the condensation and sweat must have made it difficult to see. But while Laker fans couldn't help but notice the mask, the Laker's top outlier went to work as usual. He scored 10 points in the first quarter and then put his game in cruise control to finish the night with a pretty impressive stat line 31 points, seven rebounds and eight assists.
It's a luxury for Laker fans to be able to watch The Black Mamba go to work three times a week, but it's an even greater luxury to watch the entire team play at that same level.
Last night the Lakers showed glimpses of why they were so dominant the past couple years and it would only improve their chances to have a deep playoff run should they continue to play this way.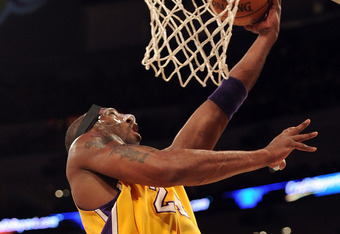 Harry How/Getty Images
I mentioned in my last article that one of the keys to success would be for the bench to perform on higher level, and last night they did just that. Steve Blake put up eight points and five assists, Matt Barnes scored nine points despite struggling to get a layup to fall (its ok Matt, just keep hustling), and Troy Murphy continued to prove he can score off the bench, putting up seven points.
The bench combined for a total of 30 points, which definitely goes a long way.
The Lakers proved last night that they can play defense and score the ball on the offensive side—something fans were hoping would at one point surface.
More importantly, as long as they keep winning there is no reason they shouldn't be able to secure themselves a favorable seed in the Western Conference come playoff time.
Though the Lakers played great, Andrew Bynum said it best when asked what the difference between each team was, "no K. Love it was that simple."