DeSean Jackson Gets the Franchise Tag: What's Next for the Philadelphia Eagles?
March 1, 2012

Marc Serota/Getty Images
The NFL's game of tag has begun.
And according to ESPN's Adam Schefter Eagles wide receiver DeSean Jackson is it.
Eagles place franchise tag on WR DeSean Jackson.

— Adam Schefter (@AdamSchefter) March 1, 2012
This likely won't be a very fun game of tag for either party involved. Jackson has already made it known that he doesn't like the prospect of the tag, and although the Eagles promptly made it known that they were still trying to work out a long-term deal per Pro Football Talk, the Eagles have long since made it known that they are "open to listening to offers" for their dynamic receiver.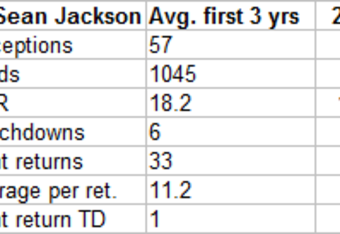 Jackson's play-making ability has been proven in the past, and despite a down year, there's always a chance he can bounce back—but his happiness may have a lot to do with it, and the first step in that happiness is working out a long-term contract.
The fact is, whether or not the Eagles want to keep him long-term, saying you want to get a deal done is always a lot different than actually getting it done.
And what happens if they can't?
He unsuccessfully held out for a long-term deal in 2011 and had a well-documented confrontation with the media after he was spotted not talking to his teammates on the bench during a tough loss to the Seahawks. So clearly, happiness = production, or some other similar correlative equation.
Whatever the reason, the decline is noteworthy, as are his attitude problems. Whichever team brings him in—be it the Eagles or another team—2012 won't be a fun-and-games year for Jackson. It'll be all business, as he'll likely be playing to prove himself and to change the perception that is slowly becoming his reality.