Michigan Football Uniforms: Ranking the Best of the Fake Designs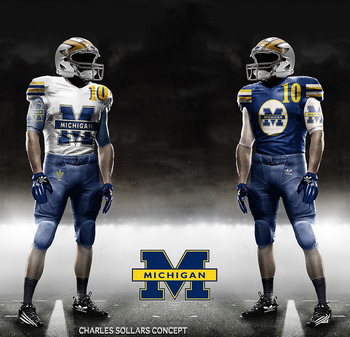 Do you remember a guy named Charles Sollars?
If you do, you probably recall him creating new, but fake uniforms for every team in the Big 12 Conference. It drew mixed reactions, although many agree that some of them were better than the current uniforms that are used today.
Well, he's now decided to mess with tradition and add a twist to the Michigan Wolverines' uniforms. Fans should not be worried because we all know the Wolverines are likely the last team to switch their uniforms up, but it is a cool idea and worth talking about.
Here are some of the coolest fake uniforms that were designed for the Wolverines.
5. These Will Do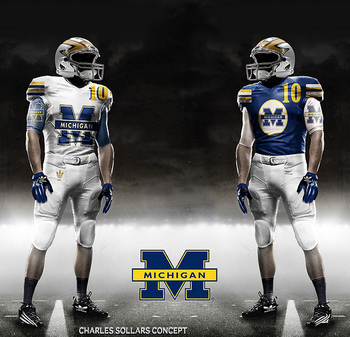 Seriously, how could you say no to these?
I know the color combinations are completely different than what you're used to, but that's what makes these stand out. Switching things up and being a little different never hurt anybody.
4. It Worked the First Time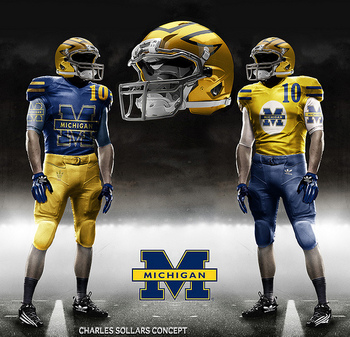 Michigan was able to pull off a comeback against the Notre Dame Fighting Irish last year while wearing similar uniforms to this selection. This one is a little cooler, though, as it's not as plain, and the colors aren't as loud as they were last season.
Wear these again, and who knows what will happen?
3. Similar Style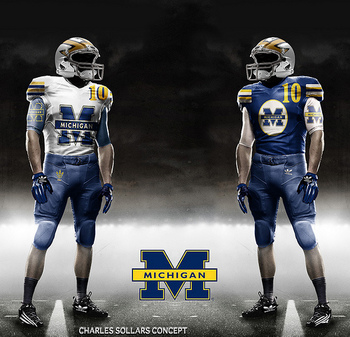 These are similar to the style of uniforms the Wolverines wear now, except for the maize pants. But, what makes this uniform really stand out is the fact that the logo is in the middle of the chest. How cool is that?
2. All White
This may just be a plain old, simple all-white uniform, but sometimes that's the way things need to be. With so many of the recent uniform changes, teams tend to overthink things and come up with ridiculous ideas. This is a simple uniform, but overall, it is a great look.
1. Black and Yellow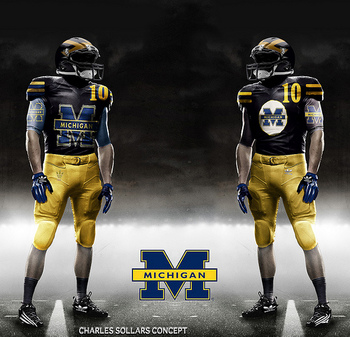 I'm a huge fan of all-black uniforms; it really does something to me when a team takes the field in all black. Really intimidating look.
And while there isn't an all-black look for Michigan in the collection, the black and yellow will do. You also have the logo in the middle of the chest to remind teams who they're playing.
Imagine the Wolverines wearing this uniform at another night game. Scary looking, almost.

Randy Chambers is a B/R featured columnist that covers college football and the NFL. You can contact him @Randy_Chambers or Randy.Chambers7@yahoo.com.
Keep Reading

Michigan Wolverines Football: Like this team?