MLB Trade Rumors: 10 Major Faces in New Places in 2012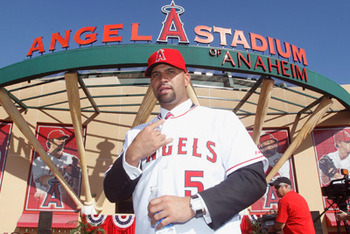 The 2011-2012 MLB offseason is coming to an end. Players already have reported for spring training.
Baseball season is almost upon us, and there is plenty to talk about across the entire league.
Over the past couple of months, baseball has had its fair share of blockbuster signings and trades, the biggest involving Albert Pujols..
However, it's not just him. There are plenty of high-profile players who have made moves. Let's take a look at 10 of the biggest players on the move this year and see where each of them will be playing in 2012 and beyond.
Albert Pujols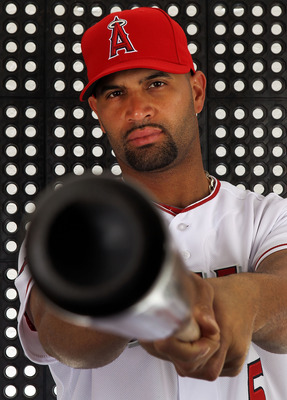 Jamie Squire/Getty Images
One of the best hitters, if not the best hitter in baseball, Albert Pujols this offseason became the biggest free agent since Alex Rodriguez. After 10 seasons and two World Series rings with the St. Louis Cardinals, he decided it was time to move on.
With 30-plus homers, more than 100 RBI and a .300-plus batting average each year of his career, Pujols is nicknamed "The Machine" for a reason
He signed a 10-year, $254 million deal with the Los Angeles Angels of Anaheim.
Adding his powerful bat to a lineup that already includes Vernon Wells, Torii Hunter and Mark Trumbo will make the Angels a powerful offensive team in the AL West for years to come.
C.J. Wilson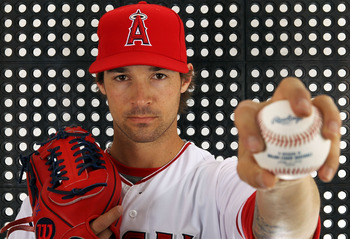 Jamie Squire/Getty Images
Oh, but the Angels didn't stop there. They spent plenty on starting pitcher C.J. Wilson.
Formerly of the Texas Rangers, where he won 31 games over the past two seasons, Wilson signed a five-year deal with the Angels worth $77.5 million.
He'll add strength to a rotation that already has Jered Weaver and Dan Haren, making the Angels the team to beat in the AL West, both in terms of hitting and pitching.
Prince Fielder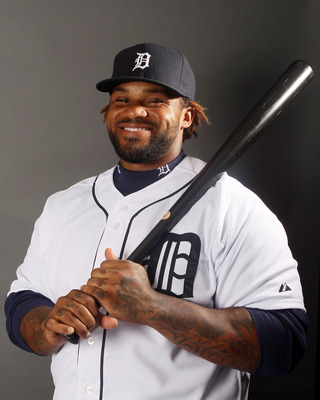 Elsa/Getty Images
Another former NL Central player, Prince Fielder is big (weighing roughly 275 pounds) and has a big bat to boot.
In seven seasons with the Milwaukee Brewers, he had 230 home runs and hit. .282.
In addition, unlike Albert Pujols, Fielder has played in all 162 games in a season on two occasions (2009, 2011), and nearly did it in 2010. In fact, since playing full time in 2006, he has appeared in 157 or more games each season. Say what you will about his size, but you can't question his durability.
However, unlike Pujols, Fielder didn't sign with an AL West team. Instead, he'll be playing for the Detroit Tigers of the AL Central.
His deal is for nine years and is worth $214 million.
In a sense, Prince has come home. His father Cecil played for Detroit from 1990 to 1996, and as a youngster Prince would take part in batting practice at the old Tiger Stadium.
With Fielder in the lineup, 2012 is going to be a big year for the Tigers, especially since he and his new teammate Miguel Cabrera will be one of the best 3-4 hitting tandems in the league.
Jose Reyes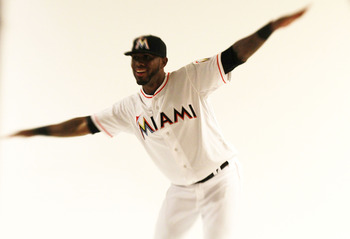 Marc Serota/Getty Images
A speedy shortstop slowed by injuries over the past few years, Jose Reyes left the New York Mets to join the Miami Marlins after winning the NL batting title last season.
He signed a six-year deal worth $106 million.
Provided he can stay healthy, he'll be a productive leadoff hitter and allow guys such as Hanley Ramirez (the former shortstop who has moved to third base) and Giancarlo Stanton to drive in plenty of runs.
Carlos Zambrano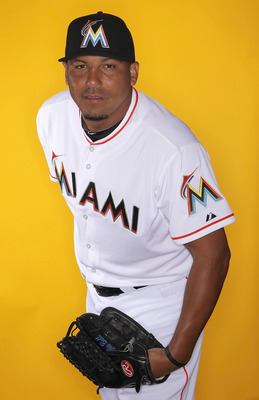 Marc Serota/Getty Images
On January 4, the Chicago Cubs swapped pitchers with the Miami Marlins, sending Carlos Zambrano to Miami for Chris Volstad. In addition, the Cubs will pay $15-$16 million of Zambrano's $18 million salary for 2012.
As talented and productive as Zambrano had been since making his debut with the Cubs in 2001, he's also had problems controlling his temper, and the team decided it couldn't handle having such an emotional player around.
Perhaps a new team will be what Zambrano needs. The Marlins get an effective, if at times wild pitcher who also boasts the ability to hit (in his career, he has 23 home runs, 69 RBI and a .244 bating average) He'll be in a rotation with Josh Johnson, Mark Buehrle and Ricky Nolasco.
The question is, will the team and hot-tempered manager Ozzie Guillen be able to control him over the course of the season?
Carlos Beltran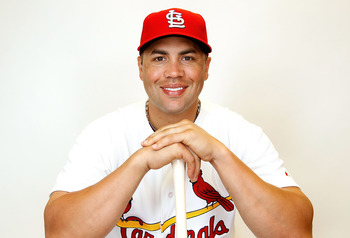 Mike Ehrmann/Getty Images
Last season before the trade deadline, the Mets sent Carlos Beltran to the San Francisco Giants for highly-touted pitching prospect Zach Wheeler.
Despite the upheaval, Beltran still managed to hit .300 with 22 home runs and 84 RBI.
So, in an effort to replace some of the offensive production lost by Pujols signing with the Angels, the St. Louis Cardinals signed Beltran to a two-year deal worth $26 million.
It will be interesting to see how he and teammate Lance Berkman, who has moved back from right field to first base, will perform for the defending World Series champions.
Aramis Ramirez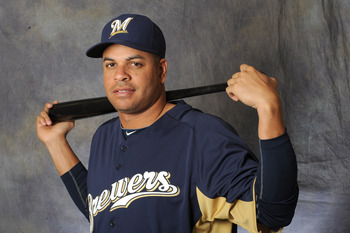 Rich Pilling/Getty Images
In a similar vein, the Milwaukee Brewers looked to replace the offensive production lost by Prince Fielder signing with the Tigers.
In Aramis Ramirez, they acquired the top third baseman in the free agent market.
The former long-time Chicago Cub signed with the Brewers for three years and $36 million.
Jonathan Papelbon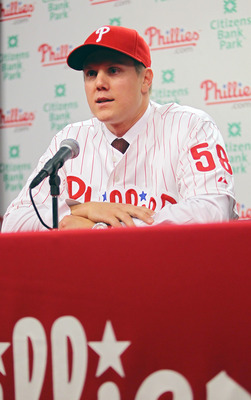 Len Redkoles/Getty Images
Jonathan Papelbon has the most career saves of any player in the history of the Boston Red Sox. He's a four-time All-Star, the fastest player ever to record 200 career saves and is the only pitcher to record 30-plus saves in his first five seasons.
But he also blew some crucial games, including the finale of the 2011 regular season that knocked the Red Sox out of the playoffs.
So now he goes from the AL East to the NL East and the Philadelphia Phillies, having signed a four-year deal worth $50 million, along with a vesting option for a fifth year that could make his deal worth $60 million. Among active closers, his annual salary is behind only Mariano Rivera's.
Philly fans are expecting Papelbon to close plenty of games over the next few seasons. But if he starts blowing opportunities, will he be able to redeem himself in their eyes?
Michael Cuddyer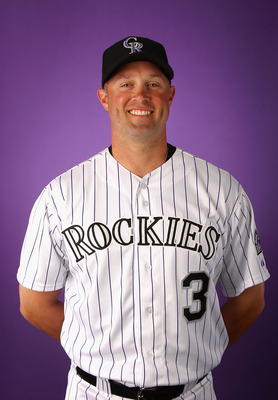 Christian Petersen/Getty Images
Michael Cuddyer wasn't the most-known or greatest player on the Minnesota Twins. But since he debuted with the team in 2001, he has been a consistent player (when healthy).
Last season, he hit a career-high .284 with 20 home runs, 74 RBI and 11 stolen bases.
He now joins the Colorado Rockies, having signed a three-year deal worth $31.5 million.
He'll add a little bit of everything to this club: power, speed and defensive versatility. He typically plays first base and right field, but also has experience at second base.
With a lineup featuring Troy Tulowitzki, Carlos Gonzalez and Todd Helton (who at 39 years old, can still hit), the Rockies will be looking to make an impact in the NL West.
Michael Pineda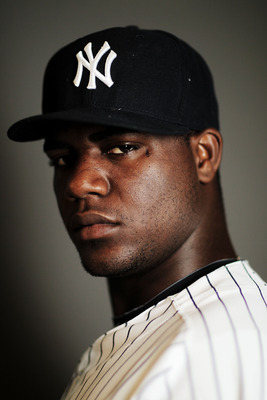 Nick Laham/Getty Images
In the biggest trade of this offseason, the New York Yankees sent Jesus Montero, their supposed "catcher of the future," and pitcher Hector Noesi to Seattle for starting pitcher Michael Pineda and minor league pitcher Jose Campos.
Though he's only 23 years old, Pineda already has shown just how talented he is. He could be this franchise's future ace.
As a rookie last season, he went 8-6 with a 3.03 ERA in the first half, earning an All-Star berth as a replacement for Justin Verlander. However, he won just one game in the second half, going winless in his final seven starts as the Mariners decrease his workload to keep his arm healthy.
Still, despite pitching for the offensively-challenged Mariners, Pineda managed to finish 9-10 with a 3.74 ERA, 173 strikeouts and just 55 walks in 171 innings.
With the Yankees, he'll be in the middle of a stacked rotation, with CC Sabathia, Ivan Nova, Hiroki Kuroda, Phil Hughes and Freddy Garcia (should they need to start him).
He'll also receive plenty run support from guys like Mark Teixeira, Robinson Cano, Curtis Granderson and Alex Rodriguez.
Pineda is someone to definitely watch. He has a powerful arm (his fastball averages 94.2 mph) and good command. He's a force that should not be taken lightly in 2012 and beyond.
Keep Reading