Green Bay Packers: Why Using the Franchise Tag on QB Matt Flynn Is a Must
March 1, 2012

Jason Miller/Getty Images
As we move closer and closer to the final day to franchise tag a player (March 5), the Green Bay Packers need to make a decision on quarterback Matt Flynn.
What's the right decision? Well, clearly that would be to place the franchise tag on Flynn, and here's why.
Draft picks
When looking at the teams in desperate need of a quarterback, such as the Seattle Seahawks, Miami Dolphins and Washington Redskins, they all have one thing in common. They all have first-round draft picks in the top 15.
The Packers' biggest need in the draft is to find either a pass-rushing outside linebacker or a pass-rushing defensive lineman. While there will be some players available near the end of the first round, they won't find near the talent that they would if they drafted much earlier in the draft.
Players like Nick Perry, Courtney Upshaw and Melvin Ingram are likely to be well off the board before Green Bay chooses with the 28th pick. However, if the Packers can work a trade for Flynn after they franchise tag him, they could easily land one of these elite prospects.
Insurance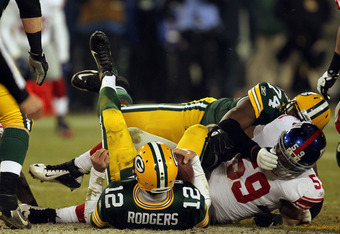 Jonathan Daniel/Getty Images
Don't get me wrong, $14 million is definitely a ton of money to throw at a backup quarterback. In fact, it really is a ridiculous amount. However, one thing we have seen from Aaron Rodgers is that he is susceptible to suffering the occasional injury.
Now, what would happen if that injury took place in a playoff game or a must-win regular-season game? Would you really feel confident throwing Graham Harrell on the field as a replacement?
Yes, $14 million is an extremely large sum of money for one player, and it would definitely take a major chunk out of Green Bay's overall salary cap, but having the peace of mind in case something happens to Rodgers is well worth it in my book.
Principle of the matter
Here is the main reason why the Packers need to franchise Flynn. Sure, the draft picks and insurance are great, but it is the principle of the matter that makes this a must-make move.
Green Bay has spent the last few years teaching, training and improving Flynn's game so that he could succeed as a quarterback in the NFL. And now, after all that work, it's just going to let him walk?
That doesn't make a lick of sense. If the Packers put their time and effort into improving Flynn, the logical conclusion would be to get some compensation for all their work.
You don't go to work in the morning, bust your butt 40 hours a week and then go home on Friday without a paycheck. However, if the Packers don't put the franchise tag on Flynn, that is exactly what will happen. They will literally get nothing for all that they put into Flynn.
As you can see, it's in the Packers best interest to franchise Flynn before March 5. Even if there isn't a deal in the works for a draft pick, it still needs to be done.
It's the right move, and it's a move that would go a long way to greatly improving the Green Bay in 2012.