Franklin Gutierrez Injury: What Are the Potential Long-Term Ramifications?
March 7, 2012

Otto Greule Jr/Getty Images
For the second straight year the Seattle Mariners will be without Franklin Gutierrez patrolling center field to start the season.
While on some levels it's disappointing, at the end of the day it's hardly tragic.
Sadly with Guti, we've become conditioned to him suffering such misfortunes after last season, and by comparison, if this were an injury to any one of the prized youngsters (Ackley, Montero, Smoak, Hultzen, etc.) there would be far greater sense of panic and angst coming out of Arizona right now. 
Instead, for the Mariners and by extension their fans, this injury merely takes away some of the excitement and energy that can be seen across major league camps in both Arizona and Florida this time of year.
It's an early and unfortunate wake-up call for a team that had at best a razor-thin chance of contending this year.  Having this happen even before a single Spring Training game is played, though, almost seems cruel, especially for Guti, given how hard he worked to get back to this point. 
It's both perplexing and sad that his body continues to betray him after finally getting the chance to play every day in the majors with the Mariners after years of fighting for a job in Cleveland.    
The big question now isn't when Gutierrez will be back, but how exactly he figures into the Mariners long-term plans?
Unfortunately, with only a few days of practice under his belt, it was hard to judge whether Gutierrez would have returned to form in 2012 on a team caught between a youth movement while saddled with a few leftover high-priced veterans. 
Oddly enough, for a guy who won't turn 30 until Spring Training next year, he would probably be seen as one of the veterans simply looking for redemption.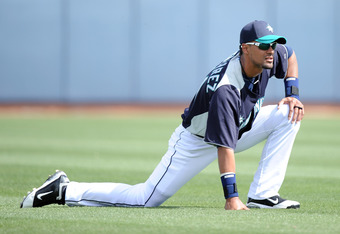 Harry How/Getty Images
I'd imagine the answer was hard to figure even before last Tuesday, yet much like Chone Figgins, Guti could be well-positioned by the ballclub as a renaissance project to hype up before potentially shopping him around in July.
The Mariners may not need to trade Gutierrez, yet would it be short-sighted to ignore a decent offer for someone who won't likely be around when the young core of talent hits their prime three to four years from now?
It's an unenviable spot for Mariners GM Jack Zduriencik to be in with a guy no one can get a clear read on at the moment...
In only a few short years, we've learned that Guti isn't terribly durable and when he is available, his ceiling is that of a solid if not spectacular defender, but unable to carry a team with his bat. 
Essentially, he is a complementary player a contending club would consider as a major piece to plug into an already-solid lineup.
For the Mariners, though, would they get a fair return? 
Fortunately for Jack Z, barring any major setbacks, even if Gutierrez isn't back in the lineup until a few weeks after Opening Day following rehab and perhaps a stint in the minors, the sample size for teams to make a decision should still be sizable enough to maintain a fair number of potential suitors come summertime. 
If Jack Z enjoys playing the game of chess, Gutierrez could be one of the more intriguing pieces to play with as the Mariners continue to rebuild, especially if he's healthy and producing. 
Is this ideal?
No, but as we learned from this past offseason it would seem the Mariners aren't going anywhere fast, so the next best thing is to make the most of what you have in trying to build from scratch.  Franklin Gutierrez is no longer a building block, but he can serve as a valuable stepping stone.