UFC: Breaking Down Potential Rampage Jackson vs. Shogun Rua II
March 1, 2012

Aside from the exciting UFC lightweight title fight that will certainly be a Fight of the Year candidate, the other storyline coming out of UFC 144 is the embarrassing performance given by former UFC champion Quinton "Rampage" Jackson.
After tipping the scales at 211 lbs—five pounds over the 206 lb limit—Rampage looked out of shape and uninspired. It's widely known that Ryan Bader wasn't Rampage's first choice of opponent for UFC 144.
When interviewed after his loss to current UFC light heavyweight champion Jon Jones at UFC 135, Rampage called out Mauricio "Shogun" Rua to fight in Japan in a rematch of their 2005 PRIDE Total Elimination contest.
However, Shogun was already scheduled to face Dan Henderson in November. The brutal slugfest that was the Henderson/Rua fight made Rampage's request virtually impossible.
The conversation has started up again and Rua appears to be on board as well. In a recent interview with Tatame, Rua stated that he would "absolutely" like to rematch Rampage. Now that we know that both combatants are game for this fight, what would be the potential result this time around?
In their first meeting, Rua outclassed and outperformed the heavily-favored Rampage, eventually winning by TKO after landing a number of soccer kicks to the head. From the opening bell, Rua brought the fight to Rampage, leading off with a two-punch combination followed by a knee strike.
As the fight progressed, Rua continued to dominate Rampage from the clinch and land numerous knee strikes, which eventually broke Jackson's ribs. Rampage never got comfortable and never established any type of gameplan.
Fast-forward seven years and Rua is still a very powerful fighter with some of the best Muay Thai in all of mixed martial arts. He used it to defeat Lyoto Machida and win the UFC light heavyweight belt. In addition, he is also a Brazilian Jiu-Jitsu black belt.
In a potential Rua versus Rampage sequel, the biggest challenges that Rua would face are age and injury. He's 30 years old and has had a number of injury issues since coming to the UFC, primarily with his knees.
Aside from those obstacles, Rua could invoke a similar strategy that won him their first battle. Rua would need to establish control in the Octagon immediately and dictate the pace.
He must be the aggressor in the fight and force Rampage to fight while retreating, something he has struggled with his entire career. Shogun would also benefit from using some of his jiu-jitsu and taking the fight to the ground.
While Rua has great talent in the stand-up game, he also has some brutal ground-and-pound which fellow UFC fighters Dan Henderson and Alistair Overeem have experienced first-hand.
The key to Shogun winning a possible rematch will be to essentially "bring the pain."
Jackson was a force to be reckoned with during the PRIDE era. Holding a 10-4 record in the PRIDE organization, he would face Shogun two months after winning a split decision over Rua's older brother Murilo.
This loss turned out to be the most vicious defeat of Rampage's career. Nevertheless, Jackson would bounce back and not only win the UFC light heavyweight title, but also the PRIDE championship that evaded him for so many years.
He unified the PRIDE and UFC titles when he defeated PRIDE middleweight champion Dan Henderson—PRIDE FC's middleweight division limit was 205 lbs.
Rampage's recent outings have looked abysmal, minus the Matt Hamill fight. Many have attributed it to him growing tired of fighting.
Though Jackson has never been a huge fan of training, he has always been one to put on a show. In order to have even a remote chance at redemption, Rampage will need to regain his edge and "go back to the beginning."
During his PRIDE and early UFC days, Rampage was more than just a striker looking for the devastating knockout. He utilized takedowns, dirty boxing, as well as some decent wrestling.
While Rua circa 2005 was vicious, the Rua of 2012 is the same style of fighter, albeit a little slower. Rampage is not the same style of fighter from that era.
He rarely throws kicks, hardly ever shoots in for takedowns—two successful takedowns in his last five fights, per FightMetric—and often appears very rigid on his feet. Hoping to get fired up based on the opponent he's facing will not be enough (see Rashad Evans fight).
Until the UFC gives the green light on this fight, he needs to get in the gym beforehand and work on maintaining his weight. It has been rumored that his weight outside of camp has reached as high as 250 lbs.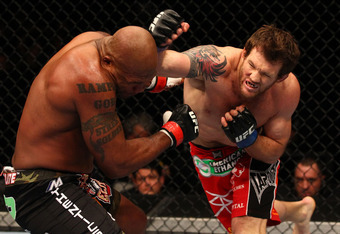 Next, Rampage will need to get into a top-notch camp with an established team such as the up-and-coming Blackzilians (if Rashad Evans lets him), or even American Kickboxing Academy, where Cain Velasquez trains. This would help him to be more proactive with his wrestling.
Once in the ring, his goal should be the element of surprise. Open the fight with a mix of strikes from the beginning. Throw some leg kicks and try to put Rua against the cage.
Rua won their first fight because he set the tone from the beginning. Rampage should immediately put the pressure on Rua.
One thing he should take from Rua's loss to Jon Jones is that Shogun can be swarmed and can be beaten up. While Jackson in no Jon Jones, he does possess more power and can inflict more damage with fewer strikes.
The other thing he must improve upon is his Muay Thai defense. Rua and Wanderlei Silva have given Jackson his worst career losses primarily due to their effective use of Muay Thai. If Rampage truly wants to redeem himself, he must get back to his roots.
Until we have UFC President Dana White's blessing, this fight is total speculation at this point. Rua is a top-three contender, and Rampage just lost to a guy who was defeated by another fighter who hadn't won a fight in five years.
In the end, I do believe this fight would sell and the fans would be clamoring for this contest. Where the question arises is that it's not enough to ask if Rampage wants to win this fight, but does he have the will or even the motivation to do what's necessary to win?
To win, he must reinvent himself. To reinvent himself, he must be honest with himself. To be honest with himself, he must look in the mirror and say, "How bad do I want this?"
Follow Walt J. as he gives his no-holds-barred opinions on the NFL, MMA and other sports topics on his blog, "Live From AREA 49." You can also follow him on Twitter @area49sports.