UCLA Basketball: New Report Alleges Drug Use and Fighting in Bruins Program
February 29, 2012

Chris Chambers/Getty Images
Trouble's "Bruin" in Westwood for UCLA basketball and has been for some time.
This, according to George Dohrmann of Sports Illustrated, who dug deep into Ben Howland's once-sterling program to reveal the rot eating away at the foundation.
The team began to fall off the rails in 2008—on the heels of the Bruins' trifecta of Final Four appearances and the departure of scores of players to the NBA—with the arrival of the nation's top-ranked recruiting class, which Dohrmann refers to as the "Baby Bruins."
As Dohrmann explains, several players in this particular group proved to be far less dedicated on their own to the team, succumbing to the trappings of college life (i.e. partying, alcohol, drugs) while proving to be disruptive in practice and during games.
The problems worsened the following year with the arrival of Reeves Nelson, a big, bruising forward who was dismissed from the program earlier this season for a litany of attitude and behavioral issues both on and off the court. The article suggests that the breakdown of discipline within the Bruins program is still somewhat apparent today, particularly in the disappointing development of highly-touted center Joshua Smith.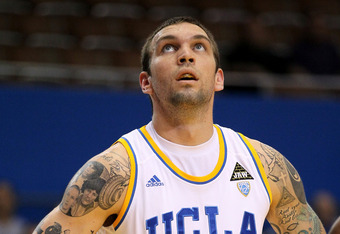 Stephen Dunn/Getty Images
UCLA chancellor Gene Block offered his thoughts on the matter, a blight to the institution of which he is currently the steward:
It is disheartening for our Bruin community to be confronted with the type of assertions contained in the Sports Illustrated story. We take seriously any challenge to who we are and what we are about, and I am confident that any issues in our men's basketball program will be rectified.
While none of this should come as a shock to anyone who's followed UCLA basketball closely in recent years, it does shed light on a bigger issue still at play around Pauley Pavilion: Howland himself. Few would ever doubt Howland's expertise in teaching his student-athletes how to play NBA-caliber defense and how to flourish within the confines of a half-court offense.
However, there have long been whispers floating around campus that Howland still had much to learn about coaching basketball—that his tactical philosophy was far too inflexible to accommodate the new-found talent to which he had access and that his lack of social and management skills forced him to do his job at arm's length.
From which vantage point he couldn't adequately nurture and/or punish those, like Nelson and Drew Gordon, who needed the individualized attention most.
Howland's own comments on the expose seemed to reflect an awareness of his shortcomings:
Like everyone else, I am always looking forward to improving as both a person and as a coach. I am proud of the coaches, staff and student-athletes in our program, and I look forward to our future.
The picture painted therein is none too positive for Howland and the Bruins. The team is well beyond NCAA Tournament consideration after starting the season in the top 25. It also appears ill-prepared at present to reopen the newly-renovated Pauley Pavilion in the fall to the sort of fanfare for which athletic director Dan Guerrero had hoped.
Guerrero offered this official reaction to the SI story:
I have discussed the Sports Illustrated story with Coach Howland and Chancellor Block and we will continue to address any issues and concerns. Like many in the Bruin family, I am disappointed.  That said, I know that we have, and will continue to provide, the necessary resources, education and support for all of our coaches, staff and student-athletes.
Throw in the disappointment and discontent with Howland among UCLA students, alumni and fans, and you get a rather volatile cocktail that could cost the coach his job and force the program to start over again before too long.