LA Lakers Rumors: Michael Beasley's Stock is Soaring
February 29, 2012

Michael Beasley fits a major need for the Los Angeles Lakers at small forward.
The 22-year-old harbors an immense amount of talent and has incredible upside, but he's been unable to perform up to his potential on a consistent basis thus far in his career.
After averaging a career-high 19.2 points per game during the 2010-11 season in Minnesota, Beasley has been relegated to a bench role for much of the 2011-12 campaign.
Logging just under 26 minutes per game, Beasley's season averages of 12.8 points and 5.3 rebounds on 44 percent shooting certainly won't jump off the stat sheet.
However, Beasley is doing something that we haven't seen from him previously—converting from beyond the three-point line with incredible efficiency.
Shooting an impressive 46 percent from deep (23-of-50), Beasley has been able to drain the long ball and has established himself as a perimeter threat on the wing.
After a mid-foot sprain knocked Beasley out of action for most of January, he's been able to adjust to his reserve role and hasn't complained once about his playing time.
It's not a secret that the Timberwolves would deal Beasley, and although the Lakers are known to have interest, Los Angeles is not the only team in the hunt for his services.
"I just play basketball, and if that happens, it happens, and I still play basketball.

For now, I'm a Timberwolf. I love my team and my coaches. If it's time for me to go, I have no control over that. I'm just playing the game and keeping my mouth shut."
That's a good outlook for Beasley to have, but it also sounds like someone who understands that his long-term future is not in Minnesota.
Beasley's playing time over the last four games (Feb 19-28) has been marked by inconsistency.
He's played 11, 33, nine and 30 minutes in those matchups, but could very well see increased playing time over the next few games in order to showcase him for teams interested in dealing for him.
With his rookie contract set to expire at season's end, Beasley will enter the offseason as a restricted free agent in search of a lucrative multi-year deal.
He is the definition a low-risk, high-reward option for teams looking for an offensive boost.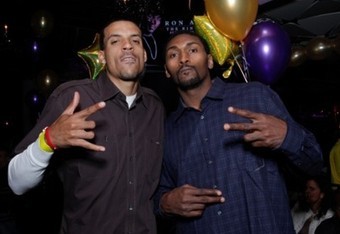 If the experiment doesn't work, Beasley can walk at the end of the year. If it does, the team he ends the season with will have the opportunity to match any contract offer he receives.
The Lakers need production at the small forward position desperately.
With Los Angeles and Minnesota set to square off on Wednesday night, the Lakers will get an extended look at Beasley to see exactly what he's capable of doing.
If the Lakers decided to swing a deal for Beasley, it would be with the hope that he'd be able to further mature under the leadership of Kobe Bryant.
Beasley would immediately become the most talented player the Lakers had at small forward if acquired, and he would be a scorer on a team that doesn't have enough of them.
The Lakers have been watching Beasley for some time, and the interest in bringing him aboard has been long-standing.
The Lakers were actually in discussions with Minnesota about a potential trade for Beasley before the season started. If they would have been able to pull off the deal for Chris Paul, there is a good chance that a trade for Beasley would have followed.
The Lakers have to roll the dice in any deal the team makes, including the possible addition of Beasley.