Peyton Manning Rumors: Why Kansas City Chiefs Fans Need to Settle Down
February 29, 2012

Andy Lyons/Getty Images
I've seen plenty of articles here on Kansas City's Bleacher Report page regarding Peyton Manning. They exploded after Kansas City's head coach Romeo Crennel said that he would be crazy not to consider Manning if the Indianapolis Colts cut him.
I think Chiefs fans need to settle down a little bit.
Realistically, Manning could land just about anywhere. No one knows for sure. What we can be sure of is that he won't find himself in Green Bay, New England, San Diego, New Orleans, Detroit or with the Giants. 
I could see any of the other teams talking at least briefly about the possibility of bringing Manning to their organization.
ESPN.com's AFC West blogger Bill Williamson offered his opinion about the possibility of the Chiefs signing Manning, saying, "I'm not confident the Chiefs will be the team that ends up signing Manning, but I do believe they will show interest once he is available." 
In a nutshell, that is the situation regarding Manning in Kansas City. Nothing more. Chiefs fans are taking what Crennel said way over the line. 
If you haven't heard Crennel's comment when asked about Manning, here it is: "I'm not supposed to talk about anyone else's players. He's still a player with Indianapolis. But with a talent like that, I would be crazy not to consider it if he were available. I'll leave it at that."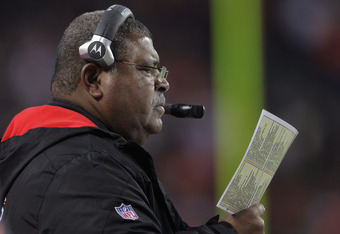 Doug Pensinger/Getty Images
Crennel was asked what he would do if Peyton Manning, one of the NFL's best quarterbacks in the history of the game, were available. What would the media have done if Crennel said he was uninterested? What would all the sports experts say if Crennel had told the media he's choosing Matt Cassel over Manning? 
I guarantee it would not be pretty. The ESPN.com comments section would be flooded with things like "Crennel is an idiot!" and "What's he thinking? Manning is a legend!"
They would be right.
Crennel said what all of us would have said. It's nothing to get too excited about. I admit, seeing Manning in a Chiefs uniform would be incredible. Listening to Kansas City's play-by-play announcer Mitch Holthus saying, "Manning drops back, pumps, looks right. Fires. He's got Bowe in the end zone! Touchdown! Kaaannnssaaass Ciiittyyy!" in his trademark voice would give me goosebumps. 
But let's be realistic. Kansas City is just one of the dozens of other teams who have the opportunity to sign a sure-fire future Hall of Famer. Even if everyone thought Kansas City was at the top of the list, it still isn't a for-sure deal.
Remember when teams were shopping for Nnamdi Asomugha? Some pegged San Fransisco as the team for Asomugha. Many thought he'd play for the Jets. Then, seemingly out of no where, he went to Philadelphia. 
It goes to show, you never really know what a team is thinking until it makes a decision.