Los Angeles Lakers
Lakers GM Mitch Kupchak: 10 NBA Championship Rings with Washington Bullets, L.A.

Mitch Kupchak, shooting over Seattle's Jack Sikma, was a key contributor on the Washington Bullets 1978 NBA championship team. Photo Washington Wizards.
February 29, 2012
Los Angeles Lakers general manager Mitch Kupchak was in the news recently after Kobe Bryant complained that Lakers management should announce whether Pau Gasol will be traded. While it's tough for Gasol to be left hanging, Kupchak says he has a duty to do whatever he can to help the team. Both sides have a point. 
What's astonishing isn't so much the controversy surrounding the trade that the NBA rejected in December that would have sent Gasol to Houston, Lamar Odom to New Orleans and Chris Paul to the Lakers. It's not so much the fortunes of the Lakers, who have fallen back to the pack, behind four teams in the West after trading Odom to the Hornets for a first-round pick. It's not even the uncertainty about who is really in charge—Kupchak or Lakers executive Jim Buss. 
No, the amazing part of this story is the incredible lack of respect Kupchak is getting, based on that fact that no one can seem to pronounce his name right (it's "Kup-CHAK," not "Kup-CHEK"). You would think a guy who has as many championship rings as he has fingers (plus one for each thumb) could get his name pronounced correctly by professional journalists, most of whom regularly cover the NBA. 
ESPN's Stephen A. Smith regularly calls the Lakers' GM "Kup-CHEK." Kevin Harlan and Ernie Johnson of TNT have made the same mistake. Jim Rome, whose talk shows are based in L.A. repeatedly called Kupchak "Kup-CHEK" two years ago. NBA commissioner David Stern made the mistake after the Lakers won their second consecutive NBA championship in 2010 ago when he congratulated "Kup-CHEK" in front of a national TV audience. Chris Broussard, who has covered the NBA for more than 20 years, consistently makes the mistake, as does ESPN's John Anderson. It's likely that almost as many national reporters make the mistake as pronounce his name correctly.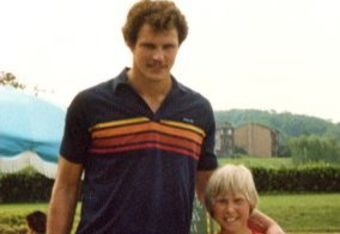 Mitch Kupchak of the Washington Bullets at a charity event in 1980. Photo by Mike Frandsen.
So, why should we care? Given what Kupchak has accomplished in his career, the lack of respect he gets is a disgrace. Those whose full-time jobs involve covering sports or the NBA should know better, rather than being lazy and unprofessional. Even if Kupchak had never played the game, had only recently become the Lakers' GM, and worked in a minor media market, the mispronunciation would be inexcusable.
However, the Lakers are in the second-largest media market in the U.S., and along with the Boston Celtics, they are one of the league's two most-glamorous teams. Kupchak has worked in the Lakers' front office since 1986. In 2002 when Jerry West departed for Memphis, Kupchak took over as the head personnel man for the Lakers. Kupchak has seven NBA championship rings from his time in the Lakers' front office. West built the Showtime Lakers and the Kobe-Shaq Lakers, but Kupchak was responsible for adding Gasol and most of the rest of the players to the repeat champs in 2009 and 2010. 
In college, Kupchak was the 1976 ACC Player of the Year as an All-America power forward for the North Carolina Tar Heels. Other winners of the ACC POY include David Thompson, Ralph Sampson, Michael Jordan, Len Bias and Christian Laettner. 
Kupchak also was the starting center on the 1976 U.S. Olympic basketball team that won the gold medal. He was drafted in the first round by the Washington Bullets that year, and in 1978, he helped the Bullets win the NBA championship, averaging 16 points and seven rebounds a game in just 26 minutes. Kupchak was at times just as valuable as the Bullets' Hall of Famers, Elvin Hayes and Wes Unseld. As Sports Illustrated's Curry Kirkpatrick once wrote, Hayes once said Kupchak deserved more playing time because he was a much better shooter than Unseld.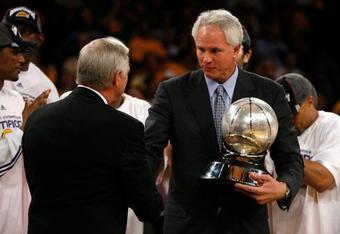 Lakers GM Mitch Kupchak receives congratulations from Jerry West after the Lakers advanced to the 2008 finals by beating San Antonio. Photo by Jeff Gross/Getty Images.
In the Eastern Conference finals against Philadelphia, Kupchak scored 19 points in Game 4 to give Washington a commanding 3-1 series lead. The Bullets won the series four games to two. 
Kupchak also scored 19 points in Game 6 of the finals against Seattle. In the deciding Game 7, Kupchak scored 13 points for the Bullets as they defeated the Supersonics to become the last team to win an NBA finals Game 7 on the road. 
Kupchak was part of two other teams that won NBA titles, the 1982 and 1985 L.A. Lakers, although in 1981-1982, Kupchak was lost for the season after 26 games because of a knee injury. 
Bob Ryan of the Boston Globe once wrote that without Kupchak, "Neither the 1978 Bullets nor the 1985 Lakers could have won championships." 
In fact, Kupchak in his prime with the Bullets was better than any of the current Lakers except for Bryant and Gasol. At 6'10", he had a good mid-range jumper and often used the backboard, as other players of his era did. His aggressiveness would have probably given him the league lead in floor burns chasing for loose balls if such statistics were kept. 
After signing a seven-year offer sheet in 1981 with the Lakers worth about $5.6 million, Kupchak got off to a good start, averaging 14 points and eight rebounds and shooting more than 57 percent. Though he could never crack the starting lineup for the Bullets, who had one of the greatest front lines in NBA history with Hayes, Unseld and Bobby Dandridge, Kupchak started the first 26 games of the 1981-1982 season for Los Angeles. Those Lakers would go onto defeat Dr. J and the Philadelphia 76ers in the 1982 NBA Finals.
In a December 1981 game against the San Diego Clippers, Kupchak took a pass from Magic Johnson. As Kupchak drove to the basket, his left knee gave out on him, and he crashed into Joe "Jellybean" Bryant of the Clippers. At the time, Bryant's son Kobe was just three years old. 
Kupchak would take two years to come back from what was called one of the worst knee injuries in NBA history. Doctors told Kupchak he might never play basketball again. In 1985, Anthony Cotton of the Washington Post wrote that New York Knicks star Bernard King called Kupchak for advice on how to best rehabilitate his injured knee. 
By 1985, Kupchak had become one of five forwards—Larry Bird, Kevin McHale, Ralph Sampson and Julius Erving were the others—to make over a million dollars a year. Kupchak earned that money in the 1985 finals, just not in the way he had originally imagined. 
A year earlier, in the 1984 NBA Finals, the "Showtime" Lakers lost to the more physical Boston Celtics. One play that typified the rough play was Kevin McHale's vicious clothesline of Kurt Rambis during a layup attempt. 
Kupchak, whose mobility had been lessened since returning from his knee injury, provided a physical presence to the Lakers against the Celtics in the 1985 championship series against Boston that they lacked the previous year. In fact, Lakers coach Pat Riley often played Kupchak ahead of former NBA scoring leader Bob McAdoo when Kareem Abdul-Jabbar needed a rest. 
After the Lakers pounded the Celtics 136-111 to take a 2-1 series lead, Celtics coach K.C. Jones complained about the Lakers' physical play, including Kupchak's defense on Robert Parish. "Push, shove, grab, that's all part of the game. But when you're trying to take someone's head off, that's different," Jones said after the game. Kupchak, who scored seven points in 13 minutes but also had five fouls, responded by saying, "It's not seven games at the Y," according to Jere Longman of Knight-Ridder News Service.
Kupchak ended his career with a .523 shooting percentage, which is 43rd all time in the NBA. Injuries slowed him during the second half of his career, but he was still part of three championship teams for two different franchises and a key contributor to two of those teams.
Quite frankly, he deserves to have his name pronounced correctly by professional journalists. Kupchak probably isn't too worried about it, though. He has 10 championship rings.  
Like the new article format? Send us feedback!