2012 NFL Free Agent Predictions: Michael Bush and 3 RBs Poised to Switch Teams
February 29, 2012

Ezra Shaw/Getty Images
With all of the NFL draft and combine talk lately we have forgotten the tried and true method of free agency to plug a gaping hole on your team.
This year the running back class is filled with players who are already proven and able to make an instant impact…for the right price. Ray Rice and Matt Forte aren't going anywhere, but what about the next tier?
Here are three backs who have outgrown their current situation and are ready for a major role while receiving a bigger bank roll.
Peyton Hillis, Cleveland Browns
Why He's Gone:
2011 couldn't have been a bigger disaster for Hillis. He was engaged with arguments against management seemingly all season long. When he wasn't dealing with injuries, he was getting stuffed at the line of scrimmage. He finished the year with a poultry 587 yards and three TDs as he once again proved the Madden cover curse is real. A divorce is something both parties need desperately.
Where He'll Sign: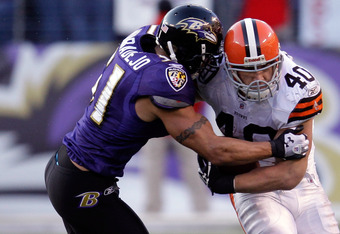 Rob Carr/Getty Images
Hillis and his aggressive style that leads to a physical pounding is best suited in a system where he doesn't need to carry the ball 20 times a game.
Pairing him up with a team like the Indianapolis Colts makes a ton of sense.
He can be a reliable blocker for Andrew Luck in passing situations and split carries with Joseph Addai until Addai's inevitable trip to the injury list.
Hillis can be a huge help for a young team that needs a veteran, and at the age of 26 he can potentially stick around for a long time.  
Michael Bush, Oakland Raiders
Why He's Gone:
The Raiders already have Darren McFadden and the Oakland Tribune reports they won't be handing the backup a $14 million franchise tag.
Where He'll Sign:
The Cincinnati Bengals would be the perfect fit.
With Cedric Benson a free agent, the Bengals have an immediate opening for 20 carries a game. They are way under the cap and can offer Bush a strong multi-year deal.
After running for 977 yards and seven TDs in 256 attempts, Bush is worth it. He has shown great burst and vision in his brief time as a starter, which is enough to warrant a multi-year deal.
Marshawn Lynch, Seattle Seahawks
Why He's Gone:
"Beast mode" is coming off a 1,204 yard, 12 TD season that resurrected his failing career. Only a year earlier he was essentially given away by the Buffalo Bills.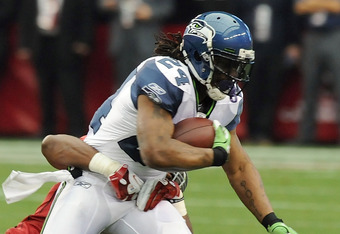 Norm Hall/Getty Images
But the Seahawks know the Skittle phenomena and the rest of his success came during the second half of the year when the pressure was off. The 5'11'', 215-pound back is not worth the price tag he'll have in free agency.
Where He'll Sign:
Lynch, at 25, has plenty of life still in his legs and can stick with a young team for the foreseeable future. A team like the Denver Broncos would be a great match.
He can block for Tim Tebow and is capable of receiving a boatload of carries while also being able to catch passes. You can't say that about most players on the market. 
He is veteran enough to handle the incredibly odd Broncos offense, yet young enough to stick around for a while.