5 Players Who Don't Deserve a Place in Manchester United's Starting XI Right Now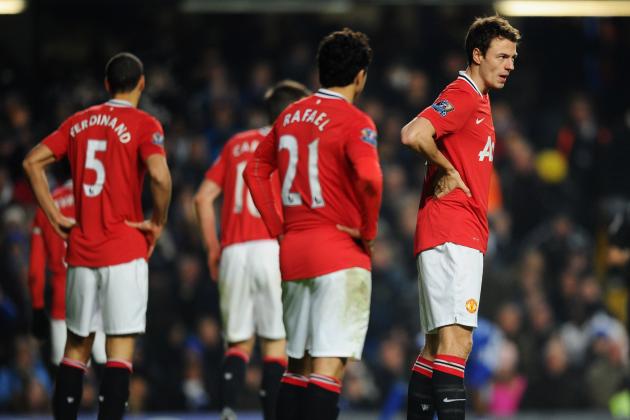 Mike Hewitt/Getty Images

During the 2003 title race, Sir Alex Ferguson famously said "it's squeaky bum time"—referring to the excited/worrying/squirming of fans in their seats during the tense end to the campaign.
Well, we're there again. With less than a third of the season left, Manchester United are trailing close rivals Manchester City by a mere two points, and it looks like this campaign could go down to the wire.
There will no doubt be "squeaky bums" at both Old Trafford and the Etihad as this thrilling season slowly draws toward its close.
So United have got to get their heads down and focus if they are going to snatch the title from under the noses of the Citizens, but there are a few of players whose place in the first team may need to be considered.
Be it poor form, poor attitude or complacency, I've selected five players whose place in the starting XI should be subject to scrutiny.
If you disagree or think there are others who should be added to this list, then you know where the comments section is.
Begin Slideshow

»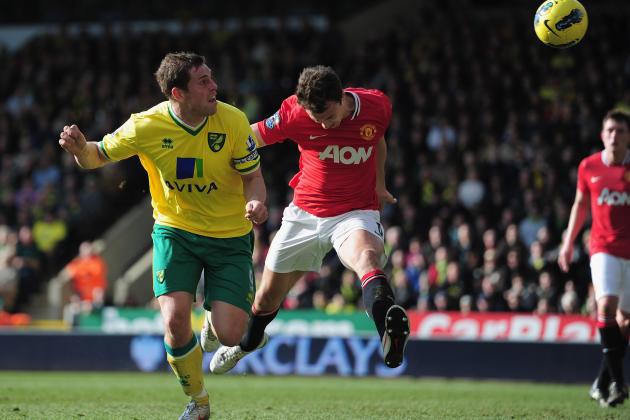 Jamie McDonald/Getty Images

Let's get one of the main offenders out of the way first.
Many Manchester United fans have spent their last few Saturdays scratching their head as to how Jonny Evans has managed to get himself into the starting XI.
Of United's 26 games this season, somehow Evans has managed to feature in 19 of them.
With the young talent in the squad, some have questioned why Jones or Smalling haven't snatched away his place now that they are back from their respective injuries.
While recently he had a decent game against Liverpool, the games that preceded and succeeded it have been lacklustre.
Shaming Stat: Evans is the only Manchester United player to have been sent off in the EPL this season—in the 6-1 thrashing from Manchester City. Evans has also amassed four yellow cards—only one behind Patrice Evra, who has the most for the season.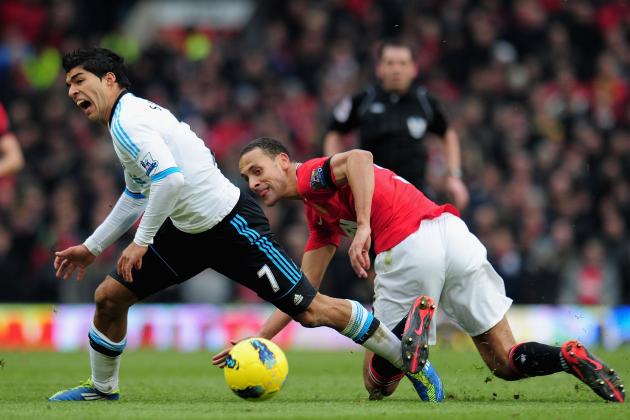 Shaun Botterill/Getty Images

Rio Ferdinand seems to be amid one of his worst seasons yet at the Theatre of Dreams.
Whether it is the lack of his regular partner Nemanja Vidic or whether it is simply the signs of his career winding down is yet to be seen.
The thing is, Ferdinand's place is very much assured in the United side.
Without Vidic, the side would lack experience at the back, and this could prove costly in the title run (see 1-2 defeat to Ajax).
Maybe this should set the alarm bells ringing for Sir Alex—United may need to delve into the (experienced) centre-back market come July.
Ferdinand's made two standout mistakes in the previous two EPL games that have lead to opposition goals, and he genuinely doesn't seem the player he used to be—maybe he relies on Vidic a lot more than we all think.
Shaming Stat: On average, Ferdinand has made a mere 1.2 tackles per game—that's the same as Emile Heskey (I'm not even joking).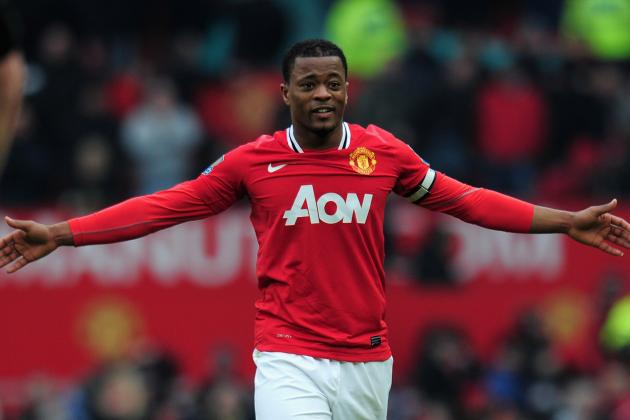 Shaun Botterill/Getty Images

Paddy-V is another United player who seems to have his place in the starting XI nailed down despite subpar performances.
Alongside lacklustre performances, Evra has made some silly decisions in the past few games—the pinnacle being his first-minute insanity against Liverpool.
No matter what had gone before it, Evra clearly raced out of his way to gun for Luis Suarez, but instead could have ended Rio Ferdinand's season.
In previous seasons he has been an attacking threat as well as a defensive rock, but this season he has not worked to the same standard.
Is it time for Fabio to get a couple of runs out, or should Fergie stick by the stand-in captain in the hope that it is merely a rough patch?
Shaming Stat: Of his 53 crosses in the EPL this season, a mere seven have been accurate.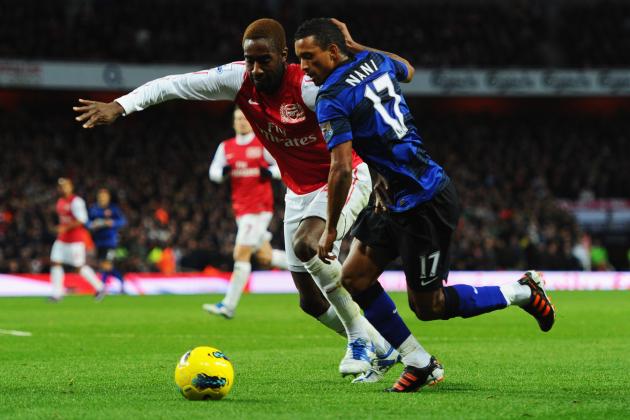 Mike Hewitt/Getty Images

On paper, Nani is one of the best players in the Manchester United squad.
However, he has been very much eclipsed by teammate Antonio Valencia this season, whose form has trumped the Portuguese winger's.
Over the last couple of games, Nani has become very complacent.
If you take a look at the game against Norwich in particular, Nani made several poor touches and passes, and there were several moments when he lost control of the ball because he was just expecting it to land at his feet.
With Valencia back for the game against Tottenham at the weekend, and Ryan Giggs on top of his game right now, Nani should be starting from the bench.
Nani is running the risk of arrogance and complacency getting in the way of the fact that he is a quality footballer. Nani was the best player in the United's 19th title-winning team, but this year, he has been a lot less impressive.
If you didn't catch it this week, check out my article Antonio Valencia or Nani: Who Is Better Right Midfielder for Manchester United?.
Shaming Stat: Nani seems to believe that he is United's answer to Cristiano Ronaldo, but in Ronaldo's first five seasons at the club, he managed 163 EPL appearances, scoring 66 goals (an average of a goal every 2.5 games). In Nani's five seasons at the club he has made 117 EPL appearances, scoring 23 (averaging a goal every 5.1 games).
If Nani wants to be seen as United's answer to Ronaldo, then he has a lot of work to do.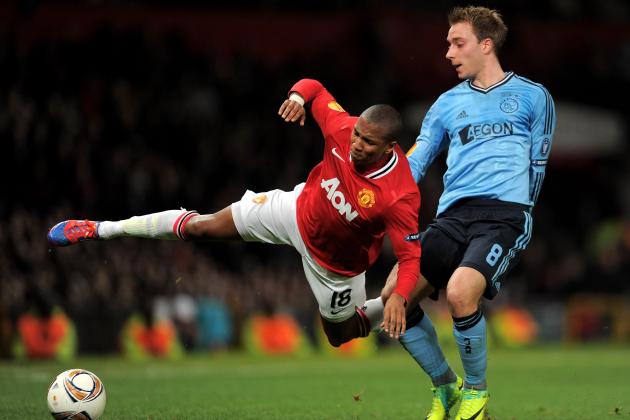 Michael Regan/Getty Images

At the start of the season, it looked as if Ashley Young was going to be an excellent addition to the club.
With fantastic performances in the early parts of the season and what seemed to be a blossoming partnership with Wayne Rooney, it looked as if United had someone who could replace Ryan Giggs when he finally decided to hang up his boots.
Unfortunately, recent performances have suggested otherwise.
Since he returned from injury, Young has been a stranger in the United midfield.
His performance in the second-leg Europa League clash with Ajax was, for lack of a better word, anonymous.
Young's inconsistency, coupled with Ryan Giggs' excellent form, suggest that Young should be warming the United bench for the next couple of weeks.
Shaming Stat: On average, Young has only made 27.7 passes per EPL game—That's less than Wolves' goalkeeper Wayne Hennessey (28.6 passes per game).