Antonio Valencia or Nani: Who Is Better Right Midfielder for Manchester United?
February 27, 2012

Laurence Griffiths/Getty Images
There have been many pub debates and Internet discussions over the Manchester United first team. Most have questioned as to who should be United's No. 1 goalkeeper, while others have discussed the merits of Javier Hernandez or Danny Welbeck partnering Wayne Rooney in attack. I want to take a look at the battle between arguably two of the best players in the United squad who coincidentally are in competition for the same position.
Up until this season, I had considered Antonio Valencia to be one of the most underrated players in the Manchester United squad. Arriving in the wake of Cristiano Ronaldo's record-breaking £80 million switch to Spain, Valencia had big boots to fill and faced a stern fight from teammate Luis Nani.
The 2009-10 season was Valencia's first term with the Red Devils, in which he made 34 appearances, scoring five times and providing nine assists. In the same season Nani accrued four goals while turning provider on 10 occasions—however, he did so in only 23 appearances.
Valencia's 2010-11 season was somewhat spoilt by his horrific injury in the Champions League. He was restricted to only 10 EPL appearances in which he netted once and made two assists. Nani, on the other hand, thrived last season, and was easily one of the better players of United's 19th EPL title-winning side. His 33 appearances yielded nine goals and an incredible 18 assists—a feat which earned him the Manchester United Players' Player of the Year award.
That leads us nicely into the start of the 2011-12 campaign. The signing of Ashley Young led many to believe that the wing partnership of Nani and Young (coupled with the strike duo of Rooney and  Hernandez) would be a devastating force in the EPL. Early season demolitions of Bolton (5-0) and more famously Arsenal (8-2) certainly made it look like this could be the case, resigning Valencia to the bench.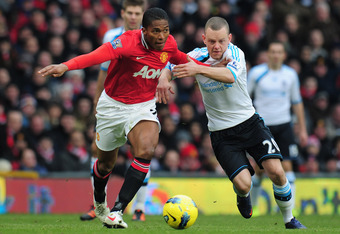 Shaun Botterill/Getty Images
Minor injuries to Young throughout the early parts of the season afforded Valencia some cameos, but it wasn't until December that Valencia was given a proper run in the first team—which often means moving Nani over to the left of midfield.
Since then he has made every appearance count. A consistent attacking threat up the right, "Tony-V" has notched 10 assists and two goals since the start of December and has established himself as one of the key players in Sir Alex Ferguson's starting lineup.
With all four of United's key wingers (virtually) fully fit, there is now real competition amongst the players as to who will start. A recent injury to Valencia has allowed Nani to return to his right midfield spot fairly unchallenged, but who should the spot rightfully belong to?
Both players have shown that they have their uses other than playing on the right wing. Nani, for example, has made eight EPL appearances on the left wing this term, while Valencia proved his worth in defence during five appearances at right-back.
Valencia's move to right-back came as an intriguing one—many fans speculating a Maicon/Dani Alves-esque contribution from the Ecuadorian. During his five games in defence he did manage to get forward a lot, enough to provide for two goals and score one of his own—scoring the fourth in United's 5-0 romp over Wigan on Boxing Day.
While Valencia's one-footed nature may resign him to the right-hand side, Nani has proved that he is equally adept on either side of the field, if not slightly better on the left. In eight appearances at left midfield during this EPL campaign, Nani scored three and assisted four times—an impressive statistic in itself, although even more so if you consider the fact he only netted three and assisted five in 17 games on the right.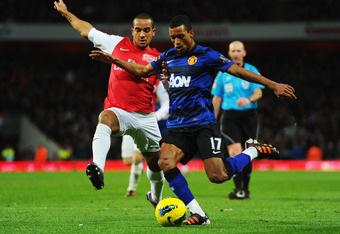 Mike Hewitt/Getty Images
Both of these players pride themselves in their roles at right midfield, but they actually have very different approaches to the game.
Nani's playing style has often been compared to ex-United teammate and current Real Madrid superstar Cristiano Ronaldo—both players have a lot of flair and immense dribbling skills. Some have criticised Nani in the past for using his flair a little too much, and in some cases he has lost possession because of his want to show off—on average he has been dispossessed 2.3 times per EPL game this season.
However, no one can deny that he has produced some magical moments with those feet of his, highlights including his stunning first goal for United, his goal against Middlesbrough in 2009 and of course the winning goal in the 2011 Community Shield.
Nani's creativity and flair often lead him to cut inside to take on opposition defenders, and his quick feet have made many a left-back look silly. He's got an eye for a long shot, and this season he has taken an average of 2.4 shots per game—the same as striker Welbeck.
Valencia, on the other hand, tends to focus on the job at hand. Yes, he uses a step-over or two now and again, but his key aim is to create chances. Where Nani averages an assist every 2.9 games, Valencia is a much more efficient provider at an assist every 1.9 games.
Valencia's selfless play has seen him make more passes than Nani per game, and even at a better success rate (86 percent pass completion to Nani's 80 percent). Of course, Valencia's two goals are dwarfed by Nani's six—Nani scoring once every 3.8 games while Valencia has only netted once every 8.5 games.
In terms of ball retention, Valencia comes out on top. As I have previously mentioned, on average Nani gets dispossessed 2.4 times per game, whereas Valencia gets dispossessed a mere 0.9 times a game. This, coupled with Valencia's superior pass success rate, perfectly suits United's possession ethic in midfield—but then again, Nani's unpredictable play can consistently fool defenders.
Valencia tends to vary his runs—sometimes he will opt to run the ball all the way down the touchline and make a cross into the box, while on other occasions he will cut inside and take on a defender.
One of Valencia's glaring weaknesses is that he has a very weak left foot—unlike Nani, who is confident on both feet. Whether you will have noticed or not, when Tony-V does cut inside, he will not take a shot or make a pass unless he is playing it off of his right foot.
Interestingly, over the course of the season so far whoscored.com has rated the players at a dead heat—both players receiving an average rating of 7.38 for the season. The answer to the title of this article is more a case of opinion.
What do you prefer in a winger? Someone who can consistently perform and create lots of chances in a game, or a player who can produce moments of magic and change a game in the blink of an eye? Answering that question is sometimes a little harder than you think.
Consistency versus unpredictability. Selfless play versus innovative play. Out-and-out provider versus fancies-himself-as-a-striker. Ask the question how you will; you're bound to have your own preference.
When Valencia regains his fitness in a couple of weeks' time, there could be a real battle for that spot in the United starting lineup. With Ryan Giggs continually performing well on the left, the solution may not be as easy as pushing Nani to the left and playing Valencia on the right.
Me? I would go for Valencia at this point in time. I think Nani has looked a little lax in the past few games for United, and I prefer the consistent threat of Tony-V. Then again, my answer could easily change over the coming weeks if Nani's performances improve. I think on paper Nani is the better player, but you cannot ignore Valencia's consistency.
Who do you think is Manchester United's best right midfielder—Nani or Valencia? Make sure you get your views heard in the comments.