A Letter to NBA Fans: LeBron James Is Not a Villain
February 28, 2012

Mike Ehrmann/Getty Images
LeBron James is the most hated athlete in the US—let's just get that out of the way now. 
As a Miami Heat fan, I find it ridiculous that so much hate can be generated by one man's actions. As a sports fan, I find it extremely disturbing that NBA fans can pettifog about a man without true justification. I, for one, am tired of this nonsense. 
When LeBron decided to leave his hometown Cleveland Cavaliers for South Beach, there was so much hate generated that people decided that it was cool to hate him. People burned his jersey, trashed his merchandise and even began to revile him on the Internet.
All around not only the NBA, but also the sports world, LeBron's name became synonymous with words such as traitor, deserter and villain. And for what reason? 
For some, it was because he left them without a title. For others, it was because he didn't go to their team like they had hoped. 
But what about the rest of them? You know, the fans of the other NBA teams that aren't getting the same level of attention of the Miami Heat. Maybe that is why they hate LeBron—because they think they should be getting more attention. Or maybe it's the jealousy factor. 
In reading multiple articles and watching many shows analyzing the hate of LeBron, I have discovered two certainties.
First, if LeBron wins, people boo him and vilify him because he is being successful. If LeBron loses, people boo harder and crucify his every mistake.
Second, if LeBron makes a single comment, even a compliment to another player, both the fans and his own peers harrow him.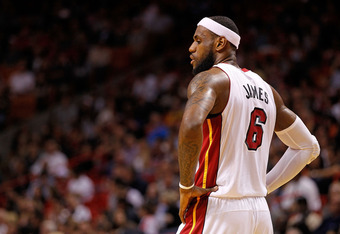 Mike Ehrmann/Getty Images
Take, for example, this year's All-Star Game in Orlando, FL. LeBron had a key turnover with less than two seconds remaining, and people have been tormenting him because of it. 
Saying things such as "Why didn't he just take the last shot?" or "Kobe wouldn't have turned it over," they nowhere near exalt him like he deserves. Would they be arguing about his turnover if he had not brought the East back from an almost 20-point deficit in the second half? 
Another example? Blake Griffin's dunk on Kendrick Perkins (which I personally found a bit overrated). LeBron tweeted his praises to Griffin, only to be thrown under the bus by Perkins in a hateful tweet of his own. When people saw Perkins' tweet, they followed suit and began getting angry with LeBron over it. 
When LeBron decided to join Wade and Bosh in Miami, many NBA fans started hating him for one reason: the jealousy factor. He, the most talented athlete in the NBA, was joining forces with Wade, an NBA champion and one of the top NBA superstars. 
Many teams, such as the Bulls and Knicks, did not have a superstar at that point, but all of the sudden Miami had two or three. New York and Chicago were vying for LeBron to come to their teams because they knew he would bring them titles. 
But when he never came, fans began getting angry with Miami because they knew the Heat would be great and maybe they themselves wouldn't be. That is when jealousy began digging its roots. 
LeBron is just a man trying to win titles. He doesn't care about what anyone thinks anymore. He just wants to win. 
This is why he made the move to South Beach. He knew that with the right supporting cast, he could help lead a team to the promised land and finally catch that elusive title. 
With all of the arguments against him (not being clutch, abandoning his hometown, afraid to take the last shot), people forget just how talented LeBron really is. 
Sure, he is no Jordan. He knows that. He is LeBron James—a two-time MVP, eight-time All-Star and Rookie of the Year just trying to reach the pinnacle of the sport: hoisting the Larry O'Brien Trophy. 
For the Knicks fans that say he made a mistake not coming to New York: why would LeBron want to play for a franchise that can't get over .500 with two superstars already? 
For the Bulls fans that thought he should have gone to Chi-Town: Why do you care anymore? You have Derrick Rose, the reigning MVP, and a great cast of players. Your team will dominate for years to come. 
For Cavaliers fans who hate him because he left his hometown: Move on. LeBron James is gone. You have a promising rookie in Kyrie Irving. You have a fanbase, though sometimes over-aggressive, that is one of the more passionate groups in sports. You have a future. You will win again.
For all NBA fans who just hate him for the sole reason of hating: LeBron James is not a villain. He is just a man trying to win rings. He was not the one who compared himself to Jordan—the fans were. He is LeBron. He doesn't want to be Jordan. He wants to be successful.