2012 NFL Free Agents: 10 Players Who Will Regret Testing the Market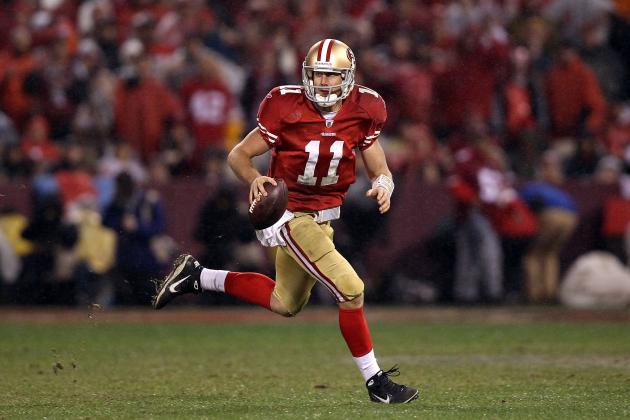 Ezra Shaw/Getty Images

Free agency in 2012 will be quite active after the NFL draft. The problem for many teams is that some of their star players will make a stupid, career-altering decision to move where they believe greener pastures exist.
Quite frankly, there are some big names this offseason who could be moving to a new NFL city via free agency. Wes Welker, Ray Rice and DeSean Jackson are just a few players who have an unrestricted choice of the lot.
Unlike last season, when free agency went into full-blown circus mode after the lockout, the NFL's 2012 free agency will seem calmer. There could still be just as much activity, but it will simply be spread over a longer period of time.
Some will want bigger contracts. Others would like to be on a winning team. Whatever the case may be, there will be some healthy debates started due to the choices made by certain free agents.
Begin Slideshow

»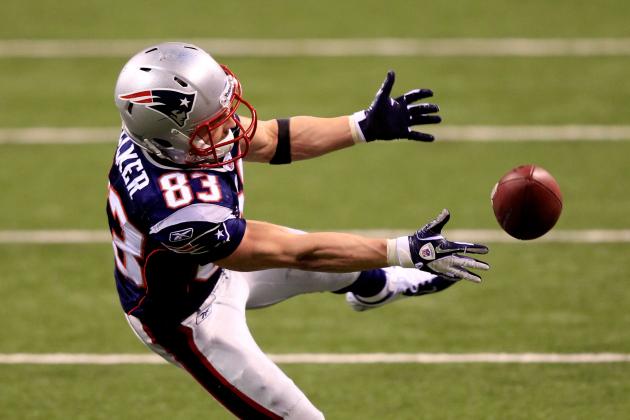 Chris Trotman/Getty Images

Wes Welker made one of the smartest decisions of his football career by uprooting from Miami and moving to the New England area. He has become one of the NFL's most dangerous wide receivers during his time with the New England Patriots.
Having Tom Brady put the ball on the money while in mid-stride was simply a luxury he couldn't get in South Florida. Welker owes a lot to Brady and Bill Belichick for the way they incorporate him into the offense.
During his five seasons in New England Welker has totaled the following receiving yards: 1,175 in 2007, 1,165 in 2008, 1,348 in 2009, 848 in 2010 and 1,569 in 2011.
Welker's not getting that kind of action anywhere else except in New England. He knows it also, but that doesn't mean he shouldn't be reminded every so often until he re-signs—which he most likely will.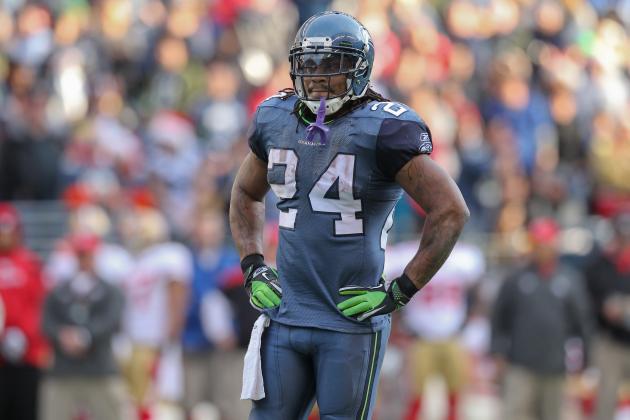 Otto Greule Jr/Getty Images

Marshawn Lynch had a coming-out party at the right time—contract year. Lynch's memorable run versus the New Orleans Saints kicked off a productive calendar year in 2011.
Lynch will be 26 years old by time the season starts in September. He still has a lot left in the tank, and the Seattle Seahawks can continue to build a team around him.
Pete Carroll quietly has Seattle moving up in the NFL world. If he can get a true starter at quarterback, the Seattle Seahawks could be battling San Francisco for the NFC West title.
Outside of facing San Francisco's defense, Lynch would be wise to stay in arguably the league's worst division and continue to bulldoze people.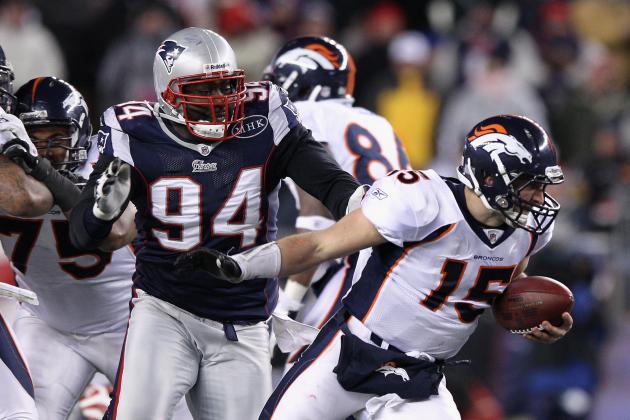 Elsa/Getty Images

Shaun Ellis made a smart move by jumping off the ship, err, plane of the New York Jets. The Jets collapsed at the end of this season while Ellis continued to help a young defense improve as they geared up for a Super Bowl run.
The New England Patriots may not have a great defense and are quite realistically far from one, personnel wise. However, they still have Tom Brady and Bill Belichick, and last time I checked, they're still pretty darn good.
Ellis may not be asked to come back to the Patriots. His performance in 2011 was not exactly jaw-dropping. He only recorded one sack in 10 starts. If he is asked to return, it would behoove him to do so.
New England has the 27th pick (from New Orleans) and the 31st pick in the 2012 draft, which should allow Belichick to bolster his defense.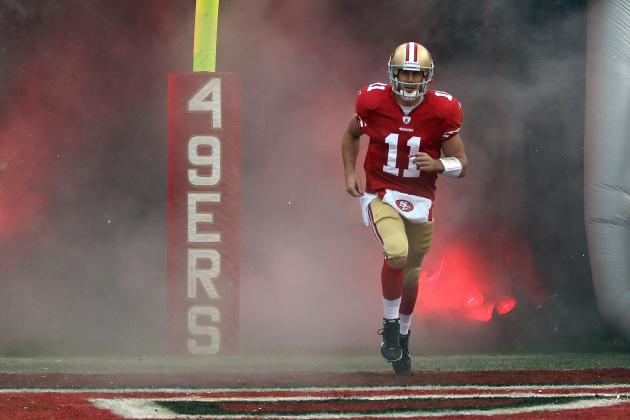 Jamie Squire/Getty Images

Alex Smith had a coming-out party this past season. He finally proved that he could play at a consistent level and lead a team to victory.
Smith helped guide a once-dismal San Francisco 49ers team to a surprising 13-3 record during the regular season and an NFC championship game performance. Smith's reliable play allowed the 49ers to live up to their billing as a well-rounded roster.
He didn't have impressive numbers that would jump off the stat sheet at you, but he did have solid ones. He threw for 17 touchdowns and only five interceptions.
Smith would be severely mistaken if he thought he could go somewhere else with those numbers and get the same results. San Francisco's defense and Jim Harbaugh had just as much—if not way more—to do with the 49ers success in 2011.
He would make a gross error by leaving the hands of Harbaugh, who could continue to groom him and establish him as a reliable NFL quarterback for years to come.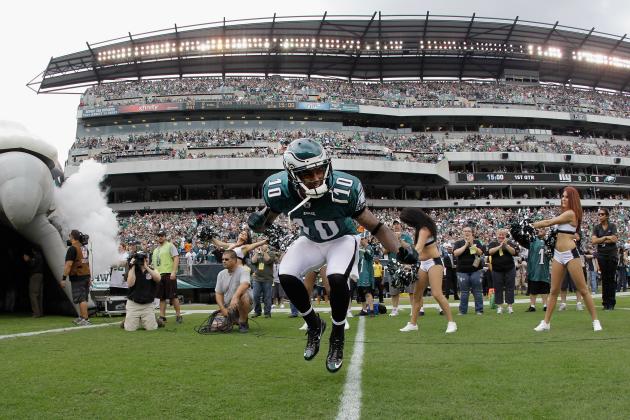 Rob Carr/Getty Images

One of the most immensely underpaid and incredibly explosive players in the NFL could be hitting the free market.
Well, maybe.
DeSean Jackson voiced his opinion last offseason by holding out of camp for a couple weeks before ultimately returning to his team. However, Jackson did not help his cause with his performance in 2011.
Jackson did not break the 1,000-yard receiving mark for the first time since his rookie season this past year. He's also only hauled in an incredibly underwhelming four touchdowns in his last 18 games, or 22 if you include the preseason.
The Philadelphia Eagles will be tempted to let Jackson hit the market to provide the wide receiver with a dose of reality on his personal stock price.
Jackson will be hard pressed to find a team with more offensive firepower than the Eagles. However, there will be plenty of teams in the market for a wide receiver, so if Jackson's motives are all about the green stuff, he'll be able to start a bidding war for his services.
That big contract may also cost him a chance to play with a Super Bowl contender.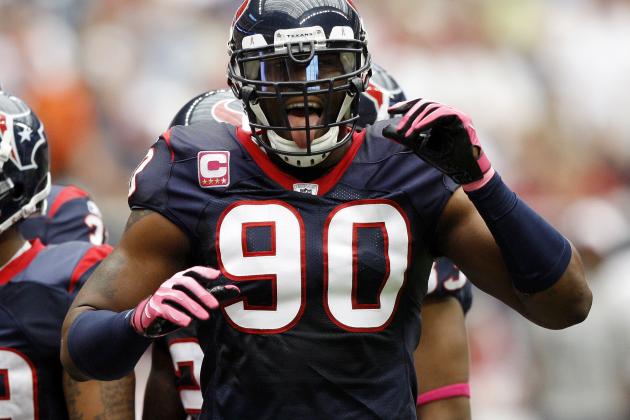 Bob Levey/Getty Images

The Houston Texans deserve a cookie or some serious recognition for their brave pick when drafting Mario Williams over Reggie Bush. The entire Texans fanbase erupted with anger and disapproval.
Hindsight is really something, isn't it?
Mario Williams has become one of the NFL's best edge rushers in the past few seasons. Unfortunately, he received a season-ending injury in the year when the Texans made their first playoff run in franchise history.
Williams could have the last laugh, though, and be repaid royally for being loyal to his employer.
Houston made it to the divisional round of the playoffs without its starting quarterback, starting defensive end (Williams) and a recovering Pro Bowl wide receiver.
Houston's a team to fear for the next few years in the AFC, and Williams would be wise to stick around for the ride.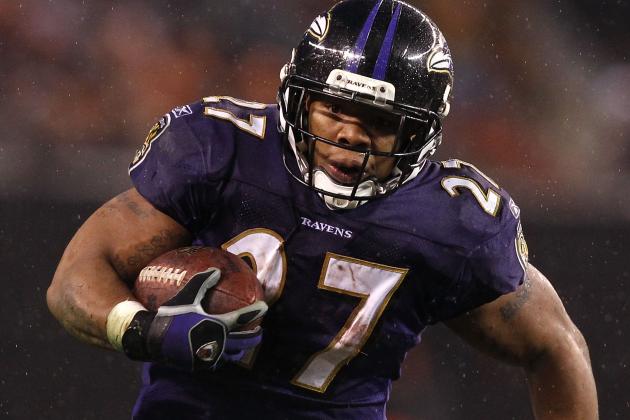 Matt Sullivan/Getty Images

Ray Rice is one of the more intriguing free agents this offseason. He has quietly taken care of his business on the field and has become one of the NFL's more dynamic runners over the past few seasons.
The problem with the Baltimore Ravens is that they're a defense-oriented team, which is all fine and dandy until your perennial All-Pro safety and middle linebacker retire.
What does that have to do with Rice? Well, strip away the Ravens' top-five defense, and you're left with an offense that often can't get things going.
Rice may envision more touches and an upgrade in offensive style somewhere else. The problem for him is that there aren't too many options that fit that mold, and almost all of them aren't in the same neighborhood as the Ravens when it comes to Super Bowl potential.
He needs to commit to Baltimore and not be enticed by big-money offers or empty promises from other organizations. He's in a first-class organization in Baltimore and a team that was a missed field goal from possibly going to the Super Bowl.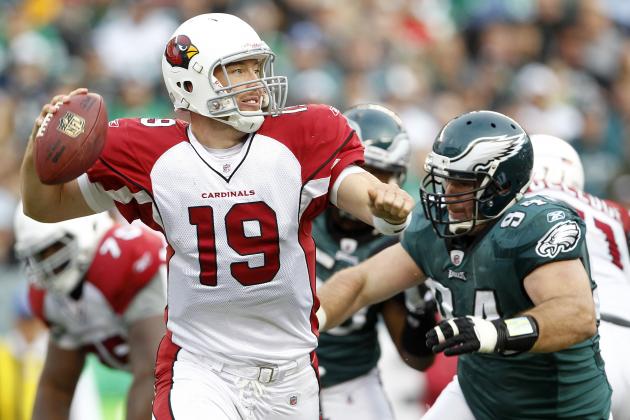 Rich Schultz/Getty Images

Derek Landri had a career year in 2011. His role in the middle of a defensive line containing Trent Cole, Cullen Jenkins and Jason Babin is a pretty favorable one.
It's hard to not be productive with a line like that. Landri took advantage of the situation at defensive tackle. He only recorded two sacks, but a defensive tackle's impact is seldom shown through common statistics.
Landri and the Philadelphia Eagles finished off the season with four straight wins and will be favored to win it all in 2012. To leave Philadelphia's Pro Bowl defensive line would be a drastic mistake he would deeply regret.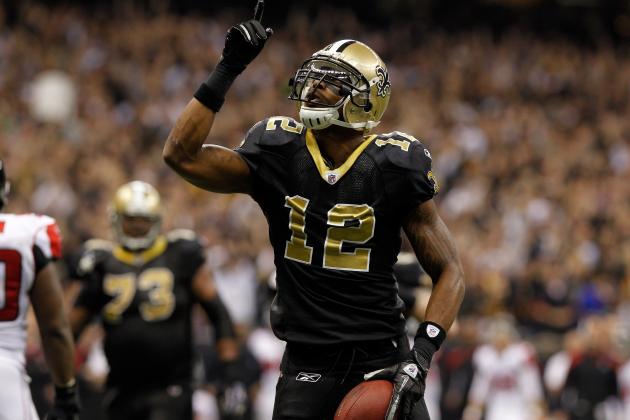 Chris Graythen/Getty Images

Marques Colston has enjoyed a productive career during his six seasons in the NFL. He has surpassed the 1,000-yard receiving mark every season except one and has a Super Bowl ring.
Not bad for a guy from the football powerhouse of Hofstra University.
It's pretty simple for me—Colston is a talented player, but his production has been a result of Drew Brees.
If Colston were to leave New Orleans, he would have to go to the New England Patriots or Green Bay Packers to receive the kind of passes he gets in the Superdome—and the latter definitely ain't happenin'.
It's elementary math. Brees plus Colston equals production. There's no need to fix something that isn't broken.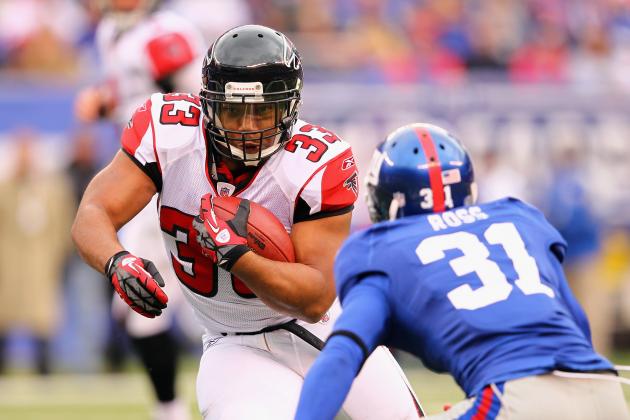 Al Bello/Getty Images

Aaron Ross is not exactly the league's top cornerback. He's usually the guy being picked on and viewed as one of the weak spots—if not the weak spot—in the New York Giants defense.
Ross had one of his better seasons in 2011 with four interceptions and 13 passes defended. He'll be looking to improve upon that as he enters the prime years of his career.
New York should extend an offer to Ross when possible. Yes, there are some cornerbacks on the market, but that money should be spent on their linebacking corps.
If Ross receives a reasonable contract (which he should considering they just won a Super Bowl and everyone's on cloud nine), he needs to take it.
Lest he forget, he's won a couple Super Bowls with the team during his tenure in New York and will likely have a shot at a couple more in the next few years.
Justin Sparks is a Bleacher Report NFL Featured Columnist