Boston Red Sox: 10 Pitchers They Could Trade for to Fill out Their Rotation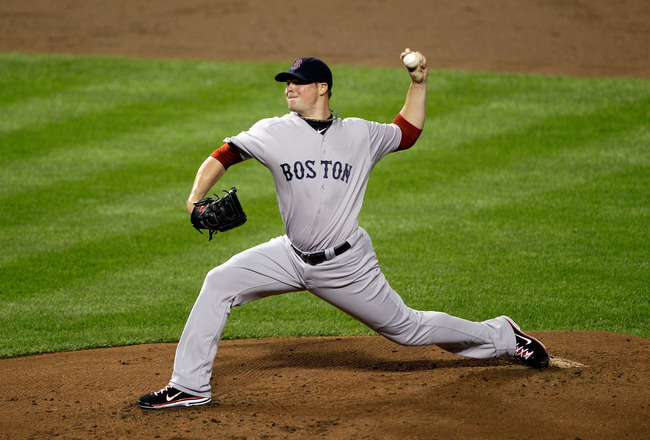 The Red Sox will be looking to add depth in their rotation behind Jon Lester and company
Rob Carr/Getty Images
When a team goes into camp trying out three players on minor league contracts, one who has never started more than four games in a season and one coming off major surgery, they're probably not contenders for a spot in the team's starting rotation.
And yet, in Vicente Padilla, Aaron Cook, Carlos Silva, Felix Doubront or Alfredo Aceves, the Boston Red Sox plan on finding their fifth starter for the 2012 season. For a team with seemingly unlimited resources, the Sox's lack of depth is surprising at best and horrifying at worst.
The team is not entirely at fault for the current state of affairs, as high-priced acquisitions John Lackey and Daisuke Matsuzaka are both sidelined while recovering from Tommy John surgery. Lackey will miss the entire season, but Matsuzaka is at least now throwing and is scheduled to return around the All-Star break.
While both pitchers have struggled, they are certainly better options than the current choices the Red Sox are faced with. They have World Series rings (Matsuzaka with the Sox in 2007 and Lackey with the Angels in 2002), and when properly motivated can be very effective pitchers.
The question persists, though, if the Red Sox pitching staff as constituted can be competent enough to keep this team in contention. With so many strong offensive teams that make opponents work for each out, the AL East is brutally tough on pitchers.
If the Sox want to contend, they will need to make a move for at least one starting pitcher. It will ease the pressure on the rest of the staff, and should an injury occur, will give the team an extra body to insert into the rotation.
Roy Oswalt aside, the free agent market is barren of any candidates who can come in and be an improvement over what the Sox already have. If they wish to bolster their starting pitching depth, they'll need to do it via trade.
Here are 10 candidates the Sox could pursue.
Derek Lowe, Cleveland Indians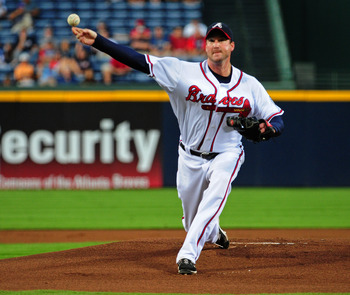 Lowe, now with Cleveland, had a tough final year with the Atlanta Braves
Scott Cunningham/Getty Images
The 38-year-old sinkerballer is coming off of his worst campaign as a starter since 2004, his final year with the Red Sox. In posting a 5.05 ERA, 1.508 WHIP and a staggering 17 losses, Lowe made himself expendable to the Atlanta Braves, who traded him (and his $15 million salary) to the Cleveland Indians for a minor league reliever.
Lowe is exactly the type of pitcher the Red Sox need. He is durable (zero trips to the DL in his 15-year career), keeps the ball in the park and knows how to pitch in pressure situations. At his age, and after such a rough year, his value has likely never been lower.
If things don't get off to a good start for him in Cleveland, the Red Sox should swoop in and bring him back for one last go-round.
Bronson Arroyo, Cincinnati Reds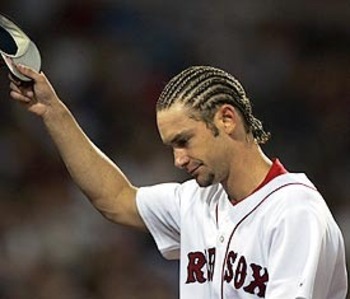 The stylish Bronson Arroyo would be welcomed back to Boston
A man who revolutionized cornrows, the 35-year-old Arroyo was traded from Boston to Cincinnati in 2006 for the immortal Wily Mo Peña, a move the Sox surely regret. Arroyo has been a workhorse his entire career, exceeding 200 innings pitched every season except for last year, when he finished with 199.
Like Lowe, Arroyo had a poor 2011 season, finishing with a career-high 5.07 ERA and allowing a staggering 46 home runs. The 46 home runs were 15 more than Arroyo had ever allowed in a single season, making it unlikely he'll approach that total again this year.
Another fan favorite from his Boston days, Arroyo would bring consistency to this uncertain Sox rotation.
Matt Garza, Chicago Cubs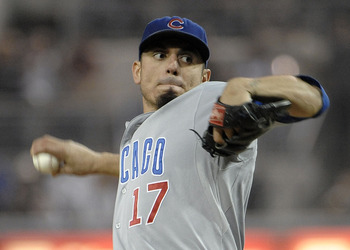 Red Sox fans would like to have nemesis Garza on their side
Denis Poroy/Getty Images
Garza, whose name was discussed in the Theo Epstein compensation talks, has been a Red Sox killer his entire career. With the Twins, Rays and now the Cubs, Garza has compiled a 3.83 regular-season ERA against the Sox, and in the 2008 ALCS went 2-0, allowing only two runs in 13 innings.
All Red Sox fans would welcome seeing him on their side for once.
In acquiring Garza, the Red Sox would be getting a player who could be a part of their rotation for the next several years. Considering Epstein's demonstrated willingness to trade the 28-year-old, whether the Sox can get him will likely come down to their readiness to part with top prospects in order to make it happen.
Ryan Dempster, Chicago Cubs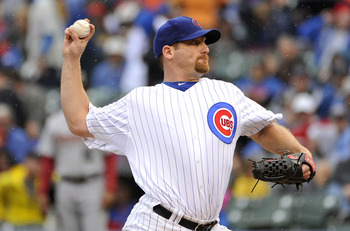 The Canadian-born Dempster wouldn't come cheaply, but would solidify the Red Sox rotation
Brian Kersey/Getty Images
The second Cub on this list, Dempster will make just shy of $15 million in 2012, the final year of his current deal. After posting his highest WHIP and ERA as a starter in Chicago, the right-hander may be viewed as expendable by an organization trying to get younger.
Whether the Cubs decide to part with him will have a lot to do with their position in the standings. If they are in contention in the wide-open NL Central, they'll hold onto him as they try to make a run into October. If they have fallen out of the race, Epstein will try to get something for Dempster before he hits the free agent market next winter.
Ted Lilly, Los Angeles Dodgers
Veteran Ted Lilly has long been coveted by the Red Sox
Jeff Gross/Getty Images
Lilly is another player who the Sox have long coveted, and, like Garza, he has experienced a lot of success against Boston (3.80 ERA in 111.1 career innings.) As a former Blue Jay and Yankee, Lilly also has valuable experience pitching in the AL East.
As a lefty, Lilly would pair with Jon Lester to give the Red Sox excellent balance in their rotation. Given their uncertain ownership situation and the $160 million they just committed to Matt Kemp, the Dodgers will look to slash payroll if they fall out of contention in the NL West.
Tim Hudson, Atlanta Braves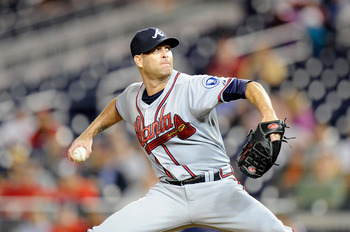 Tim Hudson has remained effective for many years, and would be a huge acquisition for the Red Sox
Greg Fiume/Getty Images
In spite of his advancing age (he'll turn 36 in July), Hudson has been churning out quality seasons since signing with Atlanta in 2005. If he is able to maintain this pace, the Braves would certainly hesitate to part with him.
However, if Atlanta suffers any kind of hangover from their monumental collapse last year, Hudson could go on the block. His $9 million salary coupled with the youth of the rest of the Atlanta rotation could make him expendable if things don't go their way.
Hudson's experience pitching in the AL for Oakland would make him a valuable asset to any team in the pennant race; and if he becomes available, the Sox would be wise to make a move for him.
Jonathan Sanchez, Kansas City Royals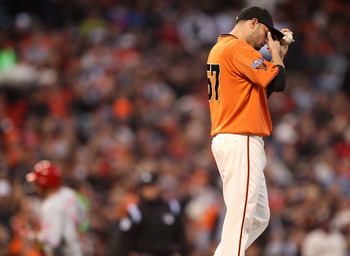 Sanchez had a difficult final season in San Francisco before his trade to Kansas City
Jed Jacobsohn/Getty Images
Sanchez has had a vexing career. He has been capable of extreme highs (a no-hitter in 2009, clinching the 2010 NL West title for San Francisco in the last game of the regular season) and abysmal lows (two disabled list stints last season, a career walk rate of 4.8 per nine innings).
The Giants shipped Sanchez to Kansas City this offseason in exchange for Melky Cabrera, a move brought about primarily by the Giants' dire need for offense. While it would be surprising for the Royals to give up on Sanchez so quickly, they are a team always looking to stockpile young assets.
At 29 years old, Sanchez has probably reached the peak of his potential; if the Royals don't like what they see, he could be available for a reasonable price.
Randy Wolf, Milwaukee Brewers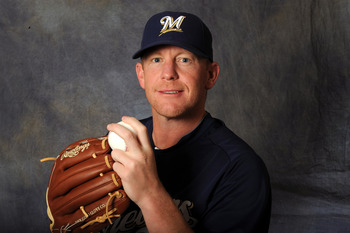 When healthy, Wolf has been an excellent pitcher in the National League
Rich Pilling/Getty Images
With the race in the NL Central as open as it has been in some time, predicting which teams fall out of contention can be a tricky. While the Brewers are the likely favorites, the 34-year-old Wolf would be the first pitcher to go were they to fall too far behind in the division.
After battling injury problems earlier in his career, Wolf has turned it around in recent years. Since 2008, he has made 33 or 34 starts each season, and has either approached or exceeded 200 innings every year.
Should they struggle, the cost-conscious Brewers would likely want to dump Wolf's $9.5 million salary. For the Sox to get him, though, they'd likely have to part with multiple strong prospects.
Kyle Lohse, St. Louis Cardinals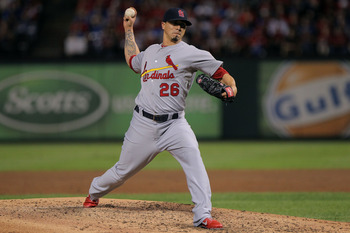 Lohse enjoyed a career year with St. Louis last year
Doug Pensinger/Getty Images
It would be odd, to say the least, for the defending World Series champions to be sellers during the season. However, it's also odd for a defending champion to lose the face of their franchise and the best hitter is baseball.
The Cardinals will struggle this year without Albert Pujols, and that could make someone like Lohse expendable. After a horrific 2010, Lohse rebounded with a strong performance in 2011, posting a career-best 3.39 ERA and notching a solid 14 wins.
Lohse also has experience pitching in the American League as a member of the Twins, although his last AL season came in 2006. The Sox will not want to pay St. Louis for Lohse's career year, but if he regresses to his normal level he could be had at a reasonable price and would provide solid depth.
Barry Zito, San Francisco Giants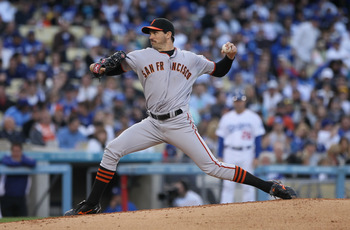 Zito has had a tough go of it in San Francisco, and a change of scenery is likely in order
Jeff Gross/Getty Images
The most easily obtainable pitcher on this list is Zito. His failures since signing the largest contract ever for a pitcher (seven years, $126 million) are well-documented, and it has become clear that he needs a change of scenery if he has any hope of rediscovering his Cy Young form.
The sticking point in this negotiation would be how much of Zito's salary each team would cover. The lefthander is due $19 million this year and $20 million next year, with an $18 million team option or $7 million buyout in 2014. Not surprisingly, the division of at least $46 million would take a while to sort out.
In terms of actual talent on the field, it is tough to say what (if anything) Zito has left. It would have to cost the Sox next to nothing if they were to take him on.
Bonus: Felix Hernandez, Seattle Mariners

The world famous Larry Bernandez

While this is likely just a pipe dream, it is fun to imagine Hernandez playing at Fenway. Not since the days of Pedro Martinez have the Red Sox had a starter who was "appointment" viewing, and they would certainly have that in Martinez.
The burly right-hander, also known as "Larry Bernandez," has the pedigree and raw talent to succeed in any situation, but has never been tested in a playoff-level atmosphere. Boston would be an ideal stage for him to assert himself as the dominant pitcher in the game today.
The Red Sox would have to offer up pretty much everything in their system to get him, and even then it might not be enough.
Keep Reading

Boston Red Sox: Like this team?