Floyd Mayweather vs. Miguel Cotto: 20 Things You Need to Know About May 5 Fight
Al Bello/Getty Images

Miguel Cotto is set to face Floyd Mayweather. Yes, I know that we all wanted Money May to face Manny Pacquiao. For it to happen, the big-mouth champion will have to defeat Cotto.
While many believe that it will be an easy fight for Mayweather, there are several things to take into account in this fight. Learn everything you need to know before watching this fight or betting on it.
Did you know that the winner of this fight already has his next opponent chosen? Did you know that the rivalry between the men dates back several years ago? Learn what the prediction is of Pac-Man and Freddie Roach.
In brief, get to know everything for the last fight for Mayweather before his jail sentence!
Begin Slideshow

»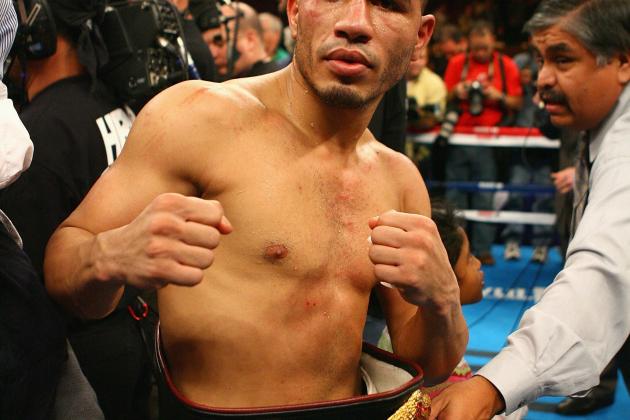 Al Bello/Getty Images

To make the fight happen, Mayweather is moving up to 154 pounds.
It will be the fourth fight in this class division for Cotto and he is already comfortable at this weight. Cotto will be defending his WBA Super World light middleweight title.
Mayweather, a five-division world champion, will be trying to get his second career title in this division after winning the WBC title in 2007 versus Oscar De La Hoya. If he succeeds, it will be his eighth career title.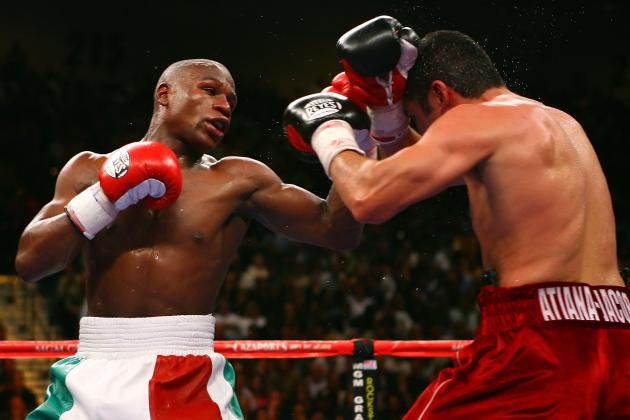 Al Bello/Getty Images

Money May has 42 career fights, but only one of those was at 154 pounds. His previous fight at this weight was versus De La Hoya back in 2007.
In that fight, Mayweather defeated The Golden Boy by split decision. Floyd Mayweather Sr. admitted after the fight that he thought his son lost the fight.
Still, based on Compubox numbers, Mayweather was the winner and landed 57 percent of his power punches in comparison to 24 percent for De La Hoya.
Mayweather and De La Hoya were set for a rematch on September 20, 2008. However, Mayweather retired and the fight never happened. Surprisingly, this fight was contracted at 147 pounds. Did Money May try to avoid another fight at 154?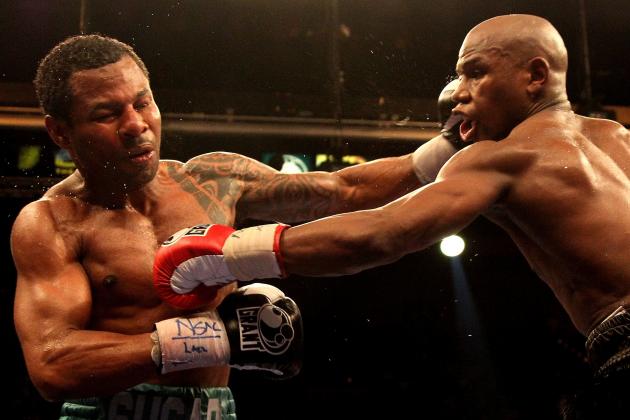 Jed Jacobsohn/Getty Images

Floyd Mayweather and Miguel Cotto had have both won against Justin Juuko, Victoriano Sosa, DeMarcus Corley, Zab Judah and Shane Mosley at some point in their respective fighting careers.
It is interesting to note that the fight with Mosley was much closer in the case of Cotto. However, Cotto faced him almost three years before Mayweather did. Mosley was much better when he faced Cotto.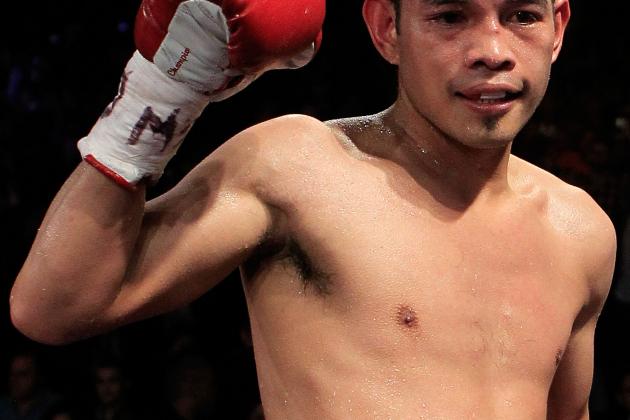 Chris Trotman/Getty Images

Nonito Donaire, one of the best pound-for-pound boxers in the world, has predicted that the fight will reach the distance.
He believes that Cotto is too tough to be stopped by the best fighter in the world. Still, he also has the conviction that Mayweather is too fast and smart for losing by KO.
The Filipino Flash predicts a Mayyweather win but does not rule out a possible upset by Cotto.
Ethan Miller/Getty Images

The super fight will be held on Saturday, May 5 at the MGM Grand Garden Arena in Las Vegas. Mayweather had his previous five fights at the same location.
Set for 12 rounds, the event is presented by Mayweather Promotions, Golden Boy Promotions and Miguel Cotto promotions.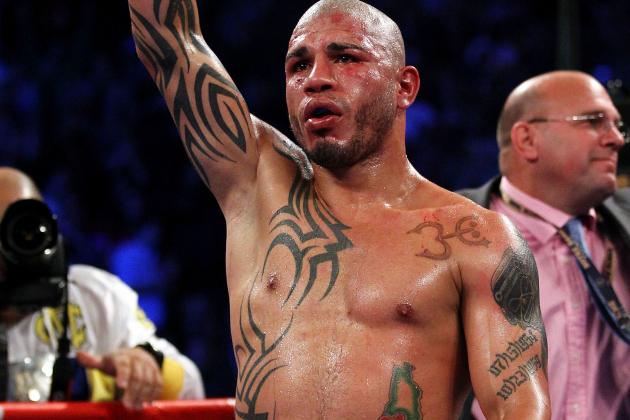 Al Bello/Getty Images

The tickets go on sale on February 18, 2012. Price range goes from $200 to $1,500.
The best tickets for Mayweather vs. Cotto are slightly more expensive than the ones for Pacquiao vs. Bradley. Actually, the first two price brackets are respectively $300 and $350 more expensive.
Is it a sign that this fight will draw more attention and interest than Pac-Man's?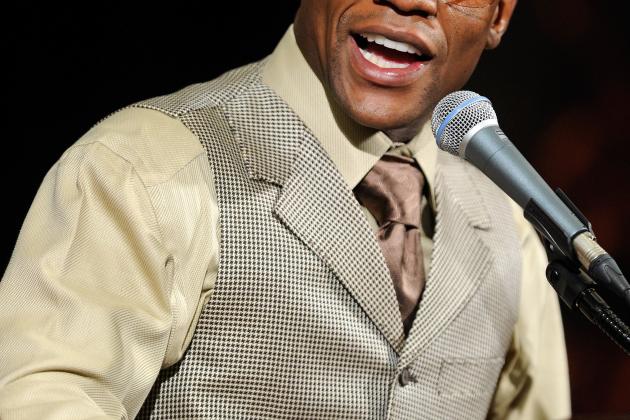 Ethan Miller/Getty Images

Mayweather received a one-fight boxing license by the Nevada State Athletic Commission by unanimous decision.
After this fight, he is scheduled to start a 87-day jail sentence on June 1 for pleading no-contest to domestic violence charges filed against him. Money May is used to fighting in Las Vegas, so he shouldn't see any problem being incarcerated in Sin City as well.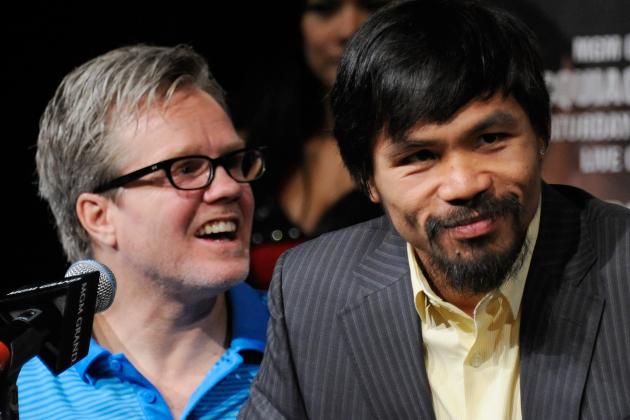 Ethan Miller/Getty Images

Freddie Roach, trainer of Manny Pacquiao, believes that Mayweather won't have any difficulty against Cotto.
Roach states that Money May will out-box his opponent, who isn't what he used to be. Even though he wishes for an upset, the prolific trainer thinks it will be a uneventful fight won by Mayweather.
Don't forget that Roach was the one in the corner of De La Hoya when he lost to Mayweather at 154 pounds.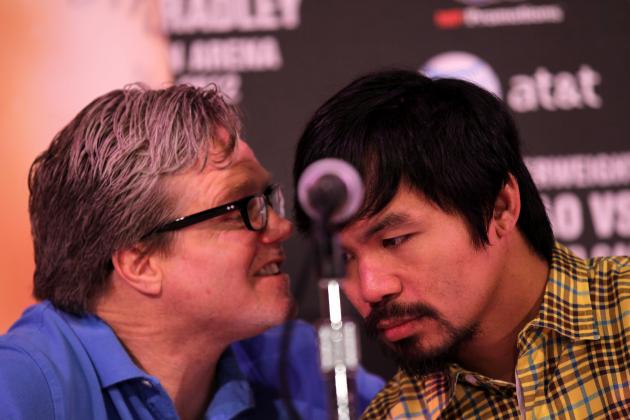 Stephen Dunn/Getty Images

Manny Pacquiao doesn't agree with his trainer on this fight. He believes that Cotto is so tough and strong that he will be a huge challenge for Pretty Boy.
Can we trust Pac-Man? He just admitted that Cotto was his most difficult fight in the recent years. I would have thought the Marquez fight was a tougher one, since he had all the difficulties in the world to win it.
The super event will be televised by HBO PPV.
According to ESPN, longtime rivals, Showtime PPV, pushed hard to get the fight, but at the end HBO was able to earn the rights of this lucrative fight.
What does it entice? We will get a "24/7" series on both fighters and we will have Part 2 of Larry Merchant vs. Floyd Mayweather?
Will Merchant provoke him again? Will Mayweather even talk to him? It should be one of the most anticipated interviews in recent years.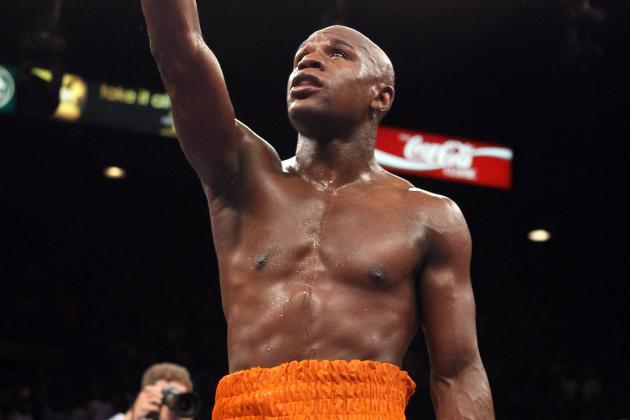 Al Bello/Getty Images

Las Vegas sportsbooks have talked and they set Mayweather as a minus-700 favorite. To win $100 with a Mayweather win, you have to risk $700.
On the other end, Cotto is set as a plus-500 underdog. If you bet $100 on him to win, you will earn $500 if there's an upset.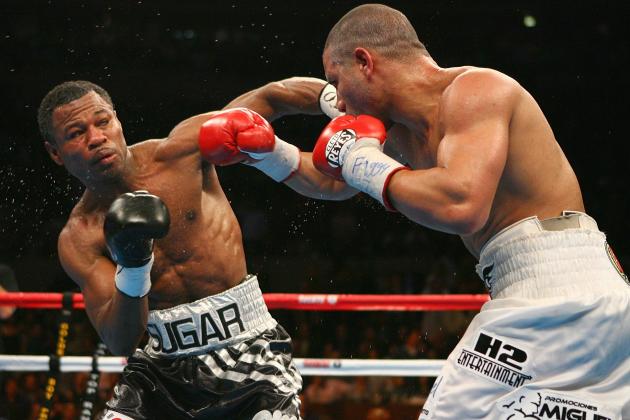 Al Bello/Getty Images

Mosley will be fighting Saul Alvarez in the main undercard event. The 40-year-old Mosley will face an opponent who is 19 years younger than him.
While Mosley was once one of the best fighters in the world, Alvarez should be able to win easily and send the former champion into retirement.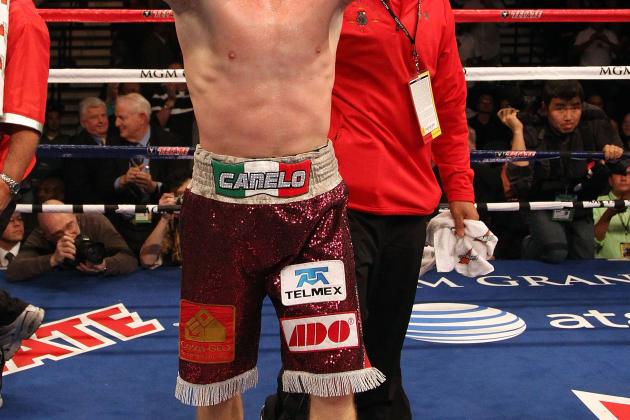 Jed Jacobsohn/Getty Images

Alvarez is only 21-years-old but already has 40 fights and a perfect record. Alvarez was still a teenager when he turned pro in 2005.
Ever since, the young man had a pretty easy path built by Golden Boy Promotions. Mosley doesn't represent a big challenge, either.
However, things could soon change for Alvarez. Apparently, he received an agreement by his promoters that he would face the winner of Mayweather vs. Cotto.
If Mayweather wins, the fight would likely happen in 2013. How does it affect a potential dream fight with Manny Pacquiao?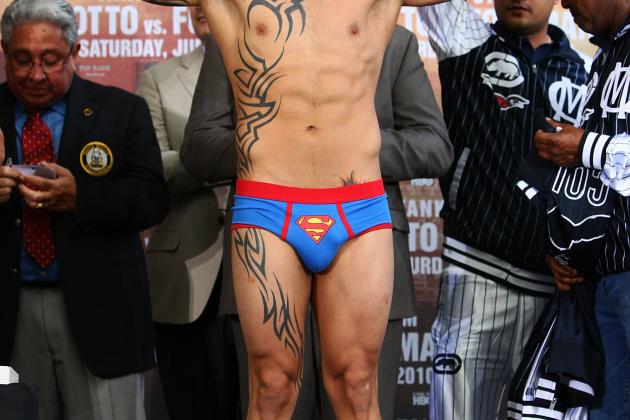 Mike Stobe/Getty Images

Fighting Money May is usually very lucrative for fighters, and it is also true in the case of Miguel Cotto.
He will earn roughly $30 million for this fight, which would be the result of 35 percent of the earnings generated by the fight.
Win or lose, Cotto's bank account will feel good after this fight.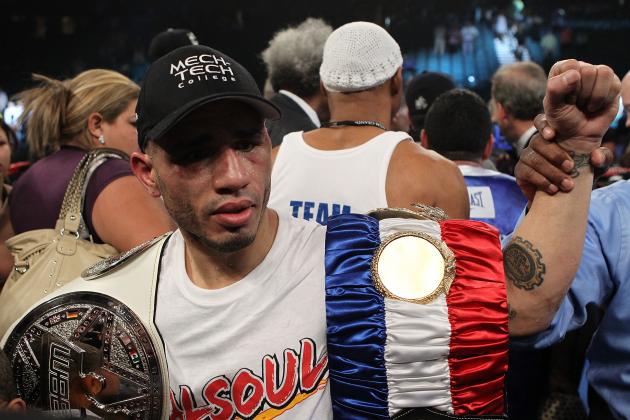 Al Bello/Getty Images

Miguel Cotto is definitely a tough opponent with undeniable power. He won 37 of his 39 fights and 30 wins came by way of knockout. His only losses were against Antonio Margarito (he later avenged that loss) and Manny Pacquiao.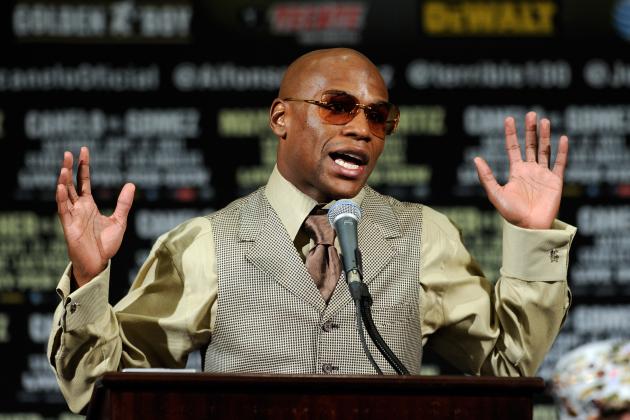 Ethan Miller/Getty Images

The rivalry between these fighters isn't new. HBO won't have to build fake hype, as both fighters already have hard feelings against each other. This rivalry dates back from 2004 and 2005, when both fighters were under Top Rank.
Apparently, Mayweather would come up late for his training on purpose. Cotto would then need to push his training once Mayweather finished his.
Also, both fighters have a long history of hard declarations toward each other.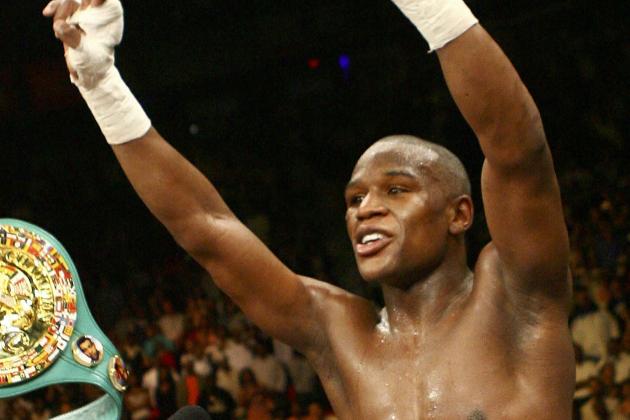 Al Bello/Getty Images

Mayweather is 5'8" with a reach of 72 inches, while Cotto is 5'7" with a reach of 67 inches.
While Junito might be the toughest fighter, Mayweather will be able to use his extra reach to keep his opponent away.

Cotto will probably be the aggressive fighter, and Pretty Boy will use his long arms to keep the distance.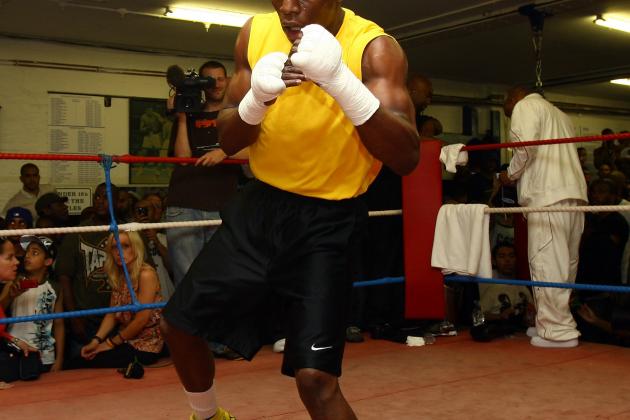 Julian Finney/Getty Images

Back in 2008, Cotto wanted to face Mayweather and challenged him.
Team Mayweather declined the challenge, as it said that Junito wouldn't draw enough fans to watch the fight. Did it want to dodge a hungry and strong Cotto?
In the same year, Mayweather elected to retire and has since waited almost four years before giving the opportunity to Cotto.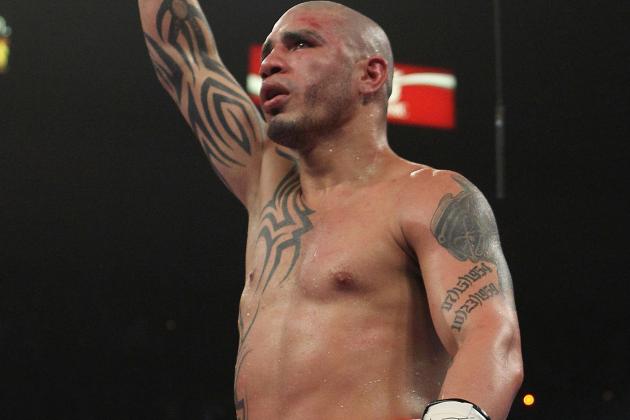 Al Bello/Getty Images

Cotto doesn't have much chance if this fight goes to the scorecards. We are all aware that the judges will protect the undefeated record of Mayweather and the possible dream fight vs. Pacquiao.
Thus, the only chance of Cotto is to knock him out. Cotto has the strength and the power to do so. Expect him to be the aggressor, to close the distance and to attack Mayweather up and down consistently.
Ethan Miller/Getty Images

As strong as Cotto might be, Pretty Boy is too smart, too fast and too talented to lose against Junito.
Mayweather will be ready for his fight, and while it might not be the fight of the decade, he will be able to escape with a unanimous decision.
For more information regarding boxing news, picks and updates, follow me on Twitter, @TakeoSports.