NCAA Men's Lacrosse: Princeton Handles Hofstra 12-6 in 2012 Season Opener
February 28, 2012

The Princeton Tigers had a lot to prove coming into 2012, coming off of a 4-8 season and missing the NCAA Tournament last year.
A once-perennial powerhouse on the national lacrosse landscape, Princeton fell short of high expectations the past two seasons and needed desperately to right the ship in their opener against Hofstra on Saturday.
Last year saw injury, missed opportunities, and under-achievement ravage a team that was stacked at all positions.
Between midfielder Mike Chanenchuk transferring to Maryland, attackman Jack McBride sidelined with a groin injury during game one, and defenseman Rob Castelo tearing an ACL against Hopkins, a once-prolific starting lineup was left with big holes at all three positions.
Princeton never found the missing pieces, never rallied, and were left on the outside looking in when it came to the Ivy League Tournament and NCAA Selection Show.
Looking at 2012, head coach Chris Bates and his staff knew that they had a ton of talent, but needed to finish out a lineup that could play cohesive lacrosse in a much tougher Ivy League.
Leaning on All-Americans Tyler Fiorito, Chad Wiedmaier, John Cunningham and Tom Schreiber, Princeton were able to develop a new look this season, and showed off their improved execution in a romping of Hofstra last Saturday. 
At a new-and-improved Class of 1952 Stadium on the campus of Princeton, the Tigers welcomed the Pride for a cold and windy season opener.
Hofstra came into the showdown with a 1-0 record, beating Sacred Heart 11-9. In 2011, Princeton traveled to Hofstra and was beaten 11-9 to start their season-to-forget.
Princeton had some major concerns going into Saturday's contest, and all Tiger Fans were eager with anticipation to see if Coach Bates and his staff could refill their confidence in the squad.
The primary concern was at the face-off X. Princeton answered by dominating the stat line Saturday, with Bobby Lucas winning 13 of 22 draws.
By relying on Lucas to get the Tigers possession, they were able to keep the ball away from the Pride, denying the Hofstra offense an opportunity to get into a rhythm.
The only slip-up came in the third quarter, where Hofstra won 4-7 face-offs and they were able to go on a 3-0 run.
Another concern came at attack.
After the injury to Jack McBride against Hofstra last year, there was a huge hole on the offensive end.
Princeton had to carefully put together an aggressive attack line, something that they lacked during league-play in 2011.
After a season of low scoring affairs, Princeton showed great prowess and versatility on the offensive end, and seemingly solidified their game plan and lineup.
Tom Schreiber made a huge statement, scoring three goals and adding four assists in the win. He was seemingly unstoppable—having his way with both short-stick and long-pole defenders—and finding his way to the goal at will.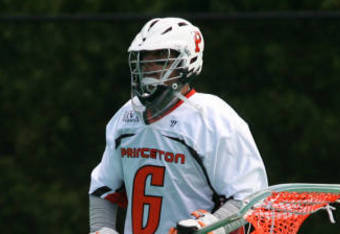 He played both midfield and attack, rarely left the field, and made it known that he is the key guy for the Tigers.
His blistering speed and ability to shoot on the run separates him as the best player on the field in most matchups.
As a freshman, Schreiber dominated in 2011, but there was no one else on the team that was aggressive enough for him to work with. Last year, it was a "if you can stop Schreiber, you will beat Princeton" mindset for all opposing teams.
This year, Schreiber immediately found a target in teammate Mike MacDonald, a freshman who notched his first career hat-trick in his first collegiate competition. He seemed to be in the right place at the right time, and his nifty and quick stick allowed him to flourish inside the crease area.
Adding to the onslaught, converted midfielder Jeff Frocarro showed that he can be a big piece this year, attacking from behind and adding two goals in the victory. With a history of knee injuries, the all-star Frocarro's switch to attack should lighten the load on his feet and keep him fresh for a big 2012.
The third starter on attack, senior Mike Grossman, found the net once against Hofstra goalie Andrew Gvozden.
In addition to Schreiber, the midfield showed a lot of aggressiveness and took advantage of a porous Hofstra defense.
Tucker Shanley, the hero of Princeton's four-overtime win against Brown last year, showed improvement as he scored two goals off of nine quality shots. He showed improved dodging, as well as increased shot velocity and a new-found confidence on the first-line midfield.
Rounding out the middle was senior Alex Capretta. Normally touted for his rocket-of-a-shot, Capreta went against the scouting report and added three assists on the day. His vision and playmaking ability was incredibly impressive, and showed fans a skill set that they had not seen in his first three years at Princeton.
Forest Sonnenfeldt, a 6'7" converted attackman, also showed some quicker feet on Saturday, and seems to be a go-to guy on man-up opportunities. His height and strength give goalies headaches when they are down a defenseman to keep a stick on him. The move to midfield gives Sonnenfeldt the opportunity to retain minutes that have been reduced since other attackmen burst onto the scene for the Tigers. His presence on the field is important, as he is always a threat to score.
With the attack and midfield improved, the highly-touted defense of Princeton had their responsibilities greatly reduced against Hofstra.
Three-time All Americans Tyler Fiorito and Chad Wiedmaier (both captains) were solid as expected.
On a cold and windy day, Fiorito saw shots in short spurts, never allowing him to get in a consistent groove.
Rob Castelo and Jonathan Myers showed great intensity as the other two starters on defense, flying around the field and sliding extremely well. Their ability to double the ball quickly led to many turnovers and showed off their athleticism.
At long-stick midfield, All-American John Cunningham (the third captain) and experienced sophomore Derick Raabe played extremely well, an aspect of the team that has been a strong suit for many years now.
The real surprise to me on Saturday was the short-stick defenders of Princeton.
By staying fresh while the offense possessed the ball, these players were denying any sort of penetration by Hofstra.
The trio of Jack Strabo, Nick Fernandez, and Chris White shined against the Pride and emerged as a strong point of the team.
If the star studded long-poles can continue to execute while working hand-in-hand with these short-stick defenders, Princeton should be able to keep their opponent's scoring to a minimum—game-in and game-out.
Princeton will welcome the Manhattan Jaspers to campus Tuesday evening, perhaps a tune-up game before their grueling out-of-conference and Ivy League schedules ensue.
The Tigers will use Tuesday's matchup to not only continue their confident and aggressive play, but to make some personnel decisions and evaluate the depth on the bench. 
After Tuesday's matchup, the Tigers will host No. 2 Johns Hopkins on Friday, March 2, followed by a trip to the Konica Minolta Face-Off Classic to face ACC foe and No. 4 ranked North Carolina in Baltimore.
These two games will be huge tests for the Tigers, and will determine their reputation among the nation's best teams.
Following these games, the Tigers will face Villanova (3/13) before beginning an always-challenging Ivy League schedule.
All Princeton men's lacrosse games can be heard on 103.3FM WPRB Princeton, as well as streamed online at www.wprb.com. Fans can also follow the games live on Twitter by following @GiancolaSports.