Predicting the UFC Title Holders at the End of 2012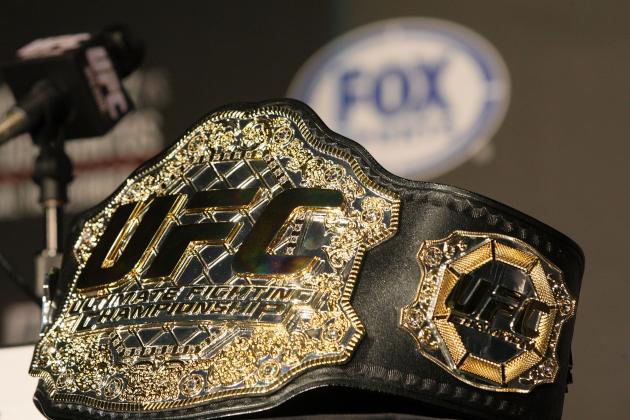 Victor Decolongon/Getty Images

According to the Mayan calendar, 2012 is supposed to be the end of humanity as we know it.
Until then, it will be packed with record-breaking UFC and MMA coverage.
We will see the UFC champions fight to defend their titles once again.
So far, we have had some new developments, and there is plenty of time for more.
This is a list of all the UFC weight divisions and general predictions on whose waist the belt will be around by the time we are to meet our impending doom.
Join the MMA Facebook Page and follow the @FightersCreed on Twitter.
Begin Slideshow

»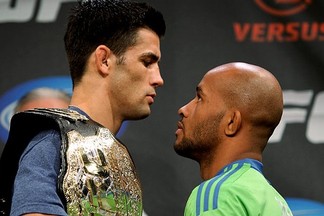 photo from espn.go.com
Flyweight is the newly added division and will kick off in March, with the semifinals taking place at UFC on FX 2.
Demetrious Johnson will face Ian McCall, while Joseph Benavidez will face Yashuhiro Urushitani.
The two men standing from these fights will square off to determine the inaugural flyweight champion of the UFC.
Johnson will beat McCall and face Benavidez after he gets done dominating Urushitani. Johnson and Benavidez will meet, and Johnson will emerge victorious.
After this happens, Johnson will defend it once by the year's end, possibly two.
Regardless, Johnson will be the flyweight champion at the end of 2012.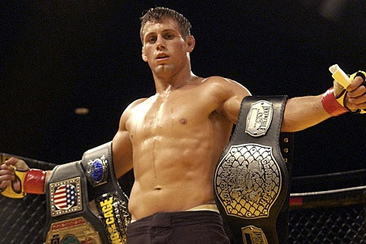 photo from mmalinker.com
Right now, the current champion is Dominick Cruz.
However, he will be facing Urijah Faber again after their stint on The Ultimate Fighter.
As dominant as Cruz is—and he certainly may hold his title for the year—the prediction is that Faber gets the better of him in their rubber match.
They both fought long ago, and both have evolved and are different fighters now.
However, they fought each other last July, which went to a decision.
There is a small edge to Faber in the fact of his knowledge of Cruz's style. Cruz does not tend to change much, as he is predictable in his footwork.
But being predictable doesn't make it ineffective. Faber may learn what he needs to do to win, or to counteract Cruz's movements in order to obtain a decisive victory.
Faber will win the title, and will be challenged by either a re-established Bowles, or possibly Miguel Torres.
If it is Bowles, Faber will keep the title.
However, the bigger challenge comes from Torres, who will have a significant reach advantage.
For an official prediction, Faber will be king by the end of the year, with a side mention of Torres.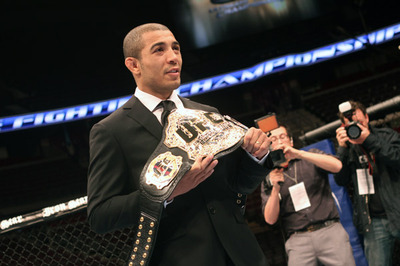 photo from bloodyelbow.com
Current champion Jose Aldo does not seem to be going anywhere anytime soon.
His last fight against Chad Mendes was certainly impressive, and not many challengers seem to be there for Aldo.
Chan Sung Jung will face Dustin Poirier in May, and may issue a top contender.
In that fight, Poirier will emerge victorious and face Aldo.
After all is said and done, Aldo will still remain the champion, and possibly Edgar may decide to drop at some point, but the result will be the same.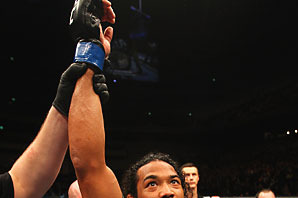 photo from sportsillustrated.cnn.com
We just saw a new champion crowned at UFC 144 for the lightweight division, and Benson Henderson has reclaimed his champion status he once had back in the WEC.
Next up for him is either a rematch with Edgar, or a rematch with Pettis. The lightweight division has been plagued with rematches these past couple years, and 2012 doesn't seem like it will start any different.
If he fights Edgar again, the decision will emerge the same.
If he fights Pettis, this prediction will still go with Henderson.
Henderson may have lost to Pettis before, but like with a rematch with Edgar, he knows what his opponent brings to the table.
Frankie knows Benson more as well, but his game plan probably wouldn't alter too much.
Edgar's success comes from his quickness, which he executed well despite losing.
Henderson has shown his resilience through his fights, and against Pettis, he knows that kicks will be flying his way.
Eventually, Jim Miller will likely beat Nate Diaz and get his rematch with Henderson.
In this case, Miller still won't be able to do enough to win and Benson Henderson will hold the belt for this year.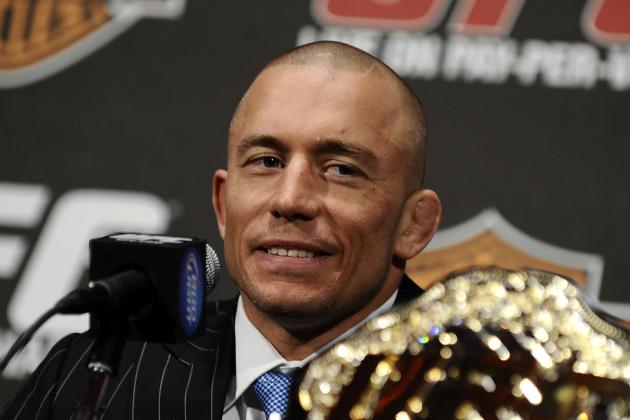 Jeff Zelevansky/Getty Images

This one is a easier prediction, simply because champion Georges St. Pierre will probably only fight once this year.
He will face Carlos Condit at some point, win, and still be the welterweight champ at the end of 2012.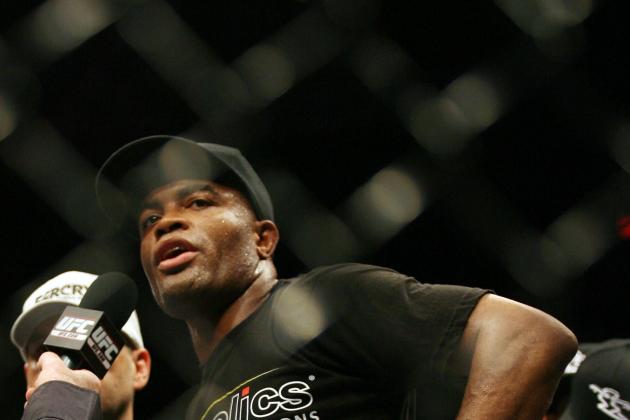 Tasos Katopodis/Getty Images

The greatest pound-for-pound fighter, Anderson Silva, is a man that is hard to bet against.
He will face his biggest rival in Chael Sonnen, sometime in the summer.
The prediction will be that he learns and evolves from their last meeting (also with a healed rib), and will fuel himself off the Brazilian crowd to finally put Sonnen to rest.
After that, he may fight once more before the end of the year.
That would most likely be against Rousimar Palhares, who will face off against Alan Belcher in May. This may also depend on the status of Dan Henderson.
Regardless, Silva has proven he can hold the belt longer than anyone—and it will stay that way.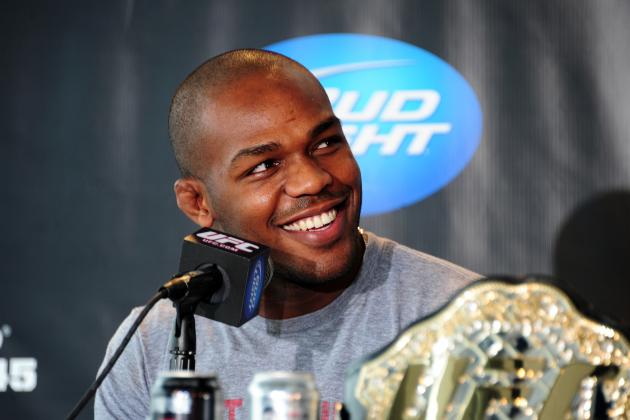 Scott Cunningham/Getty Images

Jon Jones is a phenomenal athlete who has shown amazing success in a very small amount of time.
He will face his rival, Rashad Evans, and finally settle the longtime-brewing feud between the two former training partners.
At the end of the night, Jones will still remain victorious.
The question will be: What does Dan Henderson do following that fight?
If he gets the title shot next, it will be the biggest challenge to date for the current champ.
Jones has taken on former champs before, but none that packs a punch like Hendo's.
His submissions and reach will win that fight, and keep the belt around his waist.
Jones wants to fight frequently, so he may fight Evans, Hendo and one more.
That third challenger is distant, possibly a rematch with Ryan Bader, but Jones will still be champion at the end of 2012.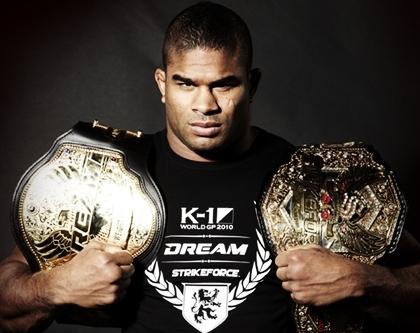 photo from mmabasket.com
Junior Dos Santos is a great boxer and shows some of the best striking in the division.
He will face Alistair Overeem, which will be his biggest challenge yet. Overeem is no stranger to boxing, a strength that JDS possesses. They will meet in the Octagon in May, and the fight could go either way.
My prediction is that Overeem wins against JDS, and then moves on to face Frank Mir—or who knows, maybe even Mark Hunt.
Overeem still emerges victorious and remains the champion through 2012.