Tottenham Hotspur Must Get Back to Basics with Their Overlooked Three Lions
March 2, 2012

Shaun Botterill/Getty Images
Aaron Lennon, Jermain Defoe and Michael Dawson.
Three players overlooked by caretaker manager Stuart Pearce for the England squad that faced Holland in his first game in-temporary charge this past week.
That wasn't especially surprising.
More so was the decision by the reported England manager in-waiting to leave them out of Tottenham Hotspur's starting line-up in the eventual 5-2 derby defeat to Arsenal last weekend.
It is easy with hindsight to criticise, so it should be said that Harry Redknapp's decision to stick (mostly) with a team that had so convincingly thrashed Newcastle United 5-0 two weeks earlier was understandable.
But an understandable decision is not necessarily a right one, and the omission of those three players was a mistake he should not repeat against Manchester United this Sunday.
Redknapp had clearly hoped the Spurs side that demolished Newcastle would retain that momentum against Arsenal, but with that cup draw against Stevenage coming in between, two weeks was a long time to do so. In addition, it was disappointing that they were naive enough to believe that what works against one opposition necessarily will against another.
Arsenal were undoubtedly up for the occasion, an attitude that manifested itself in a focused and hungry display that saw the Gunners expose Tottenham's structural weakness and complacency in startling fashion.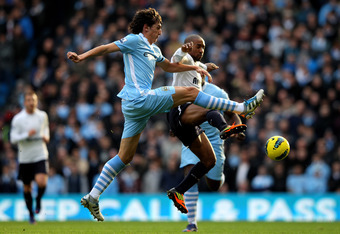 Alex Livesey/Getty Images
The main carry-overs from the Newcastle game were the retaining of Louis Saha and Emmanuel Adebayor in attack and again deploying Niko Kranjcar in midfield.  
Saha was set up by Adebayor for the first goal and the latter put Spurs two-nil up after with a(n ill-gained) penalty, but beyond that there was little production from the two and frustratingly little effort from Saha in particular.
The Frenchman's goals may yet prove vital for Tottenham this season, but for a north London derby you need a lot more from a striker, and that Jermain Defoe has become such a player has been one of the big positives of the season so far.
Defoe has upped his work-ethic considerably, adding to his game a movement that has improved his ability to score goals and a level of running that has contributed to the team as a whole. In the Manchester City defeat in January his late-miss may be the defining image of his contribution to that game, but what should really have been taken from that was the way he allowed the City defence as little time on the ball as possible.
It meant they were unable to dictate play as much as they may have liked. Considering Arsenal's penchant for building up from the back, in addition to their recent defensive frailties, it should have been a given that Spurs denied them as much time as possible.
Defoe would have given this, Saha did not, and instead the Gunners were given the time and space to develop some of their best football played in quite some time.
Aaron Lennon's absence was puzzling for similar reasons.
As nice a player as Kranjcar can be, this was not the occasion for his style of play. Not only was Lennon missed for the penetration he can provide with his pace, but also for the undervalued defensive contribution he makes.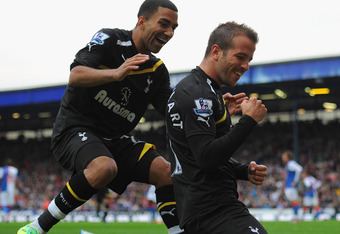 Michael Regan/Getty Images
Much praise was heaped on Kyle Walker back in October for a superb run he made that lead to Rafael van der Vaart's opener against Blackburn.
What was not noticed by many is that just prior to that he had been caught upfield out of position, and if it weren't for Lennon's sensing of the danger and getting back to cover and intercept, Rovers would have been through down their left wing.
Whether Lennon would have made a major difference here against Arsenal is uncertain, but he may have helped at least shore Spurs up before they were were so spectacularly and frequently breached.
The most baffling and costly decision of all though was that to leave Michael Dawson out.
Redknapp could not have known Younes Kaboul and Ledley King would have combined to have such a disastrous day. But having been in football as long as he has, he should have known in big games like this you need your leaders, those players who step up in deed and duty.
Dawson is without doubt such a player and person.
While Kaboul has improved a great deal in a strong season for him, he had not been missed in his recent injury absence. Dawson had once more shown his value to Spurs and his ability in tough matches with, in particular, an immense display against Liverpool in which he had flung himself at everything and everyone in doing the best he could to keep the opposition out.
What was especially frustrating against Arsenal was not just the goals conceded, but the way they were conceded. The inept positioning and zero concentration was bordering on disgraceful, and a worrying sign that King especially may no longer retain the forceful leadership by example of before.
Dawson showed what Spurs had been missing in one single moment just after he came on when television cameras caught him in an absolute fury, screaming at one of his team-mates off-camera. He is the type of person that can probably deal with being left out of a team, but if those in his place don't give their all in the way he would, he is going to let them know about it in no uncertain terms.
Very few players in any team should be regarded as automatic starters, and Dawson, Defoe and Lennon are no different. But the evidence is there that Tottenham are better when they are starting, or at least predominantly involved. England may overlook them for now, but Spurs definitely shouldn't.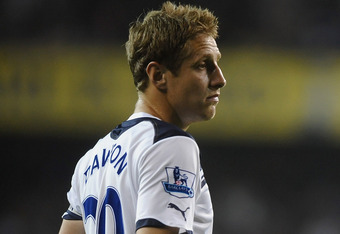 Laurence Griffiths/Getty Images
Gareth Bale IS a diver
"I don't think the criticism is justified," was Harry Redknapp's response Friday morning to accusations that Gareth Bale is a diver.
"He doesn't dive and he gets kicked from pillar to post most Saturdays. I've never had to speak to him about it [diving] and I have no need to. He runs so quickly and changes direction so quickly that he gets chopped down an awful lot."
It is admirable that Redknapp is defending one of his players, but he is wrong, Gareth Bale is a diver and a cheat.
High profile instances like the incident that led to Spurs' second against Arsenal last week may have led to the issue being raised at Redknapp's press conference, but it is happening far more frequently than that.
It is not just that Bale often goes down untouched, just as annoyingly any little bit of contact that is made with him often results in the Welshman rolling around on the ground like he has just had a limb chopped off.
Bale looks like an idiot, and considering Tottenham's appalling use of free-kicks, his theatrics lead to nothing anyway.
More seriously, if he is actually hurt, you are less likely to believe him.
Against Blackpool last season Bale injured his ankle after a challenge by Charlie Adam, but having come not long after he had been rolling on the floor holding his leg after just being clipped in another challenge it was hard to initially sympathise with him.
Boy who cried wolf anyone?
Bale would do well to follow the example of compatriot and Tottenham double-winning legend Cliff Jones. During his peak Jones was one of the world's best wingers and a crucial part of arguably English football's greatest ever side.
"...he sometimes might go down a bit too easily," said Jones last month. "I would never let a defender know that I was hurt. My father said to me, 'Son, if somebody hurts you, don't show it because it'll encourage it.'"