MLB 2012: 10 Burning Questions About the American League East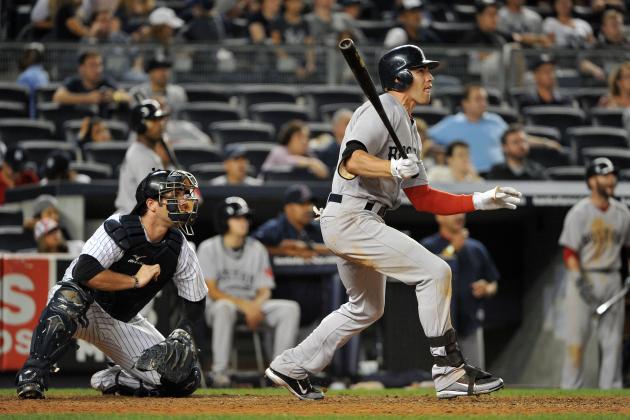 Christopher Pasatieri/Getty Images

Even when the American League East was, seemingly, a two-team division—with the Yankees and Red Sox battling not just in the standings but in the front offices for the best talent available—it was perhaps the most scrutinized division in all of baseball.
That reputation was only enhanced when the Tampa Bay Rays began to emerge as a perennial contender.
And so that trend continues into the 2012 season. Many pundits have the Yankees, Red Sox or Rays winning the division and one of the two remaining teams taking the AL wild card spot. As far as depth, few other divisions in baseball can match what the AL East offers.
Predictions are one thing, but how will everything play out on the field? The answers to these ten questions will determine how things in the division will unfold.
Begin Slideshow

»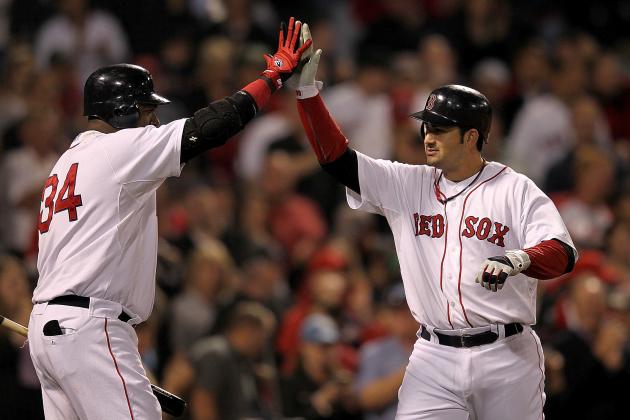 Jim Rogash/Getty Images

Both the Red Sox and Yankees can score runs in bunches, and in a variety of ways, the long ball, stolen bases, etc., Boston gets the slight edge for now for two reasons.
1) Adrian Gonzalez. He's up there with the best overall hitters in baseball and could easily duplicate or exceed his numbers from an impressive first season with the Red Sox.
2) Youth. Gonzalez, Jacoby Ellsbury and Dustin Pedroia are the engines that make this offense go. All three of them will be under 30 when the season begins, firmly entrenched in the sweet spot of their careers.
And if mainstay Kevin Youkilis can stay healthy and Carl Crawford can overcome a disastrous first season in Boston, watch out.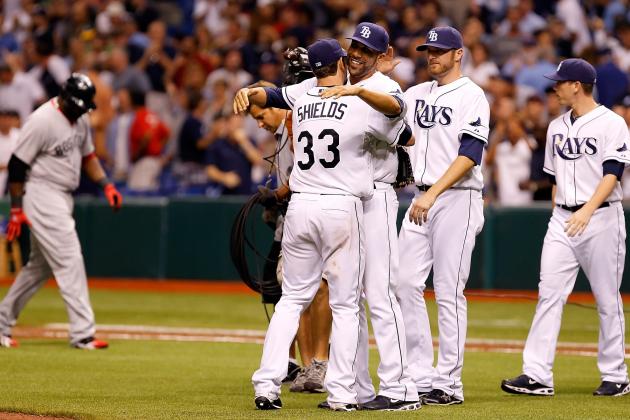 J. Meric/Getty Images

It says something about Tampa Bay's depth of starting pitching that Jeff Niemann—winner of at least 11 games in the past three seasons—isn't even one of the Rays' top five starters entering 2012.
Tampa Bay's starting rotation features an innings-eating workhorse (James Shields), a flame-throwing left-hander (David Price) and a control artist with preternatural poise (Jeremy Hellickson). And the steady if unspectacular Wade Davis does what every No. 4 starter should do: rack up innings and get to double-digits in wins.
And we haven't even talked about the Rays' potential future ace and Rookie of the Year candidate, lefty Matt Moore. Tampa Bay is deep, young and well-equipped to challenge the big bats of New York and Boston once again.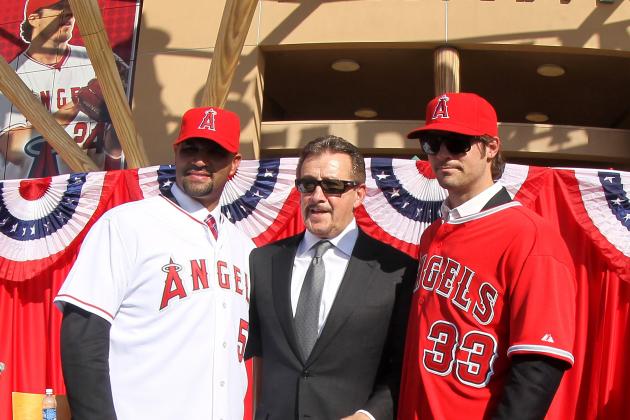 Stephen Dunn/Getty Images

No. Whoever comes in second in the West will offer up a worthy challenge for the fourth spot in the AL playoffs.
The Rangers are coming off two consecutive World Series appearances and made one of the biggest offseason splashes with the signing of Japanese import Yu Darvish. And they still boast one of the most explosive offenses in baseball.
Meanwhile, no team had an offseason as headline-grabbing as the Angels, who landed arguably the best hitter in baseball (Albert Pujols) and the ace of its division rival (C.J. Wilson) within 24 hours of one another.
Detroit has a tight stranglehold on the AL Central, where no other team finished with a winning record in 2011. Out in the AL West, however, are two teams with playoff-caliber rosters who can challenge the East's streak of five consecutive seasons sending a pair of teams to the postseason.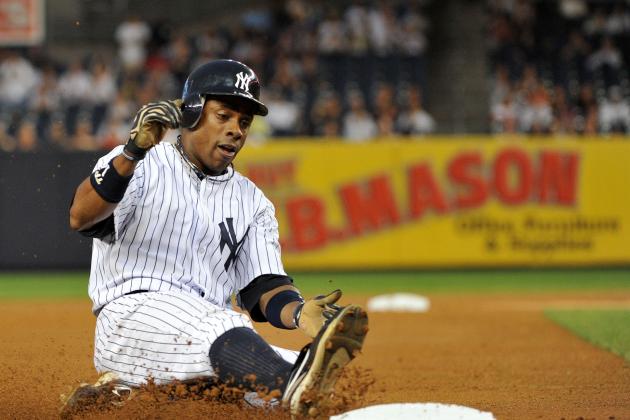 Christopher Pasatieri/Getty Images

This is a tough call between center fielders on rival teams: New York's Curtis Granderson and Boston's Jacoby Ellsbury. Ellsbury has the advantage of being younger, but his lack of track record before his huge season in 2011 gives the edge to Granderson.
With both Derek Jeter and Alex Rodriguez advancing in age, the 30-year-old Granderson paced the Yankees offense along with Mark Teixeira and Robinson Cano, smashing 41 home runs and plating 119 RBI along with 25 stolen bases. Granderson got it done in the field, too: his 11 outfield assists were tied for the third most in the majors among center fielders.
If Ellsbury puts together another season like 2011—where he won both a Gold Glove and a Silver Slugger Award—he'll move ahead of Granderson. Until then, the Yankees center fielder holds the unofficial title of best overall player in the AL East.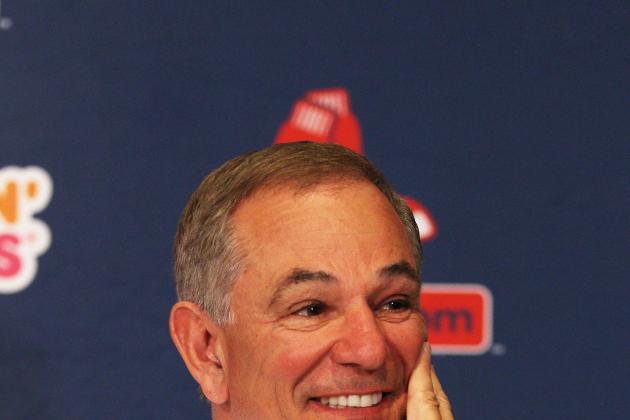 Elsa/Getty Images

Every week of the MLB season seems to bring a new wave of second-guessing Joe Girardi and his somewhat iron-handed handling of the Yankees. Yet for all that, he has a World Series title under his belt and has guided New York to the postseason in three straight years.
Thus the pressure falls squarely on new Boston manager Bobby Valentine.
Not only is Valentine in his first major league managerial job since 2002, he is also tasked with bringing the Red Sox back to the postseason after their epic September collapse last year. Plus, his reputation for being disagreeable—both with the Mets and in Japan—could be cannon fodder should Boston struggle out of the gate or down the stretch this season.
Elsewhere in the division, reigning AL Manager of the Year Joe Maddon has the comfort of a new three-year contract extension, while Toronto's John Farrell and Baltimore's Buck Showalter have the leeway that comes with leading rebuilding projects.
Bobby V's lack of track record—and the task he is faced with—make him the AL East manager with the most to lose.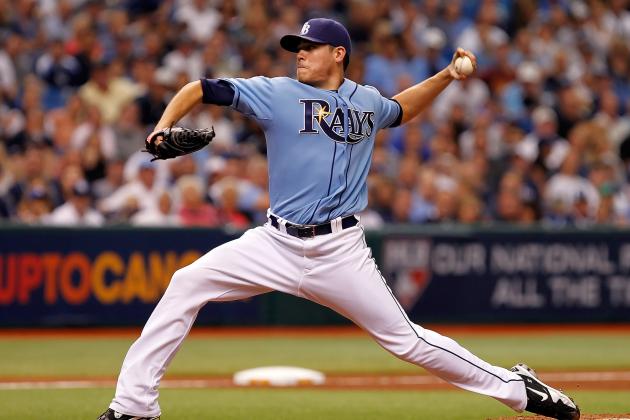 J. Meric/Getty Images

Anyone who watched Matt Moore effortlessly touch 96-97 on the gun last September and during the 2011 postseason had to be impressed.
And he clearly won't be wide-eyed in his first full big league season. After all, his second MLB start was Game 1 of the ALDS against the Rangers and all he did was hold the eventual AL champions to two hits over seven innings.
Based on Tampa Bay's track record of developing young starting pitchers, you have to like the chances of Moore's success in 2012. More important, he doesn't have to deal with the pressure of being a staff savior. This was already one of baseball's better rotations before Moore's late season call up last year.
Moreover, the presence of David Price will help in Moore's development. If anyone knows anything about the pressure of being a hard-throwing lefty with the potential for greatness, it's Price. Should Moore ever need help dealing with those expectations, all he needs to do is walk across the clubhouse.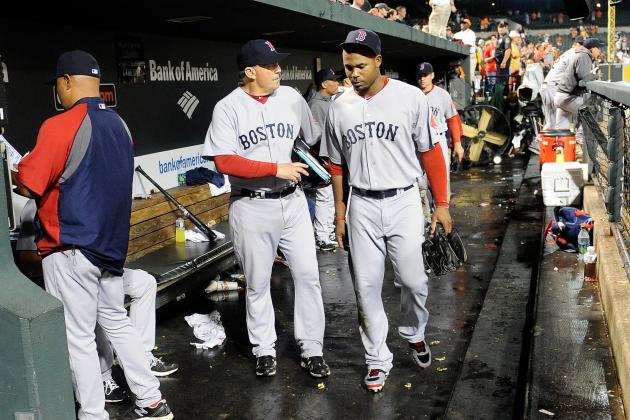 Greg Fiume/Getty Images

Several key members of the Red Sox—among them Dustin Pedroia, David Ortiz, Kevin Youkilis, Josh Beckett and Jon Lester—know the feeling of winning a World Series title. That should go a long way in counteracting any of the bad vibes from last year's September collapse.
As will Boston's new manager, Bobby Valentine. He's already addressed one of the bugaboos from 2011 by prohibiting alcohol in the clubhouse and Bobby V has never been one to shy away from the spotlight. He'll be very adept at deflecting a lot of the attention and pressure away from his players.
And remember, this is still a very deep and experienced team. As bad as September was, Boston still won 90 games and received MVP-caliber seasons from both Adrian Gonzalez and Jacoby Ellsbury. This team's talent won't desert them anytime soon.
Charles Sonnenblick/Getty Images

Toronto is the best candidate to break the New York-Boston-Tampa stranglehold on the division, due in large part to solid pitching at both ends of the game.
No. 1 starter Ricky Romero has progressed very well, lowering his WHIP and ERA while increasing his workload and strikeouts in each of his first three seasons. And the acquisition of closer Francisco Cordero immediately overhauls a bullpen that tied for the league lead in blown saves in 2011.
If the Blue Jays are to exceed their 81 wins last year, they need a semblance of depth. One starter has to emerge as the No. 2 man behind Romero (hard-throwing righty Brandon Morrow has the tools but needs to consistently harness them). And the offense needs to be more than the Jose Bautista Show.
Still, Toronto is young and manager John Farrell is doing an admirable job of giving them the confidence to compete with the AL East's blue bloods.
As for Baltimore, it's still a long way off. They need to work on getting closer to the .500 mark before challenging for a division title.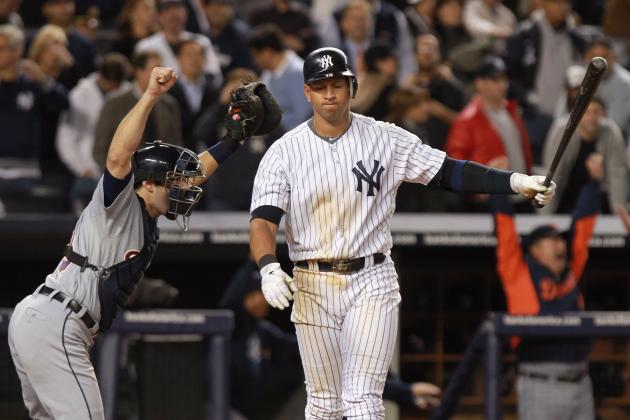 Nick Laham/Getty Images

Alex Rodriguez has been the reigning champion in this category since he arrived in New York in 2004.
So what is different in 2012?
At 36, A-Rod might be breaking down. A torn meniscus limited Rodriguez to 99 games in 2011 and put a halt to his MLB record streak of 13 seasons with at least 30 home runs and 100 RBI. For all the controversy he's stirred up during his career, production has never been an issue. It might be now.
Coming in a close second is Carl Crawford. After enduring a terrible 2011, his recent comments concerning his place in the batting order have not helped him get off on the right foot in 2012.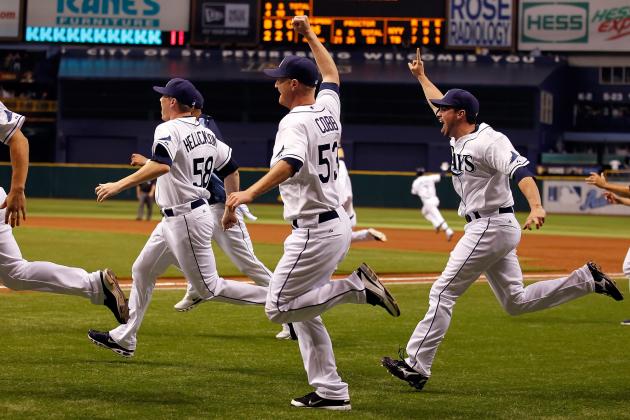 J. Meric/Getty Images

On paper, the Red Sox have the best roster. But baseball these days favors teams with a deep starting pitching and youth (the shenanigans of the 2011 postseason aside). In that sense, the Rays are best equipped to take the AL East.
As winners of the division in two of the past four seasons, this is not new ground Tampa Bay is treading. And for all their recent success, they don't have anywhere near the pressure that the Yankees or Red Sox deal with in trying to appease their hard-to-please fan bases. The Rays know they can win but don't face a barrage of questions and doubters when they don't.
In the battle for the Wild Card, Boston has the edge over its hated rivals in New York. They have a slightly better offense and while C.C. Sabathia is the best starting pitcher on either team, the Red Sox have a deeper rotation.