10 Reasons San Francisco Giants Already Have NL West Locked Up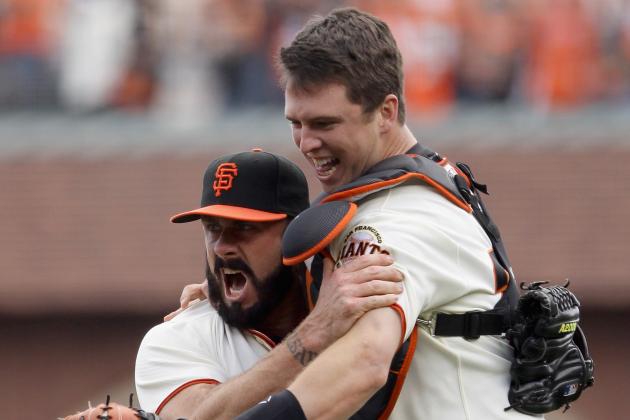 Ezra Shaw/Getty Images

The San Francisco Giants are the team to beat this year in the National League West.
With the return of key players from injury, new additions to the offense and one of the best pitching staffs in all of Major League Baseball, the G-men will be hard to beat.
Based solely on their talent on the mound, they will be in the hunt for the division crown. From top to bottom, there is no other team that can hang with the San Francisco arms.
In fact, entering 2012, two NL West teams have fallen further behind the Giants in pitching depth than before.
Then, when one accounts for the offensive upgrades on the orange and black, it is hard not to envision them at the top of the division.
No NL West opponent is poised to win like the G-men, and here are 10 reasons why.
Begin Slideshow

»
Tony Medina/Getty Images

With the possible exception of Clayton Kershaw, San Francisco has the best No. 1 starter in the division. Every fifth day, Bruce Bochy can pencil in Tim Lincecum and feel like his team is the favorite to win.
In his first five years, Lincecum has averaged over 200 innings per season, 225 strikeouts and an ERA under 3.00.
Kershaw can't beat those numbers.
In 2012, "The Freak" will be turning just 28, so there is no reason to expect a downturn in production. In fact, last year was statistically one of Lincecum's best, with the lineup's inability to score runs the main reason for his 13-14 record.
Anytime Lincecum takes the mound, he gives the Giants a chance to win, as opponents inside and outside the NL West struggle to match him.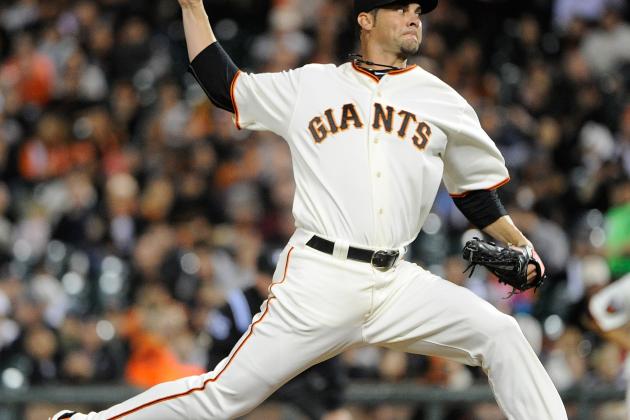 Thearon W. Henderson/Getty Images

It may seem counterintuitive, but as the No. 4 starter, Ryan Vogelsong is a difference maker for the orange and black. No other fourth starter in the division matches up well with him.
In fact, outside of the Arizona Diamondbacks, the rest of the NL West is heading into spring training with competition for the four and five spots in the rotation.
As an All-Star last year, Vogelsong posted a 2.71 ERA and 1.25 WHIP.
Those would be solid numbers for a top starter on many teams, but for the Giants, it gives them incredible rotation depth. Even if his ERA balloons to around 3.00 in 2012, Vogelsong will still be the best fourth starter in the division.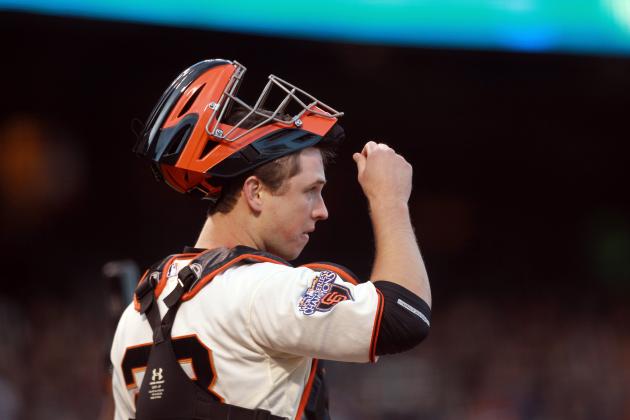 Ezra Shaw/Getty Images

In the NL West, there is no more talented catcher than Buster Posey. In less than one-and-a-half seasons, he has shown that he cannot only handle the Giants' star pitchers, but, just as importantly, he can be an offensive force as well.
In under 600 career plate appearances, Posey has posted a .294 batting average, 88 RBI and an .815 OPS.
During that time, the only other men on the roster to come close to that output were Pablo Sandoval and Freddy Sanchez.
With Posey joining Sandoval in the order for the duration of the 2012 season, San Francisco will have a bona fide one-two punch in the middle of its lineup.
It will be the first time the organization has had such a duo since the years of Barry Bonds and Jeff Kent.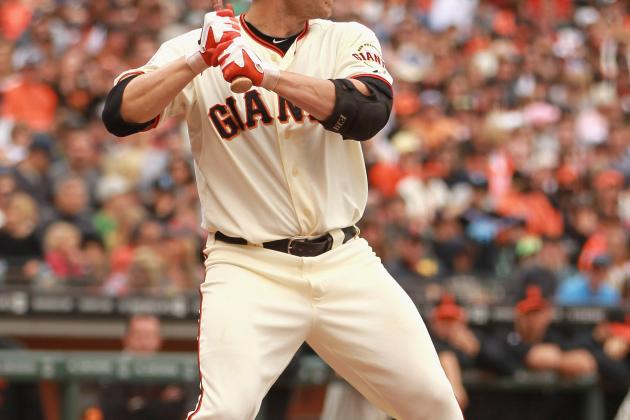 Ezra Shaw/Getty Images

If Posey's injury was the catalyst for the Giants' difficulties in 2011, losing Freddy Sanchez sealed their fate. With a .289 average in 60 games last year, Sanchez was poised to have a strong season before injuring his shoulder.
According to reports, that injury is well on its way to being healed, and Sanchez should be at full strength by the time Opening Day comes around.
With that being the case, he instantly brings an advantage to the San Francisco order.
Likely hitting in the No. 2 spot in the lineup, Sanchez can provide continuity between the top and middle of the order. Thus, when Buster Posey, Melky Cabrera and Pablo Sandoval come to the plate, they will have more opportunities with runners in scoring position.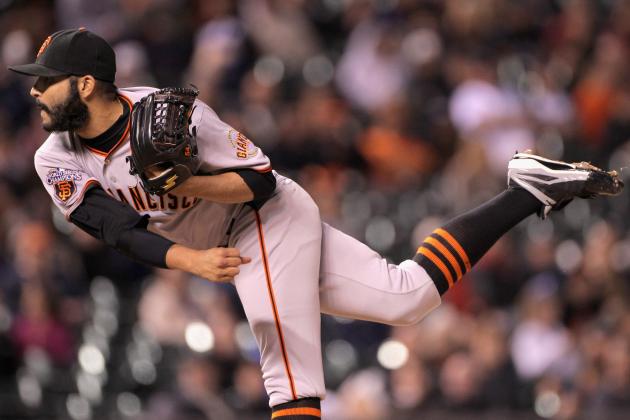 Doug Pensinger/Getty Images

In 2012, the Giants bring back the bulk of a bullpen that has been one of their strong points over the past few years. Pitchers such as Sergio Romo, Santiago Casilla, Jeremy Affeldt and Javier Lopez will continue to provide a strong bridge between the starters and Brian Wilson.
Last season, those relievers helped the bullpen hold opponents to a .223 batting average, while posting a 2.25:1 strikeout-to-walk ratio.
With many of the same pitchers returning, it is safe to expect that San Francisco will again have one of the top relief staffs in the game.
In games decided by one or two runs, these are arms the Giants can trust.
In a division and on a team where runs are at an absolute premium, this is an advantage the Giants hold over almost every team in the NL West.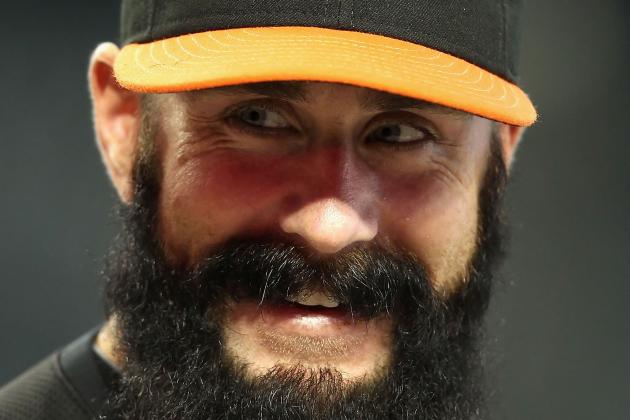 Christian Petersen/Getty Images

Despite his up-and-down 2011 season, Brian Wilson was able to convert 36 saves. He now enters 2012 as the best closer in the division. J.J. Putz and Huston Street are possible contenders for the spot, but neither has been as strong over the past few years as the man responsible for "Fear the Beard."
Since becoming the full-time closer in 2008, Wilson has recorded over 35 saves with more than 50 strikeouts in each season.
In their careers, Putz has only done that once in back-to-back seasons while Street has never done it in consecutive years.
With an offense that is still going to be hard-pressed to score runs, Wilson's presence in the ninth inning is a major benefit.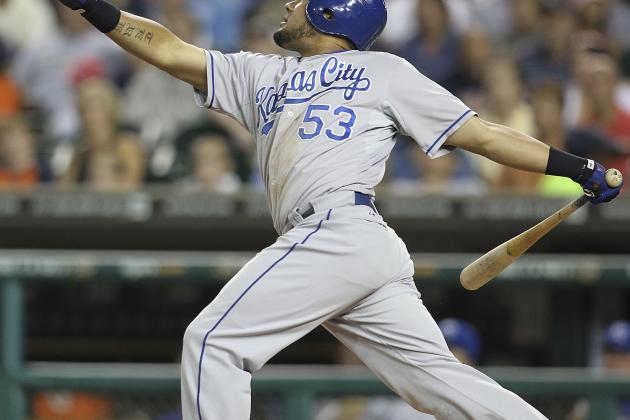 Leon Halip/Getty Images

Coming off of a career year in 2011 where he hit .305, the Giants are expecting big contributions from Melky Cabrera in 2012. Not only are they hoping he can solidify left field, but they also fell he'll bring a much-needed presence to the lineup.
As a .275 career hitter, Cabrera does not have to repeat 2011 to be a major asset in San Francisco. He simply needs to be a productive corner outfielder.
Since Barry Bonds, left field at AT&T Park has been patrolled by the likes of Fred Lewis, Dave Roberts, Pat Burrell and Cody Ross. Each player had their moments in orange and black, but none were consistent offensive pieces.
Cabrera can stop that trend.
If he hits at about his career average, he will provide the Giants with two advantages. First, a third run producer outside of Buster Posey and Pablo Sandoval. Second, he will get on base, giving the team more opportunities to score.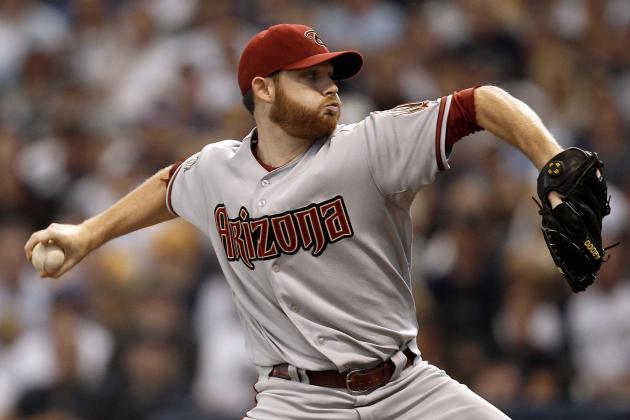 Jared Wickerham/Getty Images

This year, the Diamondbacks will be hard-pressed to continue their success from 2011. Last season, players like Ryan Roberts and Ian Kennedy had career years that helped push Arizona into the playoffs.
However, as the Giants learned after 2010, players who play above their averages in one season rarely repeat them.
Understanding this, many of the D-Backs' players will likely regress, and so will the team.
Unlike Arizona, though, the orange and black are not looking for their team to have a career year. In order to be successful in 2012, San Francisco simply needs their everyday contributors to be healthy enough to play to their career averages.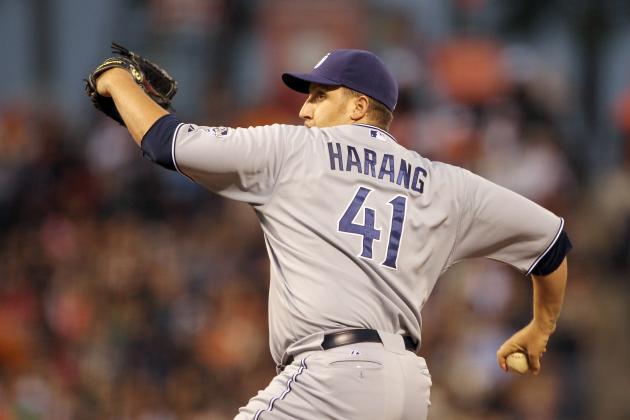 Ezra Shaw/Getty Images

For different reasons, the Colorado Rockies and Los Angeles Dodgers made decisions this offseason that hurt their teams more than they helped.
In L.A., Ned Colletti allowed No. 3 starter Hiroki Kuroda to leave for the New York Yankees while spending a combined $22 million over the next two years on Aaron Harang and Chris Capuano. In four seasons, Kuroda never had an ERA above 3.76 for the Dodgers. Harang and Capuano combined to do that exactly once during the same span.
Meanwhile, Colorado bulked up on offense by signing Michael Cuddyer but chose to do nothing with a pitching staff that ranked near the bottom of the majors last year.
These head-scratching moves have made the difference between the Giants' pitching and the rest of the division even larger than before.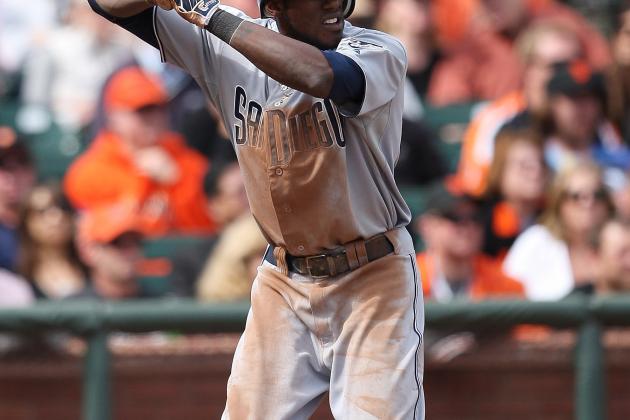 Tony Medina/Getty Images

The other team that could serve as an obstacle to the Giants claiming the 2012 NL West crown is the San Diego Padres.
However, their youth prevents them from being a serious contender.
Of the players on the Padres 40-man roster, only eight will be 30 years or older by Opening Day. Of those eight, Jason Bartlett and Orlando Hudson are the only two expected to regularly contribute.
Young players can provide excitement, but as the Padres experienced during last year's 71-91 campaign, there are growing pains. These will be met full on this year by every part of the Padres, including the bullpen that will be without Heath Bell or Mike Adams to lock down wins.
The Giants, on the other hand, will be working with a mix of young talent, such as Brandon Belt and Brandon Crawford, and veterans, like Freddy Sanchez and Aubrey Huff.
This allows them to have experience in their everyday lineup while still putting the best team possible on the field.