San Diego Padres Spring Training, Part 1: Starting Rotation
February 26, 2012

Nick Laham/Getty Images
As San Diego's mild winter dissolves into spring, the familiar sounds of leather slapping leather echo in the Arizona desert. 
Baseball is upon us.
The following is the first installment in a six-part series analyzing the Padres roster for the 2012 season.
Starting Rotation
The Padres enter 2012 having lost three pitchers who collectively started 73 games last season. 
San Diego native Aaron Harang pitched well in 2011, but the Padres declined his $5 million option for 2012 and he signed a two-year deal with the rival Dodgers.
Left-handed Wade LeBlanc didn't start 2011 in the Padres' rotation, but injuries forced him into action early and often until he became a permanent fixture in late July.  The Padres traded LeBlanc to the Marlins for veteran catcher John Baker.
The biggest departure was last year's ace, Mat Latos, who was traded to the Reds for starter Edinson Volquez and prospects Yonder Alonso and Yasmani Grandal.    
Despite losing three starters to trades and free agency, there are still several familiar faces in the rotation.  Tim Stauffer, Clayton Richard and Cory Luebke all started more than 15 games last year with Stauffer leading the group at 31. 
The majority of the Padres' starting rotation is already set.  Volquez will join the aforementioned Stauffer, Richard and Luebke to occupy spots one through four.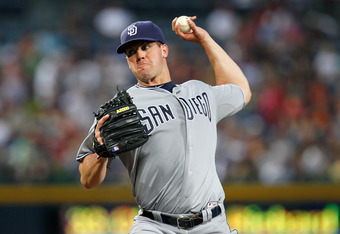 Kevin C. Cox/Getty Images
Stauffer is now the staff ace following his first full season as a starting pitcher.  In 2011, Stauffer went 9-12 with a 3.73 ERA and pitched a career-high 185 innings. 
Clayton Richard never really got in a rhythm in the first half of the season and spent the second half of the year on the disabled list after season-ending arthroscopic shoulder surgery.  Richard still had a decent year, going 5-9 with a 3.88 ERA in 18 starts and is now in a very important contract season that will determine how big his next deal will be. 
Cory Luebke has the most upside in the group because he represents the trifecta of major league pitchers:  He's young, cheap and left-handed.  Luebke went 7-8 with a 3.40 ERA as a starter and finished the year with 154 strikeouts in 139.2 innings. 
Volquez is entering his first year with the team and the Padres hope he will return to 2008 form when he went 17-6 with a 3.21 ERA and 206 strikeouts.  The past three seasons, Volquez struggled with injuries and inconsistency.  In 2010, Volquez was suspended 50 games for violating the league's performance-enhancing drug program.   
A fresh start and pitching home games in pitcher-friendly Petco Park could be exactly what Volquez needs to get is career back on track.
The final slot in the rotation is up for grabs and there are four men applying for the job. Dustin Moseley, Anthony Bass, Micah Owings and Jeff Suppan are all in contention for the final rotation slot. 
Moseley has the inside track as an injury to his non-throwing shoulder is the only thing that kept him from having his best season as a professional.  Moseley pitched much better than his 3-10 record indicates.  He suffered from horrible run support and was a victim of miserable defensive efforts.  More than 25 percent of Moseley's runs allowed were unearned. 
Anthony Bass was a midseason Triple-A call-up used for spot starts and mostly long relief out of the bullpen.  While it's likely Bass will be used in the same capacity in 2012, it's worth noting that he was 2-0 with a 1.20 ERA during his three starts.
The Padres signed Owings earlier this month because they like his versatility as a spot-starter, long-reliever and pinch hitter.  If Owings is unsuccessful at securing a spot in the rotation, he stands the best chance at earning the long relief job in the bullpen. 
Suppan signed a minor league contract with the Padres on February 8, and has the least chance of making the rotation or the team.  Suppan hasn't pitched in the big leagues since 2010, and was mainly brought to spring training in hopes his professionalism and work ethic would positively influence the young pitching staff. 
When the calendar flips to April and the final 25-man roster is set, Moseley will most likely be in the rotation.  Owings will start the season in the Padres bullpen while Bass joins a promising group of young starters in Triple-A Tuscon.  Suppan will be released because a young team in the midst of rebuilding has no use for a 37-year-old journeyman.