WWE WrestleMania: Through the Eyes of the Many
Image Courtesy of: wwe.com
The Showcase of the Immortal Ones
The ground where heroes become legends
Each mind, each eye with the same focus
No age, no size, no shape divides them
Just one word, one subject binds them all
The name of it: WrestleMania
In wrestling, the name WrestleMania is synonymous with success. No matter what company you compete in and your views on the WWE itself, no one can deny the honor that is competing at WrestleMania.
Each wrestling fan, young and old, short or tall, can tell you how WrestleMania makes them feel. Because it is truly one of those feelings that lasts a lifetime.
Whether you are watching, competing in or just simply remembering WrestleMania, those emotions that become so poignant are shared among generations along time and through the imagination of each and every wrestling fan.
While each person feels a different way, the type of feeling, the organization of one's thoughts of WrestleMania fall back upon experience, upon what type of fan you are and how much time and work have you put into your love for professional wrestling.
But what broad emotions are these that can define the way a type of fan views WrestleMania? They are strong, deep and deeply affecting. They can be positive. They can be negative. But they are never forgotten.
Begin Slideshow

»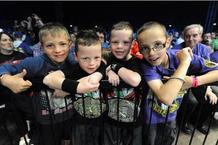 Image Courtesy of: wwe.com
Bubbling excitement, youthful exuberance
Bliss is omnipresent, nothing on the mind
Just fun, excitement, the chance to see heroes
To watch the paragon swoop in and end evil
What more could one hope and what more could he ask
All that matters now is the entertainment.
Before there is knowledge, before there is criticism, we just sit back and enjoy the product.
We have all been at this stage at one point or another. It's hard to imagine not becoming a fan through this stage.
It doesn't matter if you are young or old. There was a time where the wrestling wasn't about backstage or about the politics.
It was simply about community and love for the sport and its characters.
When WrestleMania comes, it is the Super Bowl. It is the Academy Awards. It is what it is made out to be. Simply, the ultimate chance to watch the good guy win.
These are the fans that make the event special. These are ones who want to see John Cena, Randy Orton or CM Punk beat up the smarmy, malicious villains like Chris Jericho, The Miz, Wade Barrett, Christian, Dolph Ziggler or one of the many other bad guys in WWE.
It isn't about why someone wins, but who wins.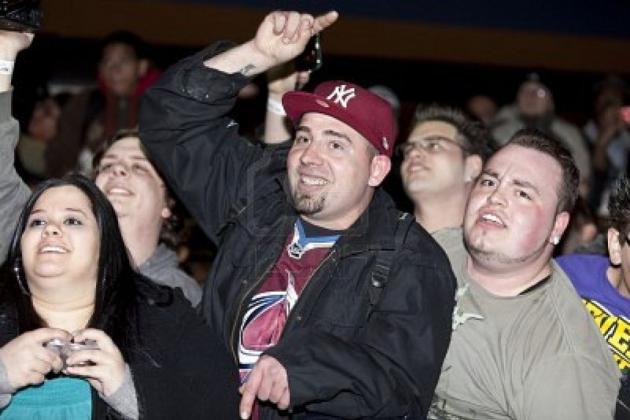 Image Courtesy of: 123rf.com
Chants and cheers and arguments abounding
Words tied to ideas and concepts the most
The person doesn't matter, not one bit
It is his image, representation
That makes it all worth the price one time paid.
Most people reading this fall right into this category. When they see WrestleMania, it's about seeing who get on the card, how they get there and what credibility each star has.
The heels. The faces. The Internet darlings. The untalented hacks. Everyone gets a label.
Even the matches themselves get judged before they begin. Before the night is dawning.
WrestleMania has the opportunity to change this. To be that one night where everyone can put aside thought and criticism and just be a fan again, but the mystique of WrestleMania sways a different way.
Every detail matters. If this is WrestleMania, only the "best" should be on the card, only the "best" should be presented and only the "best" should be allowed.
Why? Because one little thing goes wrong, and WrestleMania is instantly ruined.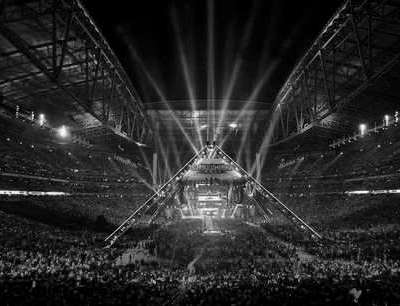 Image Courtesy of: chicitysportsfan.com
The chants, the signs, the action, the passion
Memories all joined together as one
One move, one star, one night as if a whole
Joined together to bring back a bright light
It's here, it's gone, it's left behind in thought
What better time is there here standing now.
The ones who remember: a simple label, but one with much connotation.
A fan can be one for a year, a decade or a lifetime, but when you're a fan for life, you witness the ever-changing tide.
WrestleMania is filled with moments, and the fan who was there to see them first hand can give a much different view of it.
Perhaps remembering the slam heard around the world, the boyhood dream realized, the man who wouldn't quit, the night the hero turned his back. Each moment leaves an impression, and the lifelong fan can tell you more than almost anyone else what WrestleMania means.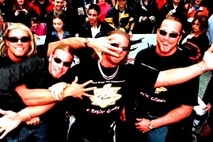 Image Courtesy of: slam.canoe.ca
Lights go low, excitement flares up
Electricity tangible
Moment after moment a spark
One spark followed by a torrent
Then a shot ignites a firestorm
That firestorm, the beginning.
Sometimes, we forget that wrestlers were once fans too. Many sat in the same arenas and watched the same matches as we see years ago.
The difference is that the action caught them. Something about what they saw drove them to declare that they wanted to do what those guys were doing.
WrestleMania, a show so powerful that it creates everlasting moments, has claimed many young fans. All it takes is that one time. They sit there in the audience and watch one of the most exciting and electrifying moments of their life, and they are hooked.
The names are endless, and quite a few eventually made it. They made it to their goal of competing at the same event that had inspired them in the first place.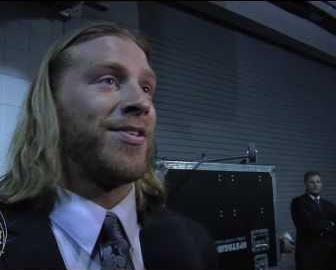 Image Courtesy of: facebook.com
Seeing it on the horizon
Knowing your chance is just calling
Then hearing the words that you dread
Knowing that what could be is not
Seeing the threshold but leaving
Because tonight is not your night
Wrestlers work, scrounge, destroy their bodies and fight for the chance to perform at WrestleMania.
No honor is greater because no moment is bigger than that.
WrestleMania separates the business, and for those left out, they are set to look back on why they missed the opportunity, why they were deemed to be not ready.
Was it their ability in the ring? Was it their following? Did they miss the chance due to action outside of themselves?
Every answer could be yes, but all that matters is that they stay the fan. They can't be the hero or the villain. They are simply witnesses when they could have been more.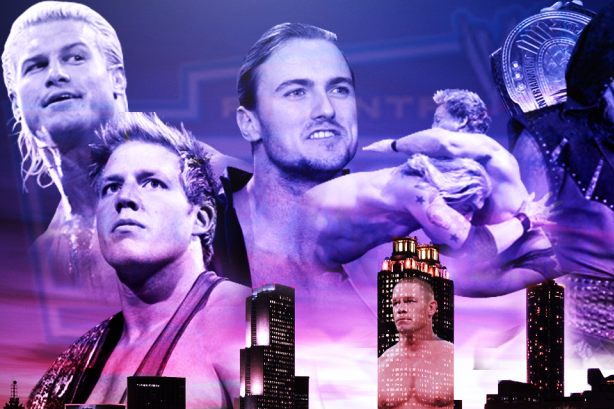 Image Courtesty of: tribalwrestling.com
First time, second time, third time still
This is no simple moment here
The chance to shine brighter
The chance to be the star
An impossible task or the ultimate opportunity.
Not everyone is the main event, but that doesn't relieve the pressure of competing at WrestleMania.
Most wrestlers have watched the legends. They have seen what WrestleMania means at its heart. Most could probably tell you some of their favorite moments and their favorite stars on the big stage.
But when they get on that stage, it is their chance. They become the star more than any other time because the audience is larger, the lights are brighter and the pressure has never been higher.
It is what made Shawn Michaels Mr. WrestleMania. The ability to steal the show.
Everyone has the chance, but few can reach that potential. Look into the eyes of any superstar when WrestleMania comes around.
They know what it means. They know that it is now time.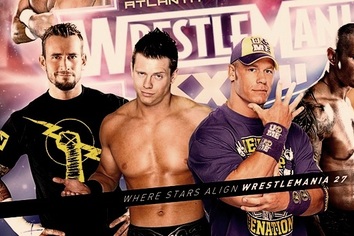 Image Courtesy of: ring-rap.com
To prove, to strive, to keep everything special
The time, the hard work, the ambition all here
A legacy of shadows weighing one down
A plethora of moments calling for it
Calling for a new chapter
And a new identity.
As if the pressure wasn't enough for every superstar, the veteran knows that they need even more.
They have been there at every stage. They have needed to lead the show. They understand what it means to be in WrestleMania.
Legends are born from veterans who go above and beyond confines and simple limitations.
A veteran can go their entire life as a hard worker. They can push and push to help the company, but WrestleMania is the moment where veterans are separated.
Who can rise up? Who can create the moments that will last generations?
This is the ultimate pressure: to make WrestleMania, WrestleMania.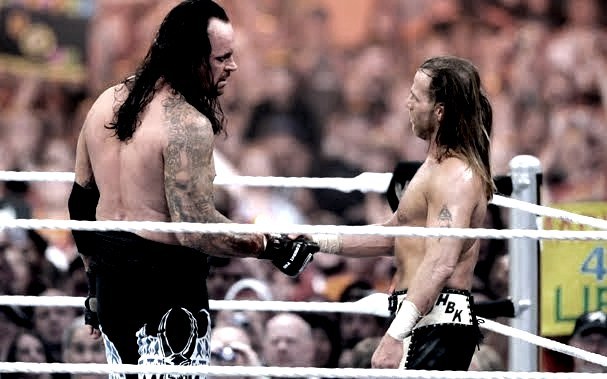 Image Courtesy of: cagematch1000.blogspot.com
A soft shadow, a time long passed
A careless movement triggering the deepest thoughts
Seeing that ring again, leaving the mind to race
A single tear, a final chance.
The wrestler is the hero. He battles each night with all he has, leaving a history.
The legend turns that history into a legacy, a story of a legend. One where mere presence alone can establish the power of the star.
Looking at WrestleMania is as if looking at a painting, one you once created, but has aged and been recast.
Whether the legend is getting their chance to compete or simply to watch, they know what WrestleMania means more any other because they were WrestleMania. They created WrestleMania as it is today.
The legend is not weighed down by shadows because shadows smother all others. They are the shadow, and they are the moments.
For that, they need proof nothing to anyone, but they are too great not to make another impression.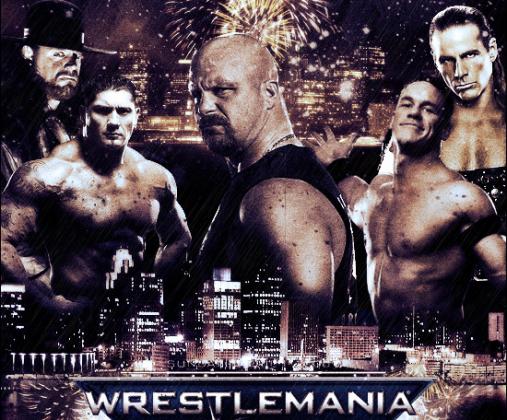 Image Courtesy of: poctos.com
What does every view have in common? What is the heart of WrestleMania that every fan can agree upon?
Excitement.
Determination.
Importance.
Legacy.
Heart.
Every fan can agree above all these things that WrestleMania is a novelty, a creation that makes wrestling special.
For upon that night
There is only one moment

Wrestlemania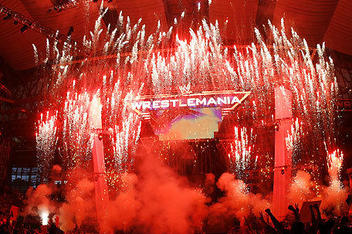 Image Courtesy of: amazon.co.uk